I grew up in the shadow of an Air Force Base in an area with a large military presence and it has had a lasting effect on my life. Many of the kids I went to school with called themselves 'Air Force brats' and as a young girl who was interested in history and politics I was drawn to them and their families because they were some of the most interesting people around. They had mostly traveled extensively and were very comfortable with diversity, so different from our southern stratified conservative community.
I loved visiting in their homes and hearing them talk about their different deployments and sometimes they even talked politics. I could sense that their devotion and love of country was as passionate as mine. Even in those days I had already developed a strong anti-war stance and I identified as a Democrat in my early teens. But thankfully, I was a quiet kid and kept a lot of my opinions to myself. What I could see from them was a commitment to service that I could respect.
What I mainly took away from my associations with my military friends was their extreme sacrifice for my country. Their whole family sacrificed with many moves which always involved difficult adjustments. Their families sacrificed financially because they weren't able to participate in the robust financial times we had as I was growing up. And emotionally they always kept a part of themselves guarded to protect themselves in case the worse happened.
How can we not give back to them after all they have sacrificed for us?
With my early interest in history, I placed my friendships with them in historical context. And I will do that today with reminders of what they have sacrificed throughout the history of our country. I will do that with music because music has a way of evoking a time like nothing else.
Follow below the fold for history and music
Ashokan Farewell

American Civil War
620,000 dead in battle 1,100,000 casualties
Over There by George M. Cohan
World War I
15 Million deaths 20 Million injuries worldwide
The White Cliffs of Dover sung by Vera Lynn
World War II
over 60 Million dead worldwide
Only You
The Platters
Korean War
33,686 American battle deaths other deaths hard to estimate
Fortunate Son Credence Clearwater Revival
Viet Nam War
58,000 American service deaths, injured over 200,000
Vietnamese deaths/injuries estimated over 1 million
Let's let
'The Boss' Bruce Springsteen
have the last word. And let's heed what he says.
We Take Care of Our Own
Yes, let's take care of our own and show appreciation and support to those who are sacrificing so much and whose lives are difficult because of their commitment to service. Your donations will especially mean so much to those who will have lifetime recuperations due to wartime injuries. Please donate what you can.
If you would like to help homeless veterans click here or contact your local VA Hospital for information on how to help. They very often have facilities on their campuses to house homeless veterans.
Netroots For The Troops Blogathon: February 20-24, 2012
---
Netroots For The Troops® is holding a blogathon this week to raise funds to send Care Packages to our soldiers stationed overseas. For the first time this year, we will also be sending Care Packages domestically to troops rehabilitating at Veterans Administration Hospitals around the country.
We are asking all of you to support our efforts and to also make a contribution for this worthwhile cause.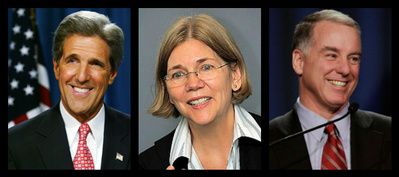 We are honored and delighted that Senator John Kerry (D-MA); Democratic Candidate for the United States Senate from Massachusetts, Ms. Elizabeth Warren; and former Governor Howard Dean (D-VT) will be joining us through this week. Many Kossacks will also be contributing their thoughts, ideas, and support during the week.
Over the years, many soldiers have sent letters to express their appreciation for these Care Packages and even posted thanks at Daily Kos

It was in the middle six months of my assignment in Afghanistan that the packages started arriving. I received an array of things from them… letters, candy, toothpaste, floss, baby wipes, razors, food, socks, books, dvd's. The list could go on and on. It was amazing. Netroots for the Troops was always there... The packages were a reminder that our country knows about our fight. Every day, because of their support, I knew that if it was going to be my last day, I would be remembered and I would be honored.

Please make a donation HERE. Thank you from the entire 2012 NFTT Team.
Netroots For The Troops® is a project of Netroots for the Troops, Inc., a Virginia non-profit corporation. The organization raises money for the assembly, mailing and delivery of Care Packages to American military in war zones and to provide assistance to military families in the United States. Netroots For The Troops, Inc. is a 501(c)3 tax-exempt organization.