What started as a hobby a few years back, has now become a lifeline for a small amount of income to help me and my hubby pay our rent while we continue to search for regular employment... we find new homes for old books on the internet.
What I love about this practice: It's green, it's pro-reading, and it ensures a future lifetime for books. Let's face it: Books are slowly but surely dying off. Perhaps not in our lifetimes, but in a millenium certainly.
I LOVE books... I had the great, rare pleasure of working at Harvard College Library in the early 1980s. My office was UNDER these massive front steps of Widener Library: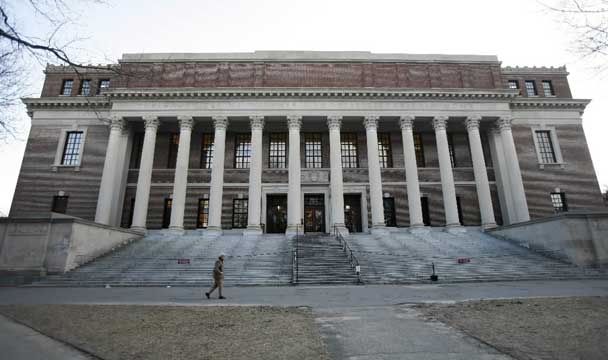 I got to wander the vast "stacks" when nobody was around... (there was a rumor that a professor had passed away in the stacks and nobody found him for days... one can imagine that being true, the hallways were dark and went on forever). I even got to visit a legendary basement warehouse containing MILLIONS of uncatalogued books... and on the wall was hanging a death mask of Dante Alighieri. Although I was a lowly Library Assistant Class III, I got to hang out with librarians and learned how cataloging was done... learned about ISBN numbers and how to parse them... the magic of the OCLC database....
Yes, I'm a book geek.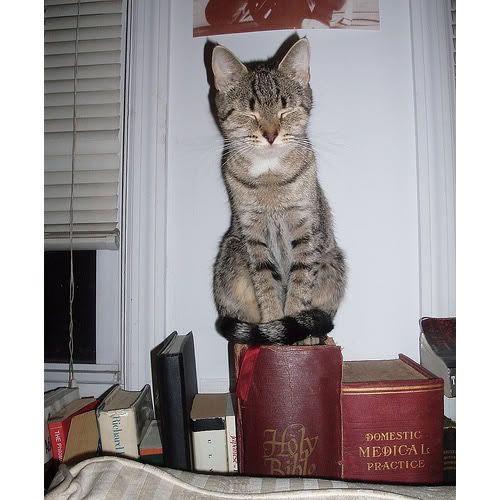 Photo Credit: This awesome piece in the LA Times called "Books and Cats" http://latimesblogs.latimes.com/...
It all started when I came across a box of books at the curb in New York City. One man's trash is a another man's treasure, and I reclaimed some awesome science fiction and classic fiction paperbacks. I was hooked. My hubby and I walk a lot in Los Angeles where we live now, and we get so excited when we find books on the curbside, but admittedly this happens left often than on the intellectual byways of Washington DC, where the books tended toward textbooks, governmental exotica and political analysis.
So this is basically an open plea for your old books. They can be in almost any condition -- just send me a note and ask if you're not sure.
Please continue below the sigil to learn how to contact me with book donations... gaze objectively at your bookshelf and decide if you'd like to make room for some new reading material! NEVER throw your books in the trash! Sad to say, even my local libraries can't handle most book donations (or so they've said... apparently they no longer have the infrastructure to add them to collections, and budget cutbacks are making things more dire.)
So for me, this is not simply a commercial enterprise -- in fact, the income is rather meager. But I'd be deeply grateful to anyone who has a few books they can mail to me, using Media Mail or Parcel Post.
I am a Mad Book Genius, and I thank you.
Contact me here: flexmatrix at gmail dot com and I can send you my mailing address.
Warmly,
Don't Tase Me Bro