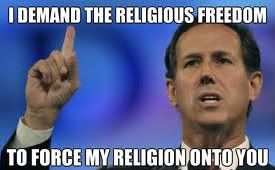 Let me start by saying the idea that religious fantatics have hijacked the conversation about women's health is completely and utterly ridiculous. I have no objection to religious people, as long as they keep their religion and their beliefs to themselves. Personal religious beliefs are just that, personal, for them personally to live by.
I (almost) admire that they hold onto their beliefs with such conviction, but here's where it crosses the line. When they hold onto those beliefs so strongly, that they insist, no demand, that everyone else live according to those beliefs. They're claiming if everyone else doesn't live according to their belief system, it's a violation of their moral conscience.
More below the orange swoosh of freedom.
Here is the main problem with their argument. Not everyone shares the same belief system. So if every religious or non-religious group went around demanding that the entire country live according to their beliefs, it would be mass chaos. For one religion to demand preferential treatment over another is a violation of the Constitution. We are not a Christian nation. Our country was founded as a secular country, with religious freedom for ALL.
Religious freedom has been defined by the Constitution and the Supreme Count countless times over our history as a nation. Religious freedom is broadly defined as freedom of an individual, in public or private, to hold belief in teaching, practice, worship, and observance; the concept is generally recognized also to include the freedom to not follow any religion.
Religious freedom is a personal freedom. A person is free to exercise this freedom in anyway they see fit, as long as it does not infringe on another person's freedom. That's the key to understanding this principle, it cannot infringe on anothers religious freedom.
By Christian zealots claim employer's religious beliefs are being violated by allowing employees to receive birth control at no cost is outlandish and outside of any current or previous definition of religious freedom. Employers (as a person, not a company) have the right to believe in anything. The line is crossed when they attempt to impose those beliefs on their employees, by denying access to medical coverage. Employees are not slaves, their basic human rights are not revoked when they're on the clock and employers have very limited authority over what they do outside of working hours. By an employer objecting to birth control for "religious reasons", it is blanketing their religious beliefs over the entire company, and in turn, infringing on the employee's religious freedom.


The flaw in their hysterical plan is that employees can take the money they're paid by the employer for services performed and use that money to buy birth control. So even if the free birth control scenario is somehow resolved, are they next going to demand bank statements and health care records to ensure that their employees are not violating their moral conscience that way? Will employers begin to deny insurance coverage to non-Christians? Or reject coverage for medical procedures that go against their moral conscience? Where will it end if their child-like temper tantrum suceeds this time?
The solution is fairly simple. These zealots have the freedom to not take birth control. That's how freedom works. Everyone has the ability to choose what is right for them. No one is forcing contraceptives down their throats, so please stop trying to force Christianity down mine. Obama even made it easy, just pay your insurance premiums and you never have to see a birth control pill. I don't agree with every program my tax dollars go toward, but I can't stop paying my taxes because some of the tax funded programs violate my "moral conscience".
So if you don't like birth control, don't take it. Until them, stop obsessing over women's health, we all know this isn't about religion. It's creepy and pathetic. We all know that right-wingers have been trying to regulate women's uteruses and sexuality since this country was founded. It scares them that women have the power of life and they have no ability to control it, so they try to degrade us as people, deny our rights, regulate our bodies, and then play it all off like it's "in God's name". That's a violation of my moral conscience and it has nothing to do with religion.