'she let me know that she was running with the wild dogs now,
the ancient ones and that she was very happy and living a dogs true life.'
.
.
.
There I was walking Ellie on her usual walk to visit her favorite 'sniffy' spots, dogs just love their routines and I never disappoint her as we travel the familiar sidewalks and parkway greens that are a part of our Chicago streetscape. As an ex New Yorker, it didn't take me more than a minute to appreciate Chicagos' 'parkways' when I first landed here over twenty years ago, the often grassed space between the curb and the sidewalk. New York had no such animal with space being such a high priced commodity, there simply wasn't room on the narrow streets.
Parkways are incredibly functional green spaces, they are also home to the varied species of trees that line almost every street here, not so much in New York. The grass and trees soften the vertical and concrete harshness of this big bustling metropolis and trees always make me feel more welcome no matter where I happen to be. Dog owners here are especially appreciative of the parkways because.....well, dogs need a place to do their business and the sometimes very wide green spaces are perfect.
About a dozen years ago, homeowners began capturing these parkway spaces and incorporating them into their overall landscape desgn and extending their personal landscape beyond the edge of their official property line. Daley was mayor then and he was a major proponent behind the continued 'greening' of Chicago but it was always a little tricky when folks made this economic and emotional investment. Home and building owners are responsible for maintaining this space that fronts their property but we don't technically own the space, the city does. The city fathers have apparently turned a blind eye to what appears to be a loophole in the law, I've never heard of a homeowner being cited for 'going further green' on a parkway and now it's just become common practice throughout the city.
But you could wake up one unfortunate morning to find a construction crew from the Gas company digging up your entire parkway landscape looking for whatever it is they look for and you had no recourse other than to silently moan as you waited for them to finish so you could put your plants back where they were, if they survived the upheaval. Many buildings, especially condominium buildings have taken this quasi ownership concept a step further, entirely fencing off these once open and accessible spaces with wrought iron fencing which caused access problems for dog owners but also anyone interested in possibly exiting their car, especially during winter. The fencing just doesn't leave any space to walk without doing a clumsy tapdance to save yourself from falling in the snow and over the fence.
The parkway where I found the 'Old, Hand Carved Dog', was a wide space with a very low slung looped chain fence not necessarily high enough to prevent a medium sized dog from hopping over if it wanted to or if the owner let it. Even so, if there's a fence, my own rule is there are always other parkways so I usually move along with dog in the lead to the next space, at my age I'm not really eager to hop fences anymore. These spaces can extend continously for 30' or 40' sometimes so I'm usually already looking past the fenced space to the next parkway but something caught my eye in the middle of the, not so grassy this time of year greyish mud, that is life in the winter here; a wooden dog?
Well, this seemed well worth further examination and the small hop over the fence, so Ellie and I successfully made the low jump without embarrassment. Of course Ellie had to 'sniify' it all up before I reached it, she was just as interested as I was. I think maybe she thought it was a squirrel, it was the same color but this one wasn't moving, it was just laying on it's side half in the mud and half on a dead tuft of grass.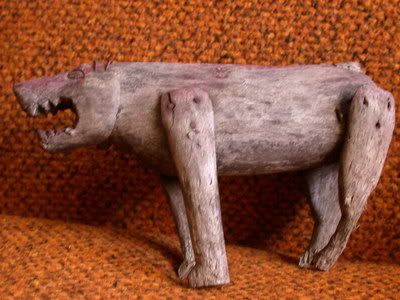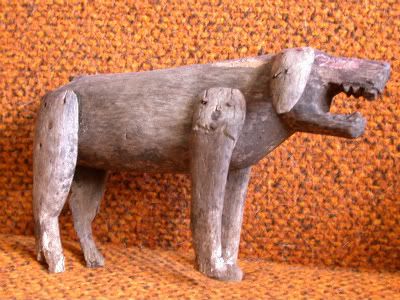 As I picked up this little dog, Ellie became a little animated maybe maternal? She kept a concerned eye on my hand and the dog as I started to take a much closer look at this incredible little thing that was just laying by it's lonesome in the middle of a parkway green, in the middle of winter, in the middle of Chicago. It fit perfectly in my hand, my index and next two fingers cradled it's belly and thumb wrapped over its back, gently securing this wooden, hand carved stray.
The weight was surprisingly light, almost balsa wood weightless, I was surprised expecting it to have more heft. But what it lacked in ounces, it made up for in details, washed away and faded by time and the continuous rolling of waves because the wood was driftwwood in it's texture, the details were sharper once. The carving was 'primitive art' crude and rough so was this purposely done by a trained eye attempting a statement or did this carving happen by someone with a sharp knife who just happened to find the right piece of wood, inspired?
The legs are not now so perfectly attached, they're hanging really, by tiny brass nails that were probably once fairly secure as legs should be but the wood has dried completely, expelling the brass brads now. There is damage here on this little dog, a missing ear, the tail long gone and a front leg is dangerously close to amputation as a sharp cut was never repaired. It can no longer stand by itself without arranging the wobbly legs in absolute perfect alignment with it's weight, it simply falls over otherwise. Still, it shows teeth and although they're no longer as sharp as they probably once were, there is a fierce reminder of younger days and the courage that comes easy with youth. A hint of paint remains along the back and head but red being the faded author of what was once brown, a slight red is what remains.
We've grown fond of this little dog, my wife and I have collections of other animals in our place and since we've both been animal lovers all our lives, this yet unnamed pup would fit right in. It's small enough to cozy on a shelf and until a permanant spot is found, a very high shelf is where it's currently laying on it's side because the real animals we have in our house, 2 dogs and 2 cats were as keenly interested in this dog as Ellie was. They all had to 'sniffy' it up too when I first brought it home, a little too insistently so. Gigi, Scout, LittleLittle and WidowWidow are all either strays or rescues we've added by our choice or theirs over the years. The dogs, Gigi and Scout are both 2 years young.
It never takes much to earn the gratitude of a vagabond. A full belly and a couple of pats on the head, is usually enough. But strays aren't accustomed to actually being invited in, to occupy the house that just fed them. They're usually a little undiciplined and they act out, misbehave or do a bad. That's just how it is.

It takes more responsibility than normal to take on the responsibility of a stray. But what turns a tentative gratitude into the unconditional loyalty that dogs bestow on their new owners, is the reaction to the bad. Whether it's a test or simply a natural reaction to being in a new environment, that bad will happen; it's inevitable so just count on it. It might be the curious investigation of your trash bin, that ends up covering every square inch of your kitchen floor or the uncontrolable dog desire, to knaw for eight hours on the corner of your couch. From my diary dated 12 / 31 / 2011
Gigi the French bulldog, Scout the Puggle and WidowWidow the classic black cat were rescues, LittleLittle, a blackened calico with rusty colored eyes, jumped into my car during a snowstorm and upstairs she came and hasn't left since though she threatens to often. She's an open door darter and everyone in our building has returned her more than once from her weekly, 'I'm so independent I can explore the hallway' excursions. Her and Gigi each take turns being the distressed cat being chased by a dog and this desperate race up and down the hallway, up and off chairs and couches will last for hours and then all 4 of them will all just plop exhausted in a pile together and fall asleep.
We traveled 6 hours to some unknown town in northern Wisconsin to retrieve Gigi from someone posing not to be a breeder, we had our doubts as we met her at 1am at an abandoned one pump gas station. It was freezing cold and her tale of woe as to why she couldn't possibly keep this beautiful, fawn colored French Bulldog wasn't making sense, not pleased at being duped, we were just glad to take her from someone who had such little regard for such a beautiful dog. Scout went out of his mind when we brought this little puppy out of the elements and into our Honda Element, it was for him that we made the trip and the search was finally over for the companion we knew he needed.
The first time we saw Scout, he was behind a duck who was part of a long line of various cats and dogs in a single file parade along a man made narrow gravel path, returning home. This procession, we learned from the husband and wife foster care rescue team, happened spontaneously everyday and the path took them through every acre of their rural Indiana property. He was part of a large scale rescue of a huge Puggle breeder that involved various Indiana animal activists and government agencies. The husband had grown 'too attached' to this pup by his own admission but they gave him to us to make room for the next foster animal that would inevitably be arriving any day. We made a donation to their rescue group and named him Scout. He is devoted to Gigi, they are so often spooned lying together, he attends to every fold and wrinkle winning the constant effort to keep his 'Frenchie' clean and of course she obliges.
His sometimes nickname is MisterMister but tiny Gigi rules the roost here and they all know it.
WidowWidows' original name was Willow. I was without an animal about 13 years ago so I went to The Anti Cruelty Society and found her there, alone in her cage as all the other kittens from her litter were already taken. She was really thin, shiny black and had a scratchy yowl that kinda' crawled up your spine; perfect, the Halloween cat I never had. I would come home and call her as I opened the door and over time, my sometimes lazy mouth turned WillowWillow into WidowWidow. She's passionate about anything ice cream as am I and when I get horizontal on the couch with whatever flavor besides chocolate, she will find her place by my head and continue to tap my hair with her paw, until I finally scoop some melted ice cream and tap it along her mouth so she can lick herself clean. She's done this for as long as I've known her and putting some in a plate simply goes wasted.
It was many months and I don't know how many really, how do you measure time in tears, when we could talk about possibly needing and wanting another dog in our house and in our lives. Lexie, our Black Lab and Great Dane mix had to finally leave us in July of 2009. Lexi was a constant companion to my wife for almost 7 years before we met. She was the most peaceful dog I've ever known, she offered no judgement, hardly ever made a sound, she accepted every animal and person and never complained even as her illness made her 15 year daily routines progessively more difficult.
Dear Family & Friends,
I am writing to you with profound sadness to let you know of the passing of my beautiful dog and companion Lexie. She left us Tuesday July 14th at the age of 15 ½ after a 3 month bout with cancer. With the help of the Compassionate Care Vet surrounded by family and friends, Lexie went to sleep and died peacefully in my arms at home while listening to Bach solo violin. It was a good and peaceful death and we could not have asked for anything more.

Lexie was a gentle giant, a peaceful dog with a very old soul. Her favorite thing to do was to be wherever I was and I of course took her everywhere that she could possibly go. She was a true party animal who attended many gatherings, loved socializing and was always right in the middle of everything. Lexie loved to run on the beach and then jump in the lake and swim. Even right up until the end she would go right in and wade around.

I think one of the main reasons that Lexie lived such a long and happy life was because she listened to so much music. She spent many years in my studio, greeting everyone at the door and laying on her blanket or at the feet of students listening to the violin. She was so happy being there and being the recipient of so much love and attention from all of my students and their families.

Thanks to you all who over the years were a friend to her and to those who kept her while we were away….especially in her later years. Lexie was the greatest gift and I thank God everyday for putting her in my life. She truly was an angel in disguise and I am honored that I was given the gift of being her caretaker for all of these years.
We did some research and found an incredibly dedicated veterinarian who allows pets and their owners to say their farewells at home and that's what we did. Lexie was lying in her favorite spot in the bedroom and she slowly fell asleep. She was a big dog, the vet and I carried her down the three flights of stairs to his ambulance on a stretcher. Needless to say, I got the weeps and as trained as the vet was in providing this care, we were both having a difficult time. Friends and neighbors were waiting in our parking lot and we all said our tearful goodbyes as we put Lexi in the back of the van.
I wrote a diary on February 15th about an old pair of pants needing some repair. It was about renewal and committment and family and community and that maybe we shouldn't give up on things just because there's some difficulty and maybe some damage too.
Fellow traveler and kossack Knucklehead posted this comment;

dear occupant

When is your wife`s birthday?
If she jumped in & drove your pride & joy, she can get this patch for you both.
I have it in my hand right now as I type.
I think you can send a message via Kos mail.
If you do, I shall be happy to give you my email so you can send an address for you to retrieve your patch.
I don`t need it anymore since I`ve posted it on my facebook page to honor a recently deceased friend who I am sure is rocking on in the great beyond.
It`s yours.
http://www.facebook.com/...

I`m already against the next war.

by Knucklehead on Sun Feb 19, 2012 at 12:54:53 AM CST
The patch arrived in the mail and it is somehow more beautiful than his photo.
We have decided, now that this old, hand carved dog has been rescued and fostered that as soon as this diary is complete, we will be putting it in a padded box addressed to:
Knucklehead, Paradise, USA.
And if you doubt Knucklehead lives in Paradise, please check out his blog.
http://frenchpirate.blogspot.com/...
This is a very special person. Anyone who rides around town on a stretched classic cruiser bike with a white parrot on his shoulder is 'awright in our book. :-)
thank you, brother.
.
.
.
.
her dream;
'the day after lexie died i dreamed of her......it was a dusky
netherworld with large forbidding dark boulders. she was
running to me and following her were a pack of "the old ones".
these dogs were huge, muscular wild animals, bigger than her...
conan the barbarian dogs. i was terrified that they would hurt her
because she had just died and was weak and ill. however, she was
not weak and ill at all, but happy, healthy and strong. she let me
know that she was running with the wild dogs now, the ancient ones
and that she was very happy and living a dogs true life.'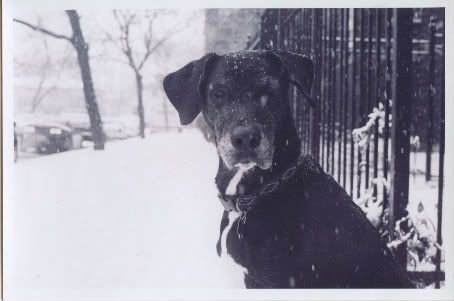 I wrote this diary listening to this song on my headphones.
Peace, everyone.
12:47 PM PT: geez, the rec. list? people ask me how an online community can make such a difference in my life. kossacks are somethin' else, what else is there to say.
thank you all so much.