Time for another installment of how effective of a Democratic map can I draw. This one involves Maryland, which I had been holding off on because there have been so many excellent and actually realistic 7-1 and 8-0 maps that were better than the real thing. Still, I figured I'd try my hand at both. The goal was first and foremost to maximize Democratic performance in the districts, but I also tried to give incumbent Democrats a seat they would be okay with. In the 7-1 map all Dem seats are at least D+10 and in the 8-0 map all the seats are at least 60% Obama. Both maps also use water contiguity across the Chesapeake.
Version 1: 7-1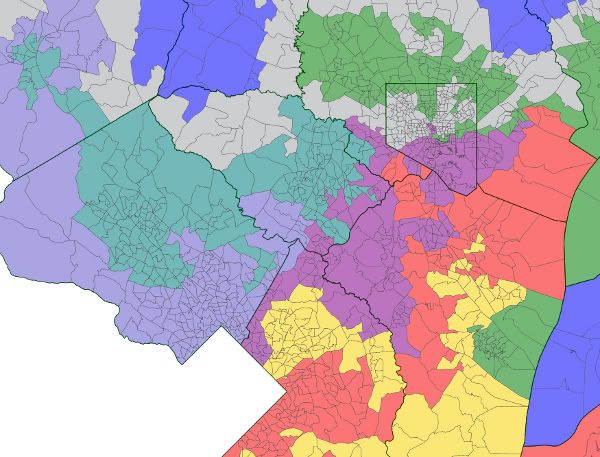 The 1st district becomes a right-angle GOP vote sink as it does under the real map. This one though contains the panhandle as well as much of the eastern shore. I packed it even further to a bloody red R+19, which will be safe for even Andy Harris.
The 2nd district combines the home bases of both Dutch Ruppersberger and John Sarbanes, but I imagine one of them, most likely Sarbanes, would run in the 3rd. The district, based in northern Baltimore and Baltimore County, becomes several points more Democratic and would be safe regardless of who wins the primary.
The 3rd district shifts southward and now gains a small sliver of Prince George's County and becomes a lot more Democratic. Sarbanes would probably run here as he represents some of the district already and he would avoid a primary with Ruppersberger. He would definitely not like this district in the primary though, but it would help introduce him to more of the state for his likely future statewide run.
The 4th district is one of the two VRA districts and is based in heavily black Prince George's. Instead of meandering into Montgomery though, it now is used to crack Anne Arundel and the eastern shore, dropping down to 69% Obama in the process but still 50% black.
The 5th district is pretty much the exact same as before. Hoyer drops some conservative leaning territory, including his nominal home of Mechanicsville, and gains more of Anne Arundel. Safe for Hoyer and the Dem who succeeds him.
The 6th district is practically a new seat. No longer dominated by the panhandle and Carroll County, it takes in heavily Democratic parts of Montgomery and Howard counties, as well as Frederick. Barlett wouldn't stand a chance here and either would opt for a primary against Harris in the 1st, or more likely just retire.
The 7th is unpacked substantially by dropping the whiter portions of Baltimore and Howard County in exchange for the conservative parts of Baltimore County and Frederick County, among others. It is unpacked to just under 67% Obama, but still 50% black and Cummings will have no problems.
The 8th is still based in Montgomery County, but now adds Hagerstown and parts of Frederick County to unpack it slightly. It is still ridiculously Democratic and Van Hollen will be safe.
The result of this is that Democrats would win all 7 seats consistently instead of having to worry slightly about the 2nd, 3rd, and 6th under the real map. Furthermore, every incumbent except John Sarbanes would likely be satisfied with their district, Donna Edwards' posturing aside (she's safe regardless...)
Version 2: 8-0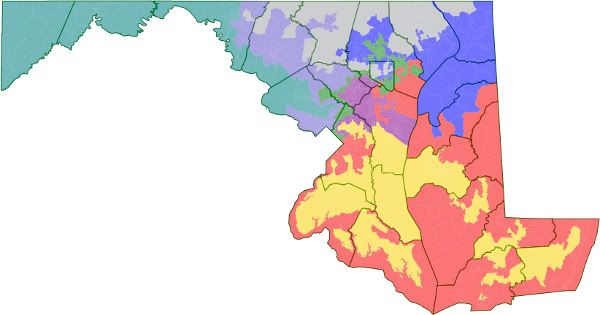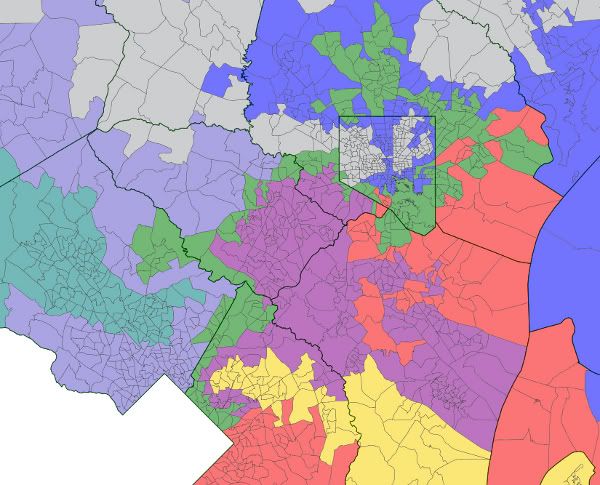 As most DKErs who have done an 8-0 Maryland know, the name of this game is unpacking the VRA districts. You'll notice that every single district is between 60% and 70% Obama, despite both VRA districts being 50% black.
The 1st district is essentially a new district. It is no longer based primarily on the eastern shore, but instead in Baltimore and Baltimore County. One of either Sarbanes or Ruppersberger might run here to avoid a primary, but it only contains a minority of their old territory. Hopefully they would have worked out who would have run in the 2nd though, since both seats are safe.
The 2nd district district is probably a better fit for Ruppersberger, but it now meanders all the way from Baltimore County, around Baltimore, around Columbia, and down to the DC suburbs in Prince George's County. Safe for any Democrat, whether its Ruppersberger or Sarbanes.
The 3rd district probably contains more of Sarbanes territory so it wouldn't have surprised me if he ran here. It now runs from Annapolis to Columbia, and also includes some of Prince George's to push it over 60% Obama and ensuring safety for Dems.
The 4th district is similarly used to crack the eastern shore under this map, but is now even slightly less Democratic at 68% Obama. Still, it's 50% black and Donna Edwards would win the primary easily as she will in reality.
The 5th district is also pretty similar to the old version, but it now drops some of Prince George's County, although not College Park, to grab some of the more Democratic/whiter territory from the eastern shore to unpack it somewhat. Still Hoyer would be quite safe as would his successor once he retires.
The 6th district is more along the lines of the actual version under this map, but is more like what Maryland Dems should have drawn. It includes the entire panhandle and Hagerstown, but instead of keeping Frederick it takes in more of Montgomery County to push it over 60% Obama. Bartlett would be screwed and Rob Garagiola would easily win here.
The 7th district is also unpacked even more than in the 7-1 map. It still keeps the black core of Baltimore, but now adds those comically dedicated racists in Carroll County, as well as more conservative areas along the Pennsylvania border. It is now only 64% Obama despite being 50% black which is a fairly hard feat for a VRA seat outside of the deep south. Cummings will be absolutely safe here.
The 8th is still based in the most Democratic parts of Montgomery County, but now includes Frederick and Westminster to unpack it from ridiculously safe to just safe for Van Hollen.
So there you have it, two maps that satisfy every incumbent other than Sarbanes that were much more effective than the actual map.