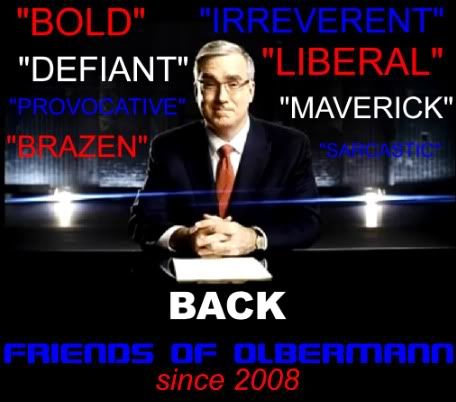 I think I may double - up on SPARK while WPITW is in the woodshed. Would y'all mind if I did that? I'll probably bring out an occasional best of WPITW, too.
Speaking of SPARK :D, Ya' know, all things considered, this guy could've smeared the men's room with something way worse! I'm seeing the influence of Tim Curry in The Rocky Horror Picture Show all over this trend. :)
Finally, here is only one of a million reasons why "the froth" rose to the top of this state the other night.
Let's Countdown!
#5 "Men at Work" AKA "Numbers Game" AKA "Desperate Candidates" - So, how will the MENSA candidates spin tomorrow's possible good news on the jobs front to make President Obama look bad? And, if Gawd is TRULY on any MENSA candidates' side in this election cycle, I want the current Gawd sacked. Over 200K jobs in the private sector were added. Tom Hanks is the voiceover for the upcoming Barack Obama movie. There are more primaries & caucuses in the next couple of weeks for the GOBP to totally spark up organization - wise. ;D Mittens sent a son to GUAM?! HA! Newtie's peeps are saying he better pretty much sweep the South a la Sherman (?). Undecided leads the pack in AL. hee...hee...hee... Mr. Aspirin Man's spent some coin on a new ad for the frothy one. David Cantanese gets to discuss the sorry state of the GOBP. Yea, if I was Mittens, I wouldn't be throwing the faith stuff around willy - nilly in the South; him being a "northerner" is bad enough. Mixed messages from the Mittens camp are displaying confidence in their guy but wanting one of this sonny boys to go to Guam. Ya' know, if Man on Dog's not "organized" by now, he ain't gonna be, and it's too little too late. Mittens wants Newtie & Man on Dog to both stick around for a long damn time to split that non - Mittens vote. Newt will stay in this race as long as the checks from Sheldon Adelson don't bounce. Ryan Grim gets to talk about approval numbers and potential jobs numbers for tomorrow. The direction of the economy seems to be positive, so the direction of President Obama's approval numbers will probably go in the same direction. Lots of folk are working more but making less. Mittens is desperately trying to skew the subject of discussion toward the economy just in time for news on the good front tomorrow.
#4 "Breaker of the House" AKA "The Party Divide" - Keith is advancing the Rachel Maddow hypothesis that Speaker Sobber is $hitacular at this job. It doesn't sound like he's got too many BFFs in Congress; more drinking & tanning might be necessary. The Senate defeated a pro - Keystone Pipeline legislation that would've basically strong - armed President Obama into giving the green light to the mother. Speaker Sobber lobbied his sobber a$$ off for the thing. He also had a scrap a highway bill he wanted to introduce. GOBP budget peeps want to make more cuts than anticipated by the debt ceiling deal. Benjy Sarlin gets to chat about Speaker Sobber hazing a sad. ;D He said anyone in Speaker Sobber's position would be having similar problems; I disagree. Speaker Sobber has sparked up being Speaker since day one. When Nancy Pelosi was in charge, she had the Dems IN LINE. A jobs bill that will accomplish absolutely nothing passed in the House today. The Keystone Pipeline might rear its ugly rear again after the election.
"Time Marches On!" - AAAAaaaaaaWWWWwwwwww!!!!!! It's a little kitten & a little monkey!!!!!! A model in Paris took a spill then took a spill again. Apple Daily has put their spin on the Saints bounty story! :D
#3 "Hate Rising" AKA "Hatred on the Rise" - There are more hate groups out there now than ever before; I'm not surprised. The Southern Poverty Law Center tallied up 1018 hate groups last year. Militia groups are on the biggest rise. Mark Potok gets to report about these horrid numbers. An African - American man being POTUS has short - circuited a whole mess of people. Caucasians will not be the majority by 2050. The economy tanking didn't help things, either. Mr. Potok's not thrilled with the tone of the MENSA primaries. Hate & conspiracy theories are mainstream now.
#2 "Block the Vote" AKA 'Fight to Vote" - TN was the last state to ratify the amendment that gave women the right to vote. Gee, why am I not surprised? A former TN Congress critter was denied the right to vote the other night due to the new restrictive voter ID law in TN. Wow... How did a former Congress critter NOT have a state - issued ID?! A former Marine refused to show his ID. Rep. Lincoln Davis didn't get to vote the other day because he was told he wasn't registered. The administrator from the elections said they sparked up; yea, I'd say so! The dude didn't even have his driver's license on him? He was removed from the voter rolls on purpose. He would like for Congress to step into all these horrid voter ID laws. Yea, good luck on that score with THIS Congress. The only way you're supposed to get purged is by dying or becoming a felon. A lawsuit will be filed.
#1 "Women Scorned" AKA "Genderal Affairs" - Today is International Women's Day! The day was celebrated in VA by Governator McDonnell signing that ultrasound bill into law, and Boss Limbaugh celebrated the day by calling a Post reporter a word that rhymes with "witch" and scrubbing his website of any of the Sandra Fluke stuff - like THAT'LL make it disappear. He IS an ultra maroon! State Dems all over the country are trying their best to fight back in rather creative ways. :D Boss Limbaugh thought satire was actual journalism - BRILLIANT! Maysoon Zayid gets lady duty. :D BillO's piling on the Sandra Fluke crap by advancing some conspiracy that President Obama's backing her, and she won't go on his show. Maybe, he'd lighten up if another loofah was sent to him. ;D