New Mexico's congressional districts were implemented by a court and as such were fairly non-partisan. That map was only minimally different from the current one and should result in a reasonably stable 2-1 split in favor of Democrats. This diary will look at what each of the parties could do if it had unilateral control over redistricting and wanted to gerrymander the state. Note, the Dem 2-1 map uses touch-point contiguity once.
Democratic 2-1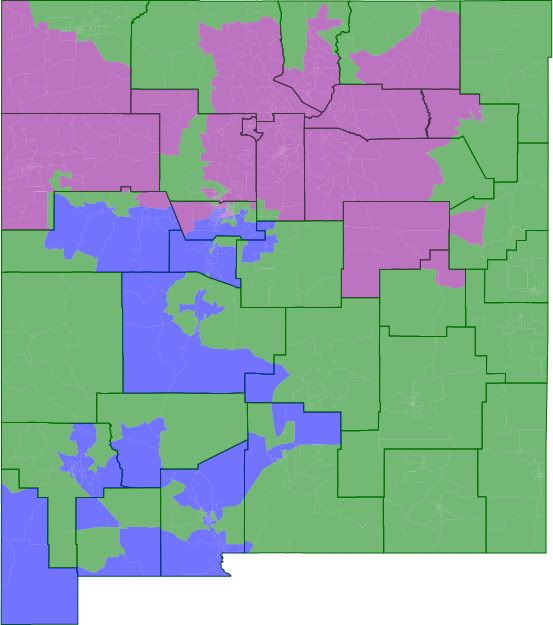 In this map the 2nd district becomes a very Republican vote sink comprising the more conservative parts of southern New Mexico and the Texas border. At R+15 Democrats aren't winning this short of live dead boy/dead girl territory.
The 1st district, which is currently open with Martin Heinrich running for senate, is made safely Democratic at 65% Obama as well as 58% Hispanic which should be enough to ensure a Hispanic candidate wins the Dem nomination.
The 3rd district remains based in northern New Mexico and now includes parts of Albuquerque. It would be safe for incumbent Rep. Ben Ray Lujan in both the primary and general.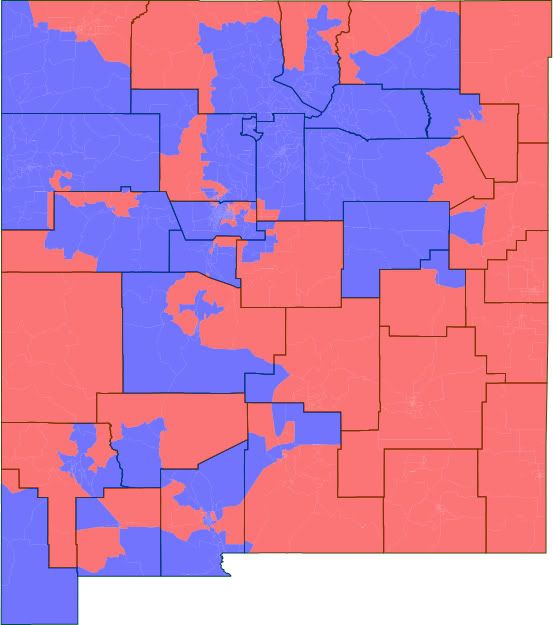 This map would result in an almost guaranteed 2-1 Democratic split.
Republican 2-1
The 1st district in this map becomes a staunchly Republican R+6 district located in the more conservative parts of northeastern New Mexico and Albuquerque. Republicans wouldn't have much trouble picking up this seat, although it would probably trend Democratic as the rest of the state does. Still, it is nearly 60% white and 11% more Republican than the state based on the 2010 elections, so it should be a likely Republican seat.
The 2nd district is mostly similar to GOP Rep. Steve Pearce's current district. It becomes a bit more Republican though at R+5, yet it is plurality VAP Hispanic. Still, this seat would favor Republicans and probably continue to do so later in the decade due to lower citizenship rates among Hispanics.
The 3rd district is the Dem vote sink and in this map is packed to a dark blue D+23 and is now majority Hispanic and just below 30% white. Ben Ray Lujan wouldn't have much trouble winning the primary or general here either.
Democratic 3-0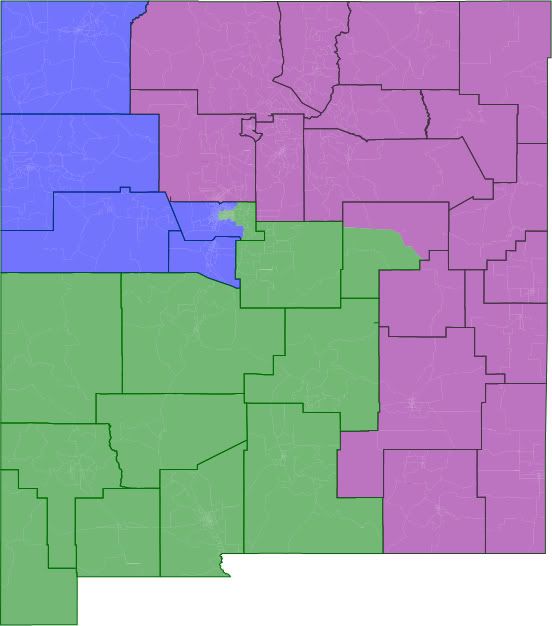 This is the sort of map I would want passed if Democrats held the trifecta due to how quickly New Mexico is trending Democratic. All 3 districts are at least D+3 and Dem majority on average.
The 1st district takes in northwestern New Mexico as well as western Albuquerque. Hispanics are a plurality at 40% while Native Americans make up a substantial 17% here. Democrats would be favored to retain the seat.
The 2nd district comprises central and southwestern New Mexico, as well as eastern Albuquerque. As with the other two seats, it is still majority minority, although unlike the 1st it is plurality white. Still, Dems should be able to win this district given Obama's 14% win here.
The 3rd district is composed of eastern and north-central/northeastern New Mexico. It is the weakest by Obama numbers, but the strongest by the Dem average in 2010, so Democrats would most likely to win the seat given its relatively blue nature. The seat is also nearly Hispanic plurality and would have a good chance of sending a Hispanic candidate to congress.
So there you have it; New Mexico could easily support a 2-1 split in favor of either party depending on which one controlled redistricting, although Democrats could quite neatly devise a map where they were favored in all 3 seats.