PALS (Positive Action for Living Safely) Project

About a year ago I made a phone call down to The Pride Center in Ft Lauderdale and asked about the Shanti LIFE Program. The LIFE Program is an 18 week course for men living with HIV/AIDS. There are two cycles a year and usually has about 40 Poz men enrolled in each cycle. They are meeting in a building that is still a work in progress, the new home for the PALS Project.
The Pride Center, Ft Lauderdale, Florida

When Sara called and suggested starting up the Gallery Kos Community Art Project it didn't take me long to think of the perfect place for the Daily Kos to donate a painting, the PALS Project. After I enrolled in the LIFE Program, with all their guidance and support I began focusing on my painting again. The Pride Center hosted my first solo art exhibition which was a huge success. And with their encouragement I have also entered many shows and have been painting again.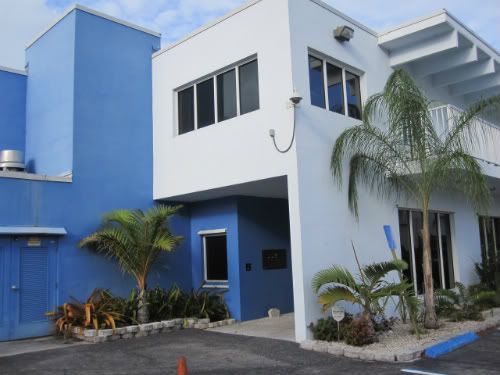 The PALS Project is in this building
It also occurred to me that Building "B" in the Pride Center, which houses the PALS Project, had a lot of empty walls. During my solo exhibition it was even a subject of conversation. I remember now waiting in the halls and reception areas of the PALS office for my LIFE classes to begin and seeing those empty walls, and while it's the people there that are important, some art work here and there would have made the waiting less anxious for me. So I contacted the PALS staff and told them about the Daily Kos and our idea about contributing a painting to them. I also asked them to choose a painting from my website. They chose a local scene from the Florida Keys, Bahia Honda: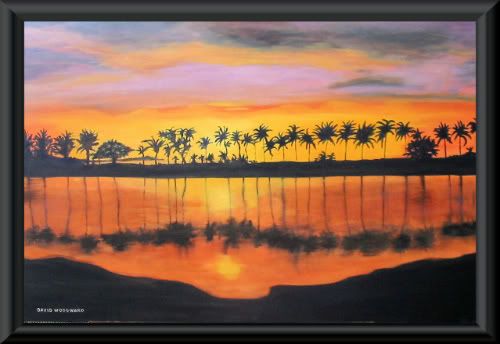 "Bahia Honda", 24" x 36" -- we're looking for $700 to send this painting to PALS
It is my hope that once this gets started more people will start contributing art to the PALS Project. The work they do is critically important to all of South Florida. In addition to sponsoring many community events they offer two main programs now:
The LIFE Program:

The 17-week L.I.F.E. Program® helps men living with HIV create and implement personal goals for health improvement, boosting their immune systems, lowering risky behavior and increasing adherence to health routines and medication schedules.

And CHOICES:
Our five-week CHOICES program focuses on equipping HIV+ men with coping skills to build healthy relationships, negotiate safer sex, lower stress and disclose HIV-status to family, friends and sex partners.

The Pride Center and PALS offer HIV and STD testing. They are running a Buddy Program, as part of the LIFE Goes On program funded by the Elton John AIDS Foundation and will offer individual counseling to people with HIV-AIDS; a program for Pos and Negative couples called "New Life" and they are also seeking to expand their diversity.

I went down and snapped a few pictures so you can see where they might be placing the Bahia Honda painting, they are all very excited.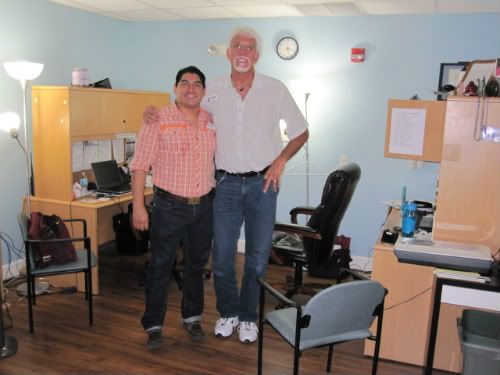 Magno and Jeff of the PALS and LIFE Program staff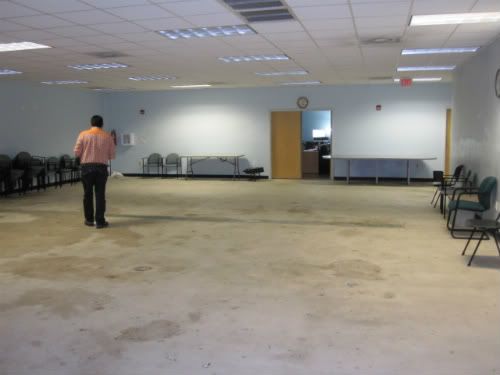 The main meeting room, waiting for new carpet...and lots of empty walls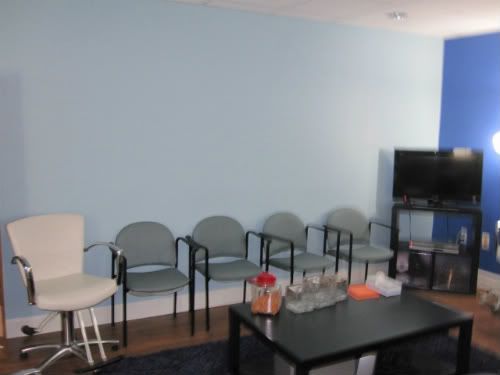 The wall where they envision Bahia Honda

With your help, the PALS office and Pride Center can become an even better place with the addition of a painting from a LIFE graduate and fellow Kossack.
TO DONATE TO SEND THE PAINTING TO THE PALS PROJECT: send PayPal to flabee@msn.com...(this will go to the artist) or send Kos Mail if you prefer to send a check. We are looking for $700 to send this painting to PALS -- $650 for the painting and $50 for the frame and a plaque saying that the painting was donated by the Daily Kos community.



TO DONATE TO THE PALS PROJECT ITSELF: go to their website and click DONATE