Yesterday in NYC on the International Day for the Elimination of Racial Discrimination 2012 a Million Hoodie March was held to show solidarity with Trayvon Martin's family and to demand justice for all of the potential Trayvon's who may die or be incarcerated as a result of systemic racism.
Though headlines I saw mentioned "hundreds" marched, looked like thousands to me.
From All Things Harlem:
The speaker is Brian Jones a Teacher, Writer and Activist we interviewed during the rally/march. He connects the killing of Trayvon Martin to Michelle Alexander's book, The New Jim Crow and the view of black and brown men as criminals. The results of this criminalization has not only led to the mass incarceration of black men but also the murder of them like what happened with Trayvon Martin.
Trayvon's mom, Sabrina Fulton speaks at the rally: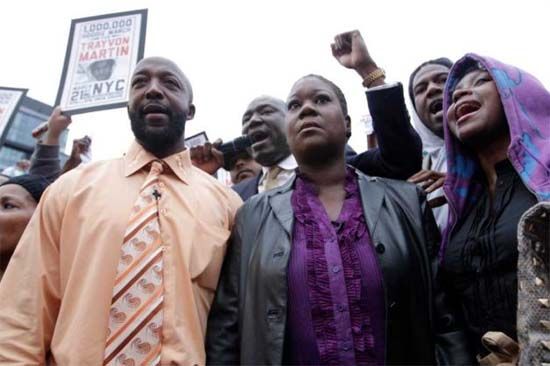 One of the organizers of the march, Daniel Marree said
"I've been in situations, both when I was in high school and now in New York City, where I've been walking down the street in a hoodie and I can instantaneously tell I'm being taken as suspicious or people start grabbing their purses when I walk by"
Our own brother Mallyroyal agrees
Please read HamdenRice's:
Trayvon Martin: A teachable moment about institutional racism and subjectivity?