Buenos dias a todos otra vez. I'm still in Chile starting my 4th and final week for this trip. I'll be really sad to go this time, missing my 2 grandaughters already. And especially because my home in Oregon is covered with snow and mrs exlrrp tells me the power has been out for 20+ hours. Hope she gets it fixed by the time I get back.
but any how I'm having a time down here in Valparaiso. Now this is a place. Santiago reminds me mostly of LA but Valparaiso reminds me more of San Francisco. and the comparison is apt---the dockworkers here call it Panchito for little [San] Francisco, others call it Valpo.
I'm down here with my niece who lives in Santiago. her boyfriend (thats the word she wants me to use) is the chef at my son's newest restaurant in STGO.
We came down here on Wednesday on one of Chile's great buses. they have competing bus companies that vie for business by making it as comfortable experience as possible. The seats have at least 6 more inches of legspace than airline coach, theyre wider and more comfortable. They have sleepers and meals on some long distance routes. very smooth, great freeway, about an hour and a half for a 75 mile drive. Cost: about $8.00 american.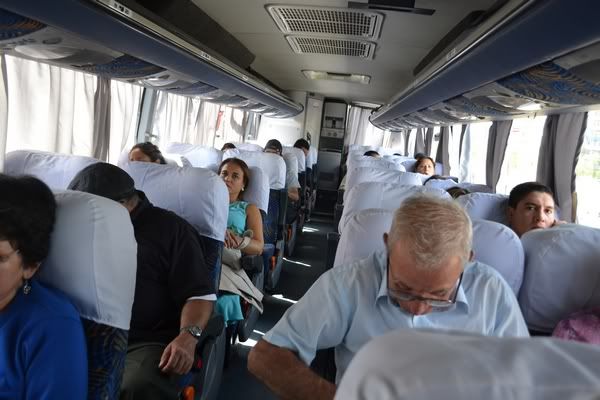 Favor de vayas abajo de la squiggle naranja
"Valparaiso how absurd you are/
You haven't combed your hair/
You never have time to get dressed/
life has always surprised you/........"
Pablo Neruda (Ricardo Reyes Basoalto)
Neruda had it right and he should have known---he had the most notable house in Valparaiso--La Sebastiana. Its a museum now and its really indescribable inside---very eclectic and artistic.


I was there again today for the 2d time, last time 4 years ago. he has a gorgeous collection of art including Picasso and Dali, who he knew well. Its a real nautical astmosphere inside, gives the impression of being in a ship. has the greatest view. Unfortunately, they don't allow pictures to be taken inside.
Neruda (1904-1973) got to know many of the art and literature world elite of the 20s, 30s, 40s & 50s and has paintings, photos and letters from many of them. He was Poet Laureate of Chile and a Nobel Prize winner, an Ambassador and a Communist in exile
Valpo is the age old port to Santiago's big city, LA atmosphere. its the oldest port but not the biggest one now---that honor belongs to San Antonio, about 50 miles south.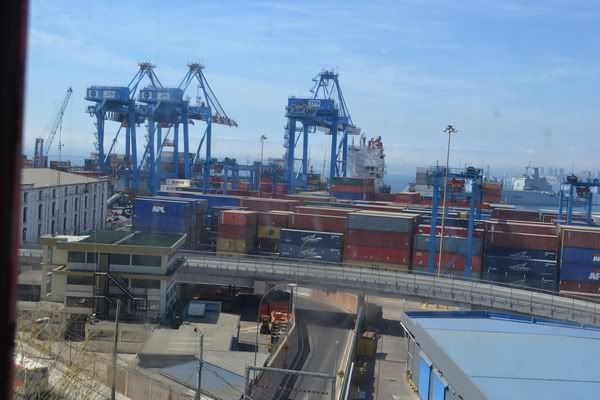 This was a large and growing larger port during the Califonia Gold Rush days---the first major port ships encountered after navigafting the straits of Magellan going around the horn. It lost a lot of importance when the Panama Canal was built and went into a decline. But Valpo is still booming. and with Vina del Mar, a Miami Beach resort town right next door its become a major tourist destination.
Lonely Planet calls it "the most unusual city in South America." Thats because its built on many steep hills with just a small shelf for the downtown area. the streets wind around, twisting and turning, much worse than san Francisco. Houses built here are real cliffhangers and there have been many devastating earthquakes.
How one gets up and down these steep hills is either to walk, take a bus or taxi, or use the funicular rairoads. these are little cars pulled by cables that go up a few hundred yards to a half a mile. They are lots of fun, cost about 50 cts to ride. this is the one we ride to our Bed & breakfast, or Hostal. Ours is The Yellow House and i highly recommend it.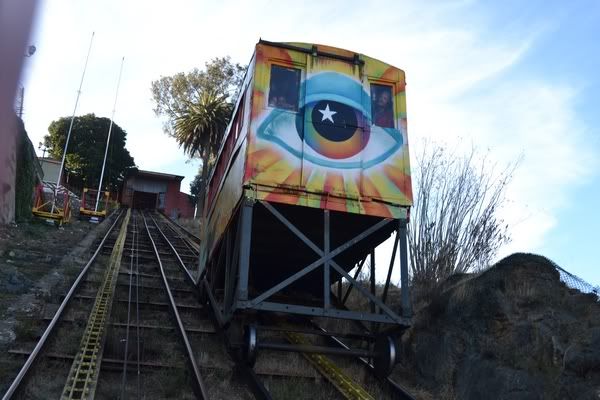 this is the view of Panchito from the funicular (so was the port shot above)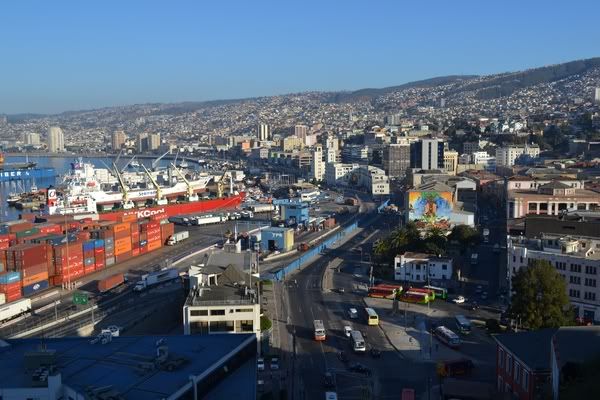 Valpo is a real european type city---old buildiings, with twisting streets. I only have time/space for a few shots but these are repesentative of the flat downtown area: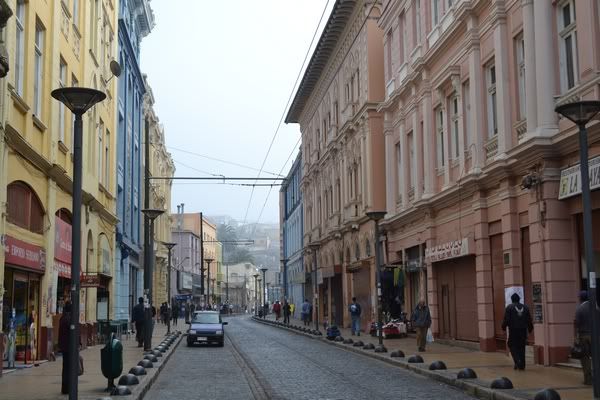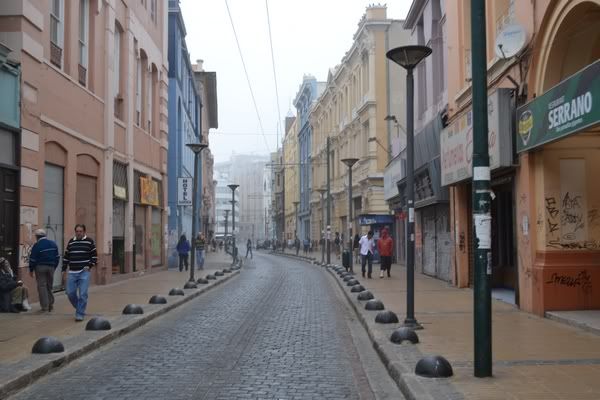 Notice how clean the streets are. Chile is the cleanest latin american country Ive ever been to.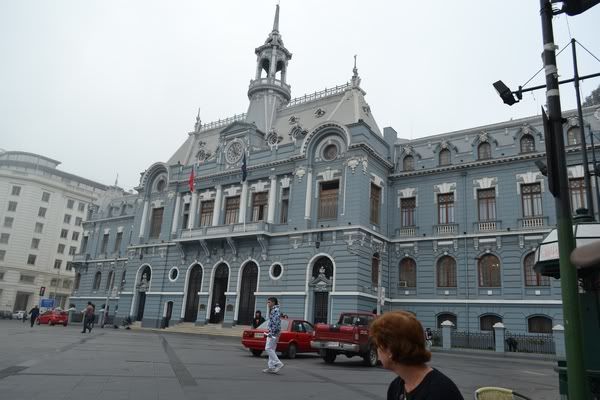 here I am at the Plaza de Armada which is the biggest square downtown. Valpo is the headquarters of the Chilean Navy (Armada) which is the most powerful navy in South america. The gray building above is the headquarters of the Navy Commander

Valparaiso has tons of restaurants of every level. there's great Chileans-eat-there seafood restaurants (rec: El Porteno) and some world class tourist restaurants (rec: Brighton) with killer views. there's cutural centers and museums and a good metro to get you arund and up to Vina.
but whats really striking is the art---its ALL around you, everywhere. This started out as graffitti, and still is in places, but the Valparaiso city government started to pay people to cover up the grafitti with art. then famous artists like banksy started showing up---now every artist wants a shot here. And now its all over, every neighborhood, every block, fantastic murals all over. there's a code of honor not to tag over the art.
Its gorgeous and thought provoking. Its really stunning. Its worth a trip here just to see it. What you see here is taken from over 100 shots I took and there's just so much more---its everywhere.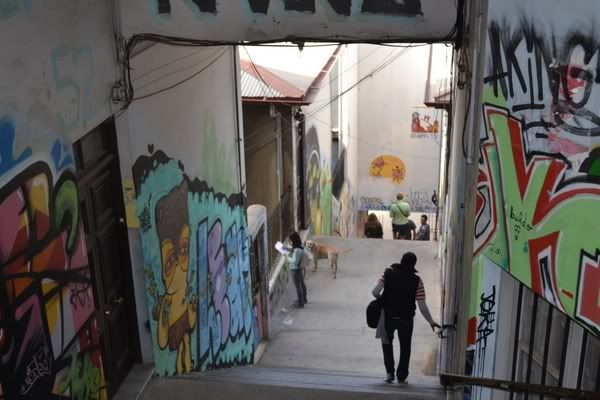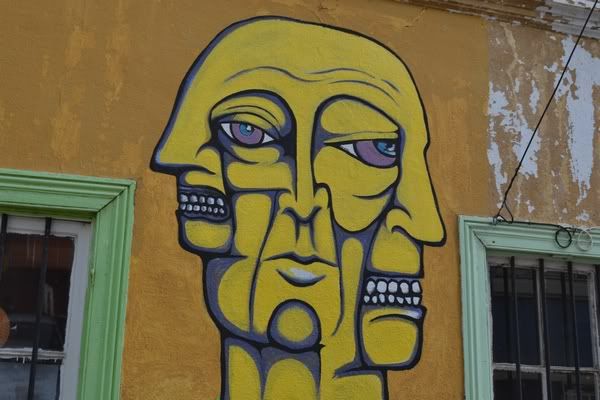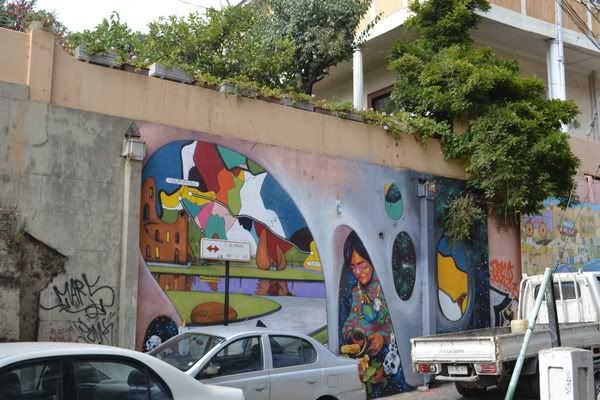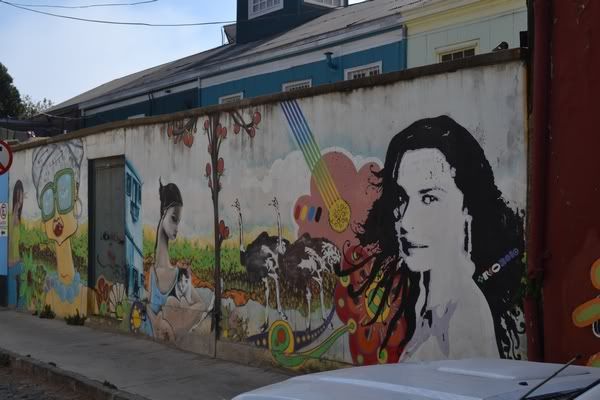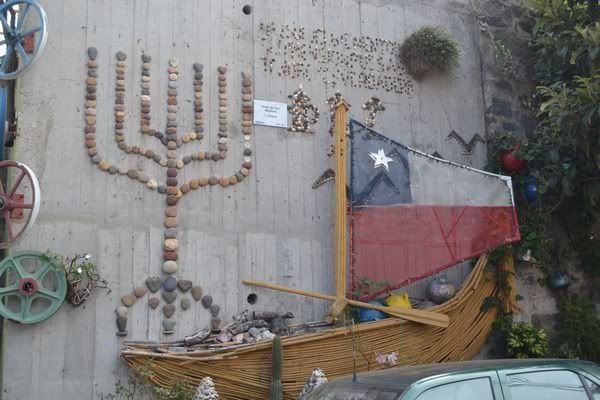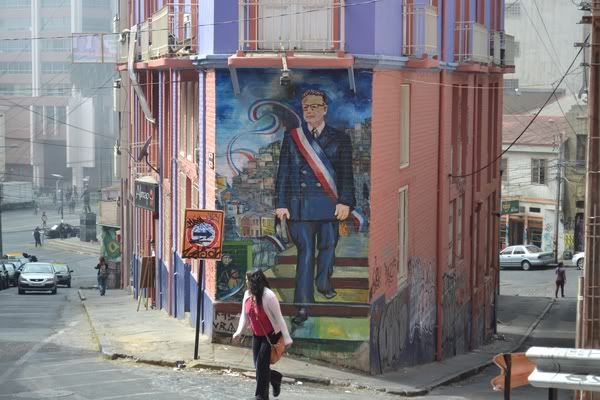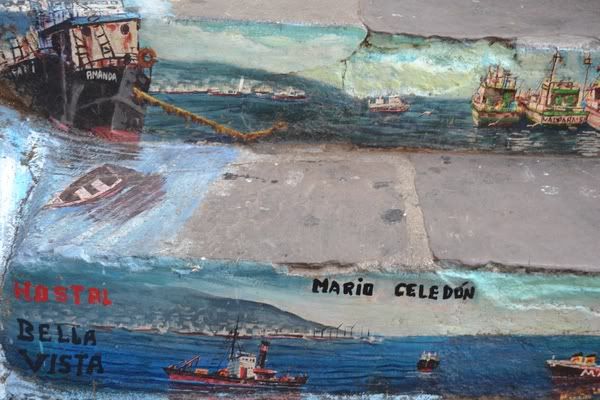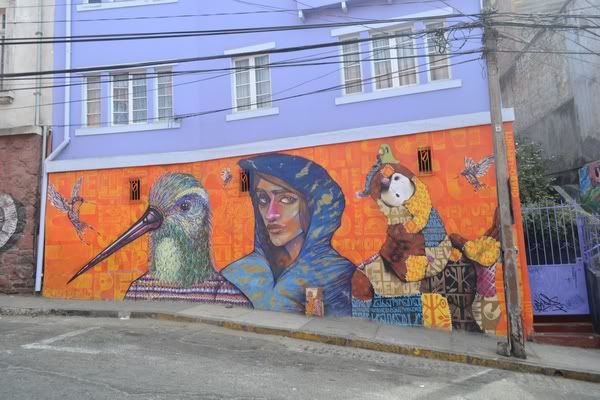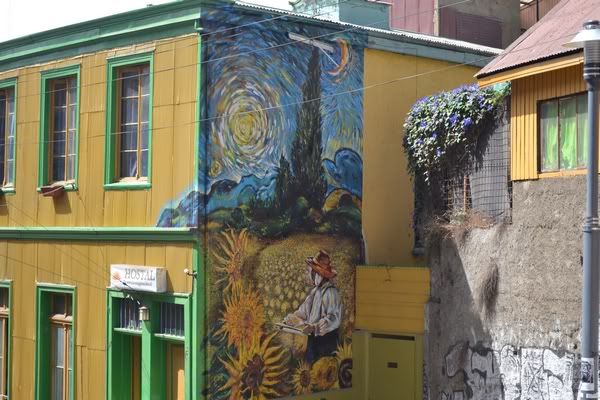 Well thats all i really have space for. You get the idea. walking Valparaiso is like walking throgh a huge outdoor art gallery with great little surprises around every turn.
Ciaao for now. see you on the road.
exlrrp