This evening that Reed's mother and sister were sitting vigil at his bedside. One year ago tomorrow, March 27, 2011, at 2:57 PM CST, he slipped through that mysterious veil, crossing over to whatever lies on the other side.
He did not have a marker for his grave. His mother hoped that someday she would be able to have a marker for him. Having a memorial bench for him was something she had also wanted, but was far beyond her reach. She is disabled, on SSI, and confined to a wheelchair. She is a cancer survivor herself, but the radiation damaged her hips and gastrointestinal system, degrading her health dramatically. The last words Reed heard was his mother whispering in his ear that, "No matter what, I will find you."

His story has already been told here. Now for the rest of the story. Thanks to a remarkable group of people who donated, not all of them registered users here, Reed now has his marker and a memorial bench. I am not going to try and name all the people who donated—you know who you are, and a number of you wanted your donations kept private. Special thanks, however, goes to Dem in the Heart of Texas who set up the donation page for Reed and to Nurse Kelley, rb137 and Oke who gave support to our family far above the ordinary call of duty. All who participated are appreciated more than you know. Moral support counts at times like these. There are many who were not able to donate money, but your kind comments and support are also appreciated deeply. Sometimes love is something that cannot be measured by coin. Reed, his mother and his sister are rich indeed.
Reed has his bench. The words on top are what he told me that day, little more than a year ago: "I so wanted to be eighteen…." Now he will be seventeen forever.
Reed has his marker. Note the chef's hat symbol in the upper left corner. His mother told him as he was slipping away, that she would be with him always. When she passes, she will be buried next to him. His remains were cremated, as will be hers. There is room in a single grave plot for two cremation vaults, so they will be side by side forever.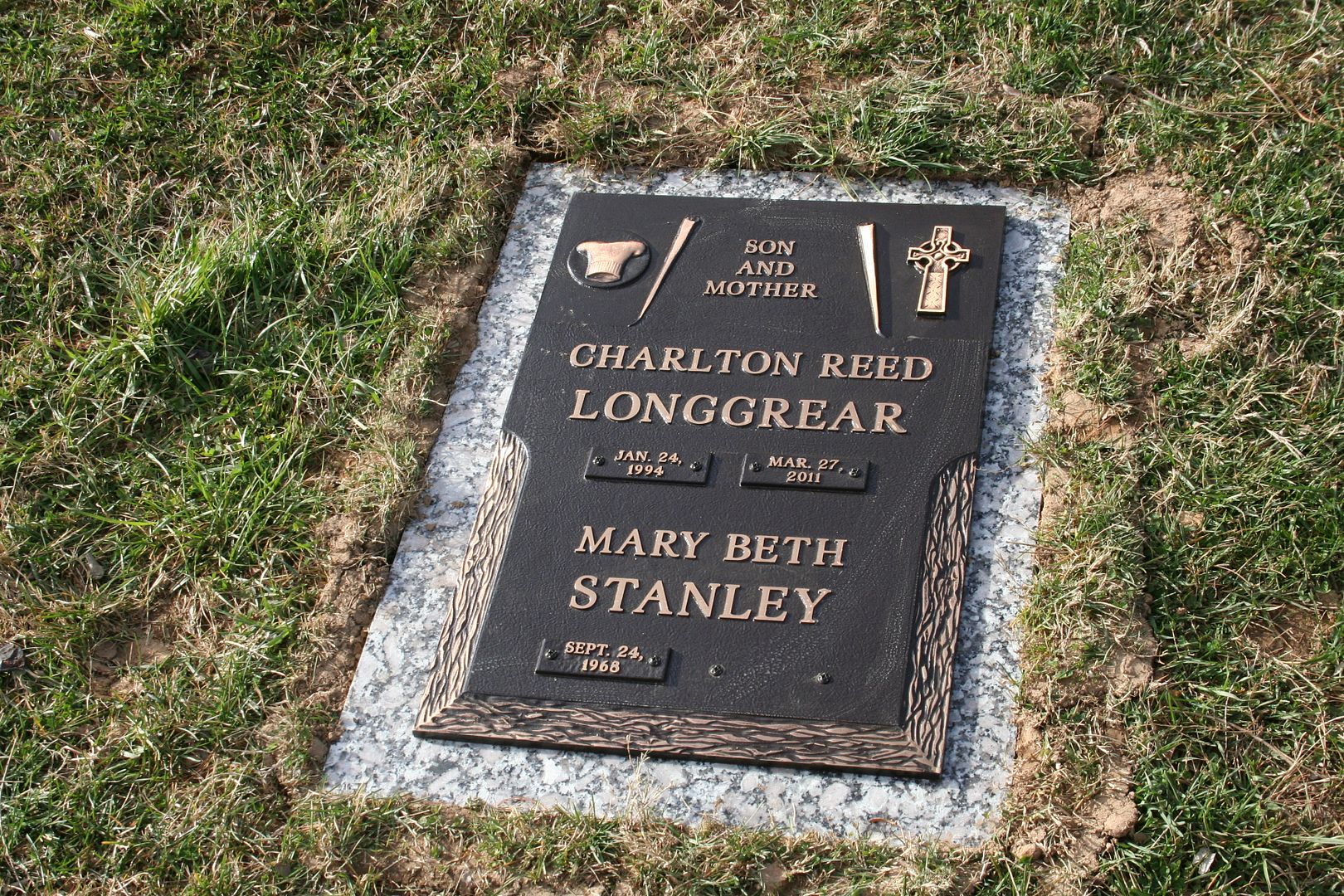 Here is a view from his gravesite. The beautiful Blue Ridge Mountains the Cherokee called "The Otteray," roll off into the distance. I would write more, but these pictures say what I wanted to say. They would not be here if it were not for a group of giving caring people who loved him.
There is one more thing. I have been in touch with Chef Richard and there have been enough donations, including one from Chef Richard, to fund two (2) culinary arts scholarships. One Kossack (you know who you are) donated enough for a whole scholarship for a deserving young person to spend a week at chef's camp this summer.

A special welcome to anyone who is new to The Grieving Room. We meet every Monday evening. Whether your loss is recent or many years ago, whether you have lost a person or a pet, or even if the person you are "mourning" is still alive ("pre-grief" can be a very lonely and confusing time) you can come to this diary and process your grieving in whatever way works for you. Share whatever you need to share. We can't solve each other's problems, but we can be a sounding board and a place of connection.