Arizona Representative Brenda Barton recently insulted a female Arizona consituent's intelligence and education when she spoke up on her Facebook page, excercising Project TMI.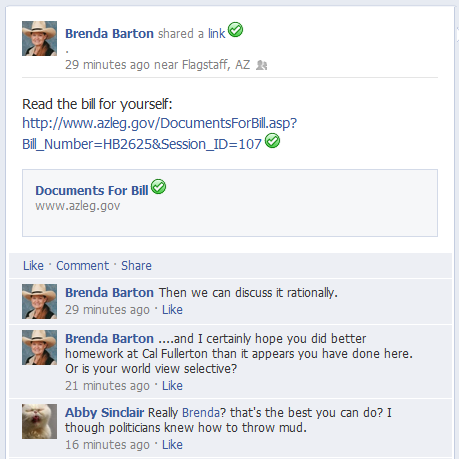 In response to the woman's posting about her cycle being regular, Brenda Barton unleashed an all-night attack on the woman's Facebook page.
What Barton didn't know is that we captured the entire conversation using the screen capture method. During the discussion, Barton accused me of "shoddy reporting" by taking a screen shot of this conversation to the left.
After Barton became aware that I was sharing this information on Twitter and Feminist groups, she changed her attitude and asked us to "engage in rational dialog" so that we could "change minds and hearts." I called her out on the religious lobbying backing some of the Arizona house bills, and she refused to answer directly.
The entire conversation can be found here: http://www.scribd.com/...
Follow Lisa Kerr on Twitter, @mycultlife