It would have been easy to miss this encouraging Green News given the hub-bub at the Supreme Court this week.
But the headline got my attention -- so I thought I'd recycle it.

New Carbon Pollution Safeguards Will Protect Our Health, Our Children's Future
by Mary Anne Hitt for DK GreenRoots -- Mar 27, 2012

Today, our nation is taking a historic step for our health and our children's future. The Environmental Protection Agency (EPA) and the Obama Administration have just announced new carbon pollution safeguards that will protect clean air and the planet, while also spurring innovation and creating jobs in the clean energy economy.
[...]

These standards will protect Americans' health, our economy and the future of our children, from carbon's threats. Before today, there were no limits on the amount of carbon being spewed into the air by the nation's largest sources of carbon pollution: dirty coal-fired power plants.

Concerned about these dangers, Americans have repeatedly said no to new coal-fired power plants for the past decade, defeating 166 proposed coal plants across the nation. Now, as the Sierra Club's executive director, Michael Brune, said today in a press statement, "These first-ever carbon pollution standards for new power plants mean that business as usual for the nation's biggest sources of carbon pollution, dirty coal-burning utilities, is over."
[emphasis added]

Thank you Mary Anne Hitt for that great report. I hope more folks will take the time to read it.



Here's a bit more background on those CO2 Regs -- it seems they have been kicking around these parts for quite a while now. Just another Tumbleweed in the free market wind ...

EPA's carbon rules to grandfather existing coal plants, limit new ones
by John Timmer, arstechnica.com -- Mar 27, 2012

Although the EPA has not yet made an official announcement, it is apparently ready to issue its first regulations regarding carbon dioxide emissions. The process dates back to the Clinton years, when states first asked the EPA to use the Clean Air (CAA) act to regulate greenhouse gasses as pollutants, with carbon dioxide getting extra attention due to its role in ocean acidification. After years of delay, the Supreme Court ruled that the EPA must determine whether CO2 is a pollutant according to the CAA's definition. The Bush Administration's EPA found that it was, but its findings were never made public or acted upon (they have since been obtained by the press). The Obama EPA reached a similar conclusion, but deferred acting on it, at least until now.

According to various press reports, the EPA has been briefing stakeholders on its planned regulations. They would put the limit on emissions at 1,000 pounds of carbon dioxide per megawatt-hour of electricity produced, but will only apply to new construction. A modern natural gas plant should be able to meet that limit with little difficulty. Most coal plants in existence, however, produce roughly double that amount, and will not be able to meet it without adopting some form of carbon capture and storage technology.
[...]

Lest we forget the Supremes already ruled that CO2 is a pollutant -- one very much in need of regulation. And the GOP Big Oil-favoring Bush Administration choose to do nothing about that ruling.

Supreme Court: CO2 a pollutant
by John Dimsdale, Marketplace PM -- April 2, 2007
[Click above link for the complete youtube report.]

KAI RYSSDAL: And it's official. Carbon dioxide is a pollutant. The Supreme Court says so. The Bush Administration had been arguing the Environmental Protection Agency doesn't have the authority to regulate greenhouse gases. Like carbon dioxide when it comes out of automobile engines.

But five members of the High Court read the Clean Air Act differently. [...]

Norman Dean is executive director of Friends of the Earth, one of the original plaintiffs in the suit.

DEAN: Back in 1999, we petitioned EPA to issue a rule regulating greenhouse gas emmissions from motor vehicles.

For years, the Bush Administration had argued the EPA didn't have the right to limit auto-emissions of carbon dioxide under the Clean Air Act. In today's 5 to 4 decision, the high court disagreed. Justice Stevens wrote the Bush Administration's claims were quote "arbitrary, capricious, or otherwise not in accordance with law."
[...]

Still, both sides agree this decision increases pressure on the Bush Administration to act. Score one for the greens.
[...]
So what's the score now?

Greens: 4 ... Industrial Corporation Powerhouses: about 514 ?

Only in the era of unfettered corporation privilege, could this game get so lop-sided.
Where are those dang refs anyways? ... Where are the scientists?
Where are the fact-based journalists?

Who says, who sits on the Supreme Court, doesn't really matter?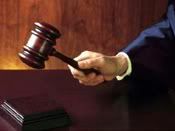 It's matters.