Tonight we honor the memory and sacrifice of Pfc. Johnaton Davis, a member of the 82nd Airborne, who lost his life in Afghanistan on Thursday. He is one of the 1834 American service members who have lost their lives since the war in Afghanistan began over 10 years ago.

I Got the News Today is a diary series intended to honor, respect and remind. Its title is a reminder that almost every day a military family gets the terrible news about a loved one. Diaries about the fallen usually appear two days after their names are officially released, which allows time for the IGTNT team to find and tell their stories.

All of the U.S. fatalities can be seen here and here. They all had loved ones, families and friends. The DoD news releases are here. I Got the News Today is intended to honor, respect and remind.

Click the IGTNT tags below to see the series, which was begun by i dunno, and which is maintained by Sandy on Signal, Monkeybiz, Noweasels, Chacounne, Twilight Falling, Joyful, SisTwo, Spam Nunn, True Blue Majority, CalNM, Wide Awake in Kentucky, Maggie Jean, Jax Dem, Kestrel 9000, TheFatLadySings, Ekaterin and me, blue jersey mom.

Please bear in mind that these diaries are read by friends and family of the service members chronicled here. May all of our remembrances be full of compassion rather than politics.

Please follow me below the fold.
On Friday, the Department of Defense announced that:
Pfc. Johnathon F. Davis, 20, of Griffin, Ga., died Mar. 29, in Kandahar province, Afghanistan, of wounds suffered from enemy small arms fire.

Davis was assigned to the 4th Squadron, 73rd Cavalry Regiment, 4th Brigade Combat Team, 82nd Airborne Division, Fort Bragg, N.C.
Pfc. Davis was a 2010 graduate of Griffin High School in Georgia. He was the second of five sons from a close-knit family, and he was known as an adventurous practical joker. His older brother is currently serving in the Navy.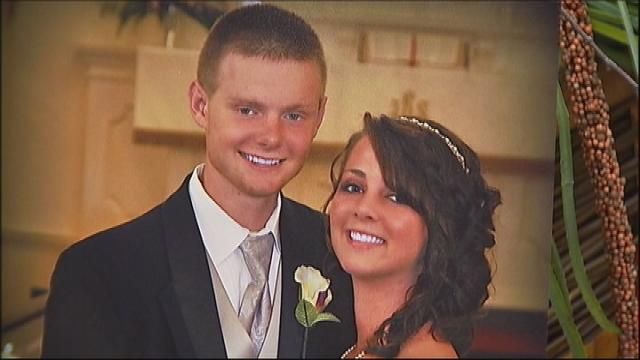 Pfc. Davis's wife, Kristen, is expecting her first child next month. She said that Johnathon was really looking forward to the baby's arrival:

"He was like 'I really can't wait to get home. I'm ready for you to have that baby, so I can see what he looks like,'" she said. "He carried the ultrasound picture in his wallet. He was really excited." ~source
Pfc. Davis joined the Army in August of 2010, shortly after his high school graduation. He was trained as a cavalry scout and joined the 4-73rd Cavalry Squadron in February of 2011. He was deployed to Afghanistan about a month ago, and he was on his first deployment at the time of his death. He wanted to become a police officer after leaving the military.
Davis was a member of the Griffin Assembly of God Church where his father is a lay pastor. The Easter service will be dedicated to his memory. Pfc. Davis is survived by his four brothers, his parents, and his wife, Kristen Davis.
Thank you, Pfc. Johnathon Davis, for your selfless service to our country. Our prayers are for your widow and your unborn child. May your family and friends find comfort in your memory. Poppies are the universal symbols of remembrance. May we never forget your valor and your sacrifice.