Republicans got their chance to gerrymander North Carolina's congressional district map for the first time following their capture of the state legislature in 2010. The map they opted for sought to create 10 districts that would go Republican to only 3 Democratic vote sinks. However, due to the strong local presence of moderate and conservative "Jesse Helms Democrats" in the eastern part of the state, 7th district incumbent Mike McIntyre will probably hold on barring a 2010 type wave repeat. Further, if Walter Jones in the neighboring 3rd were to retire or lose a primary, that seat would be very vulnerable for the same reasons the 7th is competitive. Add in the fact that a few other seats are just on the cusp of competitiveness in a good environment or will trend Democratic and I believe Republicans could have drawn a stronger map.
This map creates 4 Dem vote sinks and 9 districts that are very solidly Republican. North Carolina Republicans didn't let compactness hold them back when drawing the actual map, so I felt that the ugly lines on this map were within bounds. All 6 current Republican incumbents would be more or less as satisfied as under the real map. The main losers would be the house candidates in the 7th, 8th, and 13th. Every GOP district is at least 58% McCain and 55.5% Republican.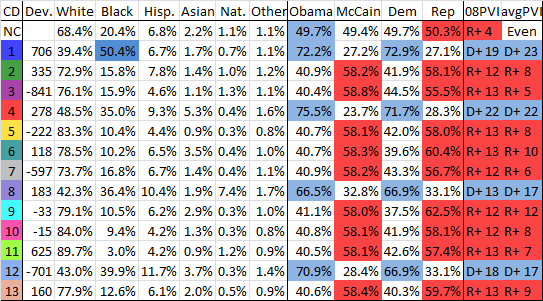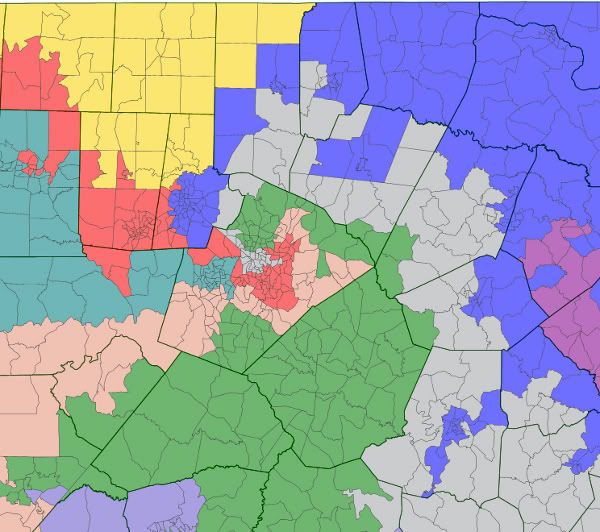 The 1st district remains the VRA protected black majority seat and as with the real district now soaks up heavily Democratic Durham. It is pretty similar to the real version, but about 1.5% more Democratic.
The 2nd district is radically different than both its old and new versions and remains centered in eastern NC. It keeps all of Harnett and Johnston counties, but trades the Democratic parts of Sampson County, Fayetteville, and Raleigh for more conservative areas which pushes it dramatically towards the right. Ellmers keeps more of her old district, but also the base of state Sen. David Rouzer who is the establishment pick for the new 7th in reality, so whether or not she would be safer in the primary is an open question.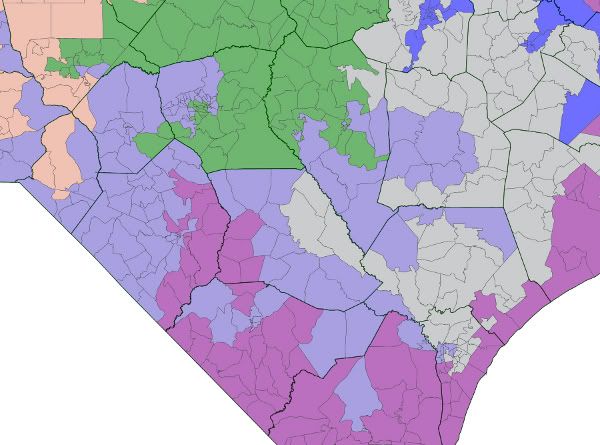 The 3rd district keeps the outer banks, but no longer ventures down into downtown Wilmington. Instead it is used to crack the conservadem base of Mike McIntyre's district in conjunction with the 8th. About 55% of the district belongs to Jones and 33% to McIntyre, more than the new 7th does, but Jones would be a strong favorite over McIntyre. This is the only race that Republicans could possibly lose, and really only against McIntyre. At 58.8% McCain, this is the strongest district for Republicans, but their weakest on average at a still impressive 55.5%. Both metrics are increased by 1% and with McIntyre losing so much territory his path to victory is narrow.
Likely R
The 4th district is the next Dem vote sink and it throws together the bases of David Price in Chapel Hill and Brad Miller in Raleigh. Unlike the actual district, this one travels to soak up Democrats in Greensboro rather than Fayetteville and contains more of Miller's current constituents consequently. It is possible he would have gone ahead with running in the primary, but regardless this seat is safely Democratic.
The 5th district remains based in northwestern NC and is used to drown out Boone, parts of Forsyth County, and the more Dem-friendly counties along the Virginia border. Virginia Foxx would sadly be safe here.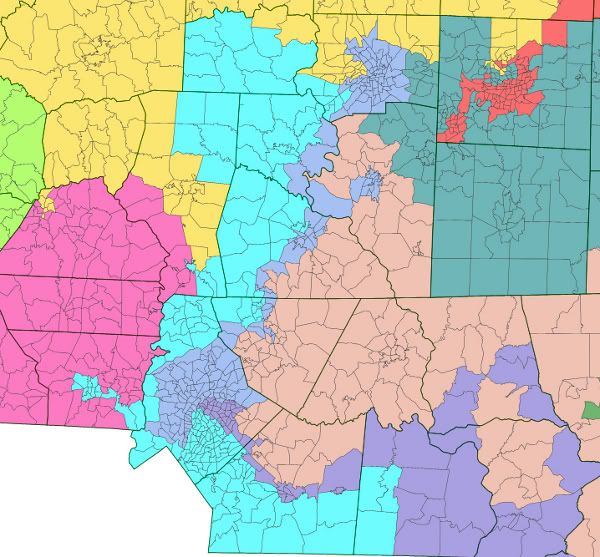 The 6th district is changed very substantially from the actual new version and incumbent Howard Coble would be very pleased with it. He keeps his base in Guilford County, as well as his parts of Alamance and Randolph counties. The district is unpacked by trading part of Davidson, Rowan, and Moore counties for Cary, but the district is still staunchly Republican.
The 7th district is now effectively a new district and contains little overlap with McIntyre's old one. It connects Wilmington to the conservative northern suburbs of Raleigh and travels through some conservative rural territory to get there. I suppose George Holding might run here instead, but regardless of who the GOP nominee is this will be a pick up.
The 8th district is turned into a vote sink rather than a heavily Republican district and it contains the bases of both Larry Kissell and Mike McIntyre. It stretches from Charlotte to Fayetteville, through Robeson County and finally to Wilmington. At D+13, both Kissell and McIntyre would have a hard time winning the primary with their conservative voting records, and at 36.4% black and only 42.3% white this district would provide a good opening for a minority Dem.
The 9th district remains based in the Charlotte area, taking in the heavily Republican southern wedge of Mecklenburg County and half of Union County. It now travels up to Yadkin county, but is still used to crack Gastonia to strengthen the 10th. This district is the most Republican in the state on average and unlike the actual seat will still be very challenging for Dems even with favorable demographic changes.
The 10th district is used to crack Asheville and is quite similar to the actual seat. Without Gastonia it is a couple points more Republican however, which should help out Patrick McHenry in a Dem wave year.
The 11th district is essentially the same as Republicans drew it and spans western North Carolina up to Caldwell County minus Asheville. Since Shuler is retiring this district goes from toss up to a safe pick up for Republicans.
The 12th district is the last Dem vote sink and runs from Charlotte to Winston-Salem but no longer contains Greensboro and High Point. It is also now plurality white VAP, but Mel Watt would be fine in the primary.
The 13th district bears little resemblance to the old or new version. It travels from Wake County all the way to exurban Charlotte and is 4% more Republican than the actual new version. I have no idea who would run here and actually win, but proto-teabagger Vernon Robinson probably would instead of in the 8th. Still, Dems wouldn't win this seat seeing as it's even more Republican on the local level although it should trend Dem.

The result is a stable 9-4 that should hold up even under strong waves for either party. Unlike with the real map, the 9th and 13th are too Republican for the Dem trending areas to make the seats competitive. Also, the 3rd, and 7th are shored up compared to the real map by conceding the 8th which isn't even a safe pick up in reality.