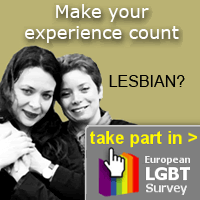 The European Union Fundamental Rights Agency has engaged Gallup to survey the lives of lesbian, gay, bisexual and transgender people living in the EU and prospective member Croatia.
EU members of parliament are said to be pleased with the proposed survey.

This new research should provide Members of the European Parliament with comparable data in the fields of discrimination, hate crime and legal protection to take informed legal and policy decisions in a variety of fields, including civil liberties, home affairs, health and employment policy.
The data will also assist the European Commission and the Council of the European Union create relevant legislation.
The Fundamental Rights Agency has always done highly relevant work in the field of fundamental rights and non-discrimination, and I'm pleased they've taken on this important project. It will open our eyes, as well as the Commission's and national governments', on the real situation of LGBT people in the EU today.

--Michael Cashman, MEP, co-president of the EU Parliament's Intergroup on LGBT Rights
The lives of lesbian, gay, bisexual and transgender people are seldom accurately represented in mainstream policy debates. I hope this research will bring to light the specific challenges they still face, including their fears and the threats they face in some parts of our societies.

--Ulrike Lunacek, MEP, co-president of the EU Parliament's Intergroup on LGBT Rights
The
survey
questions LGBT about their experiences in the following areas: personal circumstances, public perceptions and responses to homophobia/transphobia, discrimination, rights awareness, safe environment, violence and harassment, and the social context of being an LGBT person.
In order to give weight to the results, the European LGBT Survey counts on the participation of a large and diverse group of lesbian, gay, bisexual and trans people from each country.
So if you happen to have a connection with anyone in Europe, please pass the link along. Eligible to participate are LGBT people who live permanently in the EU or Croatia and are at least 18 years old. The survey is fully anonymous.
I'm just trying to do my bit:

Many thanks if you are willing to help to spread the word about the survey! The more people we reach in the LGBT community the better the chances are that the survey will reflect the opinion of everyone concerned. Please forward the link via email, on Facebook (the LGBT Survey has its own facebook pages), Twitter, on your blog, or any social media where you feel comfortable to do so.