Congressional redistricting in North Carolina falls exclusively to the legislature which after the 2010 elections flipped to Republicans for the first time in the modern era. Unfortunately, this means Democratic governor Bev Perdue was unable to veto their gerrymander of the congressional map. Furthermore, there had been talk about establishing an independent redistricting commission in 2009, but Democrats balked. What would the map look like if the governor could veto or an independent commission was established? Previously I have attempted to draw a fair or non-partisan North Carolina, but I believe this attempt is my best so far and will show just what NC Dems gave up by not establishing a redistricting commission.
The first map is the main version and what I believe is my best approximation of a fair map. I also included three alternate versions, one that mostly deal with the central/southern Piedmont, and two that deal with the east-central part of the state.
The 1st, 2nd, 5th, 11th, and 12th (with precinct splitting) districts are identical in all three versions while the 3rd, 4th, and 7th are the same in versions A and B. The old I-85 12th district is dismantled as I do not believe it is required by the VRA and subsequently a new district is drawn for the Triad. As a result, another district had to be eliminated somewhere and by the numbering it was the 2nd, although in Versions C and D it has an obvious successor district as the 8th.
I tried to minimize split counties and the only district that shares 2 or more counties with another single district is the VRA required 1st. Precinct splitting would also change the shape of the some of the districts due to large precinct populations, but the partisan effect would be negligible and the versions I have presented are the best I could do to preserve the integrity of city and town lines.
Version A

NC-01
GK Butterfield (D), Walter Jones (R)
The 1st district is required by the VRA to be black majority and as such had to go into Durham to get back up to 50%. As this district was a mostly rural, eastern North Carolina district I tried to maintain that aspect as much as possible while keeping the lines fairly clean and that meant minimizing the district's share of Durham. Every section 5 county previously in the district is maintained and only 11 counties are split. As a VRA district, it is heavily Democratic and incumbent GK Butterfield would be safe for reelection. Although Walter Jones is narrowly drawn into the district, most of his old one remains in the 3rd and he would surely run there.
Safe D
NC-02
Open
The 2nd district is now an entirely new seat comprising the Triad cities of Greensboro, Winston-Salem, and High Point. I originally wanted to draw the district to maximize urban/suburban territory and minimize rural areas, but it was possible to include all of Forsyth County as well as Greensboro and High Point in a single district and I believe a court or commission would want to minimize county splits here. With some precinct splitting the exact lines of Greensboro could be included as well as some smaller suburbs, but here I tried to include the whole city as best as precincts allowed. The district is safely Democratic at over 60% Obama and at 31% black VAP would provide a black candidate with a strong opportunity to win the primary. Guilford is a section 5 county, but seeing as how the old 12th was not even majority black and the new 2nd is still over 30% black I believe this district would pass muster with the VRA.
Safe D
NC-03
Open (Walter Jones (R))
The 3rd district is mostly the same as before and takes in the outer banks and the remainder of northeastern NC. It drops Onslow County and adds Johnston County which was sort of the odd man out among eastern NC counties (and thus prompted Version C). Though this district might have been hospitable to a Blue Dog in decades past, it is now solidly Republican and Jones would cruise to reelection.
Safe R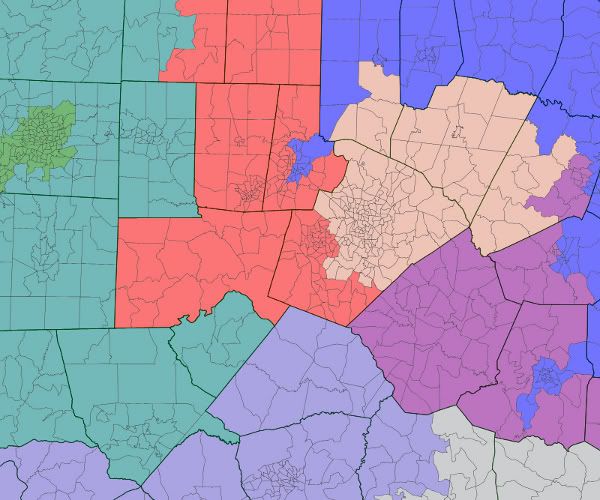 NC-04
David Price (D)
The 4th district remains one of the two districts that cover the Triangle region, but has to pick up territory to make up for the loss of most of Durham. It retains Orange County and Chapell Hill along with Cary and western Durham, but now adds the rest of Chatham County, all of Person County, and part of Caswell County. The 4th is still solidly Democratic at D+8 and David Price would have the seat as long as he wants.
Safe D
NC-05
Open (Virginia Foxx (R), Patrick McHenry (R)?)
The 5th changes dramatically and essentially is a combination of the old 5th and 10th. The district straddles the border between Appalachia and the western Piedmont and its core is composed of Hickory, Lenoir, and Morganton. Virginia Foxx would run here, but she would almost certainly face a primary challenge since she only represents 30% of the district. McHenry could plausibly run here since he actually represents 58% of the district and would easily be the establishment favorite, but neither he nor Foxx actually lives in the district. Regardless of who the Republican nominee is, they would have no trouble winning this district given its heavy Republican lean.
Safe R
NC-06
Howard Coble (R), Larry Kissell (D)
The 6th district is now composed of the rural and small town eastern Piedmont and drops its parts of Greensboro and the Davidson and Rowan counties. It keeps Alamance, Moore, and heavily Republican Randolph County and adds Lee, Montgomery, Rockingham, and Stokes counties. This district is still very heavily Republican and would easily reelect Coble. Kissell, despite living here, would certainly run in the neighboring 8th district.
Safe R
NC-07
Open (Mike McIntyre (D))
The 7th district is based in southeastern NC and is anchored by Wilmington and Jacksonville. It sheds Robeson County as well as its part of Cumberland in exchange for Onslow, which moves the district slightly to the right. McIntyre loses his base in Robeson County, but he would assuredly run here and win given how entrenched he is and that he represents most of the district already. This district is ancestrally Democratic and most likely has a very large Democratic registration edge, making it perfect for a conservative Democratic such as McIntyre. The district would be very competitive if open however, but Democrats would be more likely than not to retain it.
Safe D with McIntyre
Tossup/Lean D if open
NC-08
Mike McIntyre (D), Renee Ellmers (R) (Larry Kissell (D))
The 8th district shifts eastward by shedding its share of urban Charlotte, Cabarrus, Montgomery, and Stanly counties and picks up Cumberland, Harnett, and Robeson counties. The district has a strong military base presence with the inclusion of the entirety of Fort Bragg, and also has a large minority population at only 50% white and nearly 30% black. The seat effectively combines incumbents Renee Ellmers and Larry Kissell in a seat that would strongly favor Kissell. Ellmers really doesn't have any good options here due to how strongly local Democrats perform here.
Likely D Kissell vs. Ellmers
Likely D/Lean D if open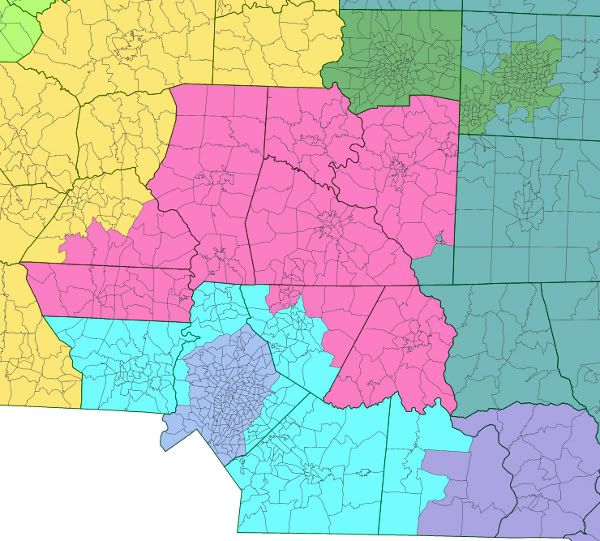 NC-09
Patrick McHenry (R) (Open)
The 9th district remains based around the inner ring of Charlotte suburbs and exurbs, but would lose almost all of its share of the city proper with precinct splitting. It contains all of Gaston and Union counties, as well as Concord in Cabarrus County. Patrick McHenry is drawn into the seat, but wouldn't run here. Since incumbent Rep. Sue Myrick is retiring, this seat would still see the same crop of Republicans running and one of them would easily hold the seat.
Safe R
NC-10
Open (Patrick McHenry (R)?)
The 10th district swings eastward and now covers the western and central Piedmont between Charlotte and the Triad. It is largely rural and small town, but contains some growing Charlotte exurbs. The district is safely Republican and Patrick McHenry might choose to run here to avoid a primary with Virginia Foxx, but he only represents about 30% of the new district and would probably rather run where most of his territory is. The 10th is now the most Republican district in the state and would easily elect McHenry or another Republican.
Safe R
NC-11
Heath Shuler (D), Virginia Foxx (R)
The 11th district is composed entirely of Appalachian North Carolina and runs the length of the Tennessee border from Murphy to Sparta. The base of the district remains Asheville, although it still has a lot of rural territory and small towns. Virginia Foxx lives here, but represents a negligible amount of the district and would run in the 5th. Heath Shuler represents the overwhelming majority of the district and would certainly run here instead of retiring. Given how strongly he has performed in the past and how the district is no worse partisan-wise than his old one, he would be very strongly favored to win. If he were to retire or run statewide however, this district would be very competitive though probably Republican leaning.
Safe D with Shuler
Tossup/Lean R if open
NC-12
Mel Watt (D)
The 12th district would be slightly different if I were able to split precincts. The city of Charlotte itself is just slightly smaller than the size of a single district and without any VRA requirements I believe an independent mapmaker would try to draw a district composed entirely of the city. On DRA I tried my best to keep all of the city inside the 12th and as such it is far more compact than its sprawling predecessor. The district is Obama's best in the state and is majority minority though plurality white. Mel Watt might reconsider retirement as he was rumored to be doing, but if he ran here he would easily win the primary since he keeps all of his base.
Safe D
NC-13
Brad Miller (D)
The 13th district takes in the eastern half of the Triangle region and is dominated by the entirety of the city of Raleigh as well as some of its nearer suburbs with the exception of Cary. It no longer reaches along the Virginia border to grab parts of Greensboro and instead adds Franklin County and parts of Nash County. Though slightly weaker than his old district, the 13th would be quite secure for incumbent Brad Miller whose base is in Raleigh. The district could be competitive if open or under a 2010-style wave, but it is trending Democratic and would be unlikely to elect a Republican.
Likely D
Without accounting for incumbency this map would yield a 7D-6R split and have:
4 Safe D: 1, 2, 4, 12
2 Likely D: 8, 13
1 Lean D: 7
1 Lean R: 11
5 Safe R: 3, 5, 6, 9, 10
With the strength of incumbents it would yield an 8D-5R split with Renee Ellmers losing and Democrats picking up the new 2nd.
Version B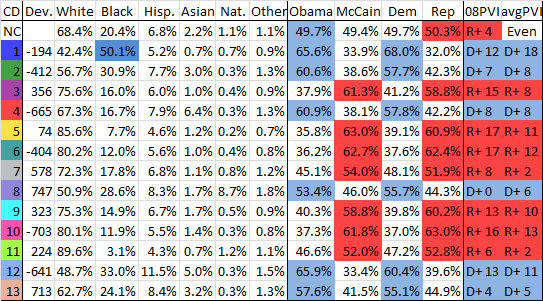 In this version I changed the central NC districts slightly as I was somewhat dissatisfied with Lee County in the 6th. Therefore, in this map the 8th drops Anson and Richmond counties and pick up Lee which fits in better with neighboring Harnett. The district moves about a point to the right and now contains more of Ellmers district and less of Kissells, but should still favor Kissell given its Democratic lean. The 8th would be somewhere between Lean D and Likely D.
The 6th now picks up Davidson County to become entirely located within the Piedmont and still solidly Republican and even more favorable to Coble in a primary.
The 9th district is no longer solely based in the Charlotte area and now takes in many counties to the east. I was fairly dissatisfied with this district which is why I prefer Version A because this district combines Charlotte exurbs with rural central NC.
The 10th also combines exurban Charlotte with the western Piedmont but is more cohesive than the 9th. It now contains McHenry's home, but he would probably still run in the 5th.
The partisan outcome of Version B is the same as Version A and the only real impact is that Larry Kissell would have a slightly tougher campaign.
Version C
This version has even more changes and was precipitated by my wanting to keep Harnett, Johnston, and Lee counties together which was difficult to do given the geography and required district size. This is my least favorite map, but I believe it was necessary to include because it shows the worst case scenario for Democrats.
The 3rd district no longer contains Johnston County and gets to keep Onslow.
The 4th district changes very slightly by dropping parts of southern Wake for the rest of Caswell.
The 6th district is very similar to Version B, but now contains Davie County.
The 7th district is now much more favorable to Democrats and is largely the same as the current district. It keeps Robeson County and doesn't add Onslow. McIntyre would still be safe, but now the district would be a solid Lean D if open.
The 8th district changes substantially and is really more of a predecessor to the old 2nd. It contains all of Lee, Harnett, Johnston, and Hoke counties as well as much of Nash and all of Fayetteville and Fort Bragg. Larry Kissell would still run here against Renee Ellmers, but Bob Etheridge really has the better profile to win here since most of it he has represented before. This district would be a tossup instead of Likely D as in the previous versions since it was narrowly won by McCain but is Democratic on average. Kissell or Etheridge would probably be favored over Ellmers in 2012, but would be vulnerable in future cycles, particularly Kissell.
Tossup with Kissell
Tossup/Tilt D with Etheridge
The 9th is essentially the same as in Version B and is solidly Republican, but now contains Scotland County which unfortunately was too large to include in the 7th.
The 10th is also very similar, but now includes all of Rowan County instead of Davie.
The 13th moves out of Nash County and now includes more of Wake which makes it very slightly more Republican, but still Likely D for Miller.
Version D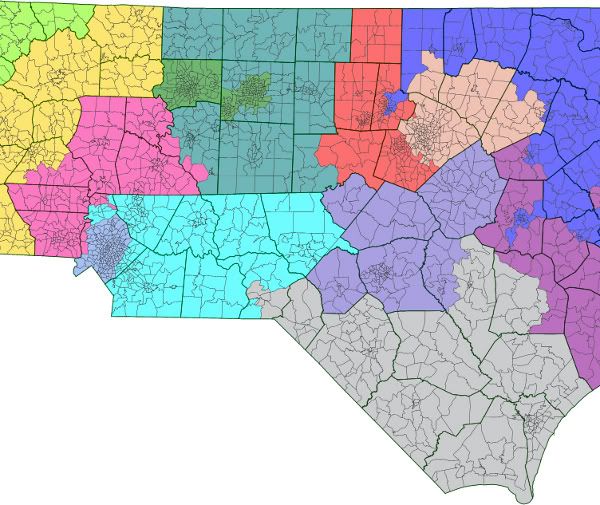 This map is very similar to the previous version, except that in this one the 8th doesn't venture into Nash County and instead adds the rest of Cumberland and part of Sampson from the 7th which allows it to add Hoke County and part of Richmond County. The 8th district is roughly the same politically while the 7th is slightly more Democratic.
The rest of the changes to the map are fairly minimal in partisan effects.
These two versions results in the 8th district weakening substantially and becoming the most competitive in the state. Democrats would be more likely than not to win it in 2012, but it could definitely flip back in future cycles. These maps show what I believe to be the worst case scenario for Democrats where they would still be favored to win at least 7 of the 13 seats in the state and more likely than not to win 8.
I hope you have enjoyed my attempt at guessing what a court or independent redistricting commission would draw and I welcome your feedback.