I Got The News Today (IGTNT) , which began in April of 2004, is one of the oldest continuous series on Daily Kos and provides members of this community a venue to pay their respects to those who have died as a result of the wars in Iraq and Afghanistan. The IGTNT title is a reminder that nearly every day the family of an active duty service member receives the terrible news that their beloved has died.
~ Image Credit to
llbear
with gratitude
.
Silently, one by one, in the infinite meadows of Heaven,
Blossom the lovely stars, the forget-me-nots of the angels.
~Henry Wadsworth Longfellow in Evangeline

Honoring and Remembering


Capt. Nicholas J. Rozanski
Sgt. 1st Class Shawn T. Hannon
Sgt. 1st Class Jeffrey J. Rieck

Welcome Home:

Air Force Tech. Sgt. Allen J. Avery
Since 2001 we have lost 1929 American troops in Afghanistan and a total of 2952 American and coalition forces.

On Wednesday, April 4th a suicide bomber steered his motorcycle into a group of American soldiers and Afghan police officers in Faryab province, Afghanistan killing ten which included three American soldiers from the Ohio National Guard. The soldiers were assigned to the 1st Battalion, 148th Infantry Regiment, 37th Infantry Brigade Combat Team, Ohio National Guard, Walbridge, Ohio.

Killed were:

Capt. Nicholas J. Rozanski, 36, of Dublin, Ohio.
Sgt. 1st Class Jeffrey J. Rieck, 45, of Columbus, Ohio.
Sgt. 1st Class Shawn T. Hannon, 44, of Grove City, Ohio.
~ DoD News Release

Amazing Grace and Taps
Performed at Arlington National Cemetery
Day is done...Gone the sun
From the lake...
From the hills...
From the sky.
All is well...Safely rest
God is nigh.

Fading light....Dims the sight
And a star....Gems the sky....Gleaming bright
From afar....Drawing night
Falls the night.
.
.
Capt Nicholas J. Rozanski, 36 of Dublin, Ohio
Nicholas Rozanski graduated from Dublin High School (now Dublin Coffman High School) in 1994 and Ohio State University in 1999. He was the son of Jan Rozanski, former Dublin mayor.
According to his wife Jennifer, Capt. Rozanski was compelled to join the Guard in 2003 because of a family history steeped in military service. He deployed to Kosovo in 2004 and Iraq in 2008.

He did what he needed to do and what he signed up to do. I want him to be remembered as a hero and that he was a great leader in the National Guard and he cared about his soldiers. He was a great father to our children and he loved every minute with them.
Jennifer described getting the news about her husband's death:
I saw a glimpse of his uniform, I didn't even see the full on uniform and I knew. I knew when the car slowed down in front of my driveway. I knew. I knew that was it.
In the meantime, she said, she will hold onto memories.
That's what we'll focus on and telling my daughters what a great dad they had and just keeping him alive through memories.
Brother, Alex Rozanski, who was a surviving member of the Columbus-based Lima Company, 3rd Battalion, 25th Marine Regiment when it lost 23 members in 2005, said that American's going on with their day-to-day lives should not forget the troops.
We are a nation at war, and men are dying on a regular basis over there. And people need to remember that.

[My brother] loved being in the National Guard. He loved being a soldier. He loved being a leader of soldiers.
Mother, Pam Mitchel attended a pre-deployment event with him last year and watched as her son answered the questions of worried parents and giving out his email address in case there were ever any other concerns.
I think that Nick found his niche. He was an excellent officer, and he cared very deeply for his men. He was a natural leader.
In his civilian life, Rozanski worked for the Defense Logistics Agency at Defense Supply Center Columbus. He coached youth soccer, ran marathons and was a clever conversationalist.
Capt. Nicholas J. Rozanski leaves behind his wife, Jennifer and two daughters.
.


.


Sgt 1st Class Shawn T. Hannon, 44, of Grove City, Ohio
Shawn Hannon was a 1986 graduate of Grove City High School, a 1991 graduate of Bowling Green State University, a graduate of Capital University law school in Columbus and had been a lawyer for six years.
Shawn Hannon was the chief legal counsel for the Ohio Department of Veterans Affairs.
Sgt 1st Class Hannon's family called him a hero in a statement they released:

Sergeant First Class Shawn Hannon was a hero to his beloved wife, son, family and friends. Shawn felt it was a privilege to serve his country and did so honorably for almost 20 years. He was proud to be a soldier and all who loved him knew it. His family and friends are trying to work through the sorrow caused by his loss. There has been an overwhelming expression of love and support offered by many who knew him and many who didn't. Shawn served in his professional life as the Chief Legal Officer for the Ohio Department of Veterans Affairs. As an attorney, Shawn counseled his many clients with professionalism and common sense. His advice was invaluable.

As a husband, son, brother and friend, he was unsurpassed in his devotion, love and loyalty. Shawn was charming and engaging and never met a stranger. He embraced life with vigor and an easygoing calm. Shawn's nine month old son, Evan, was the light of his life. His pride in being a father to a beautiful son was exceeded only by the love he shared with his wife Jamie. Shawn loved playing, watching and talking about soccer. Rarely would you meet a person who read more books or was able to engage in a discussion on any topic. Shawn loved his hometown of Grove City and spent much of his free time with his family who reside there.
Steve Palmer, an attorney who worked with Hannon said:
He was one of the most well respected guys I ever met. If somebody in the world needed help, he'd be there. He believed in what he was doing over there.
The Ohio Department of Veterans Services, for which Sgt. Hannon served as Chief Legal Counsel, released this statement Friday:
We've been saddened to learn this week of the loss in
action of three Ohio National Guard members, including
Ohio Department Chief Legal Counsel Sgt. First Class
Shawn Hannon. My deepest personal sympathies, and
those of everyone in our department, go out to their
families. We join all of Ohio in mourning the loss of these
brave soldiers who chose to serve our country, no matter
what the risks. We feel the loss of our friend, Shawn
Hannon. He was a gifted attorney who was an unfailing
advocate for better treatment of veterans in our court
system. He was also a great man who served his country
proudly, and even refused a promotion to stay with his
unit. He will be sorely missed by all who knew him. Our
thoughts and prayers are with his wife, Jamie, and his
infant son, Evan. Our hearts go out to all of the families
who are suffering this terrible loss.
Sgt 1st Class Shawn T. Hannon leaves behind his wife, Jamie and a 9 month old son, Evan.
.


.


Sgt 1st Class Jeffrey J. Rieck, 45 of Columbus, Ohio
A native of Sidney, Ohio, Jeffrey Rieck graduated from Sidney High School in 1984 and from Sinclair Community College in 1994.
Sgt 1st Class Rieck had prior active duty service in the Army where he had a tour in Iraq. He worked full time in the Guard's Family Readiness office.
Catherine Rieck, Sgt Rieck's ex-wife, said that the family would not be speaking with reporters. The family issued a statement through the National Guard office, saying they appreciate the outpouring of support from friends and the community.
Friend Nicole Kraft, an Ohio State University journalism professor, said of Rieck:

[He was] one of those people who really believed in what he was doing. He was all about being an American and doing his part. He really felt it was a role for which he was — perhaps it's too strong a word — destined.
Other friends described Rieck as soft spoken and a sensitive man who never failed to send a holiday card. They said his life and career was dedicated to the service of others, even in the face of personal sacrifice and great risk.
A listing on his Facebook page says being a parent was something he considered "truly important" in his life and offered this George Orwell quote as one of his favorites:

We sleep safe in our beds because rough men stand ready in the night to visit violence on those who would do us harm.
Sgt 1st Class Jeffrey J. Rieck leaves behind a 15 year old son.
.
~ Source ~ Source ~ Source ~ Source ~ Source ~ Source
.


.
The following tribute to Air Force Tech. Sgt. Allen J. Avery was written by blue jersey mom.
On Thursday, the Department of Defense announced that the remains of an Airman who had been missing in action in Vietnam had been identified using mitochondrial DNA:
The Department of Defense POW/Missing Personnel Office (DPMO) announced today that the remains of a serviceman, missing in action from the Vietnam War, have been identified and returned to his family for burial with full military honors.

Air Force Tech. Sgt. Allen J. Avery of Arlington, Mass., will be buried April 6 at Arlington National Cemetery. On April 6, 1972, six airmen were flying a combat search and rescue mission in their HH-53C Super Jolly Green Giant helicopter over Quang Tri Province in South Vietnam when they were hit by enemy ground fire and crashed.
Remains of three other members of the crew had been identified and buried as a group in Arlington National Cemetery in 1997. Improved laboratory methods allowed the military to identify additional remains that had been given to the US military by the Socialist Republic of Vietnam back in 1988, including the remains of Tech Sgt. Avery.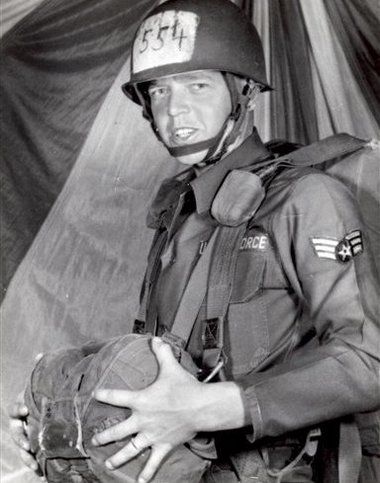 Tech Sgt. Avery was born in Sumner, Iowa in 1943. He joined the Air Force in 1961 and was initially trained as an Administrative Specialist. In 1965, he received additional training as a Pararescue Specialist. He began the first of his three tours of duty in Vietnam in 1968.
Tech Sgt. Allen Avery was the recipient of two Silver Star Citations. The citation for his first Silver Star reads as follows:

Staff Sergeant Allen J. Avery distinguished himself by gallantry in connection with military operations against an opposing armed force as Rescue Specialist on an HH-3E helicopter in Southeast Asia on 5 October 1968. On that date, Sergeant Avery volunteered to attempt the extremely hazardous extraction of a Special Forces team after their insertion helicopter had been shot down and the team surrounded by hostile forces. Enroute to the distress site he learned that a rescue helicopter had been shot down while attempting the extraction, fatally injuring two crew members. Despite low cloud cover, which prevented the use of fighter escort, Sergeant Avery, with complete disregard for his own personal safety, penetrated the hostile area and directed his helicopter to a hover adjacent the burning crash site. During the prolonged hover, Sergeant Avery provided accurate suppressive machine gun fire and assisted in the rescue of the two crash survivors and the six surviving team members. By his gallantry and devotion to duty, Sergeant Avery has reflected great credit upon himself and the United States Air Force.
He received his second Silver Star for his final mission. Avery and his crew members were attempting to rescue the survivors of a downed US aircraft.
Avery is survived by his daughter, Debbie McBride, who was only 7 when her father died.

"It's been 40 years of not knowing, with lots of ups and downs," McBride told The Associated Press on Thursday. "You take a deep breath and you go, 'Wow, he's finally back home.'" ~source
Tech Sgt. Avery was buried in Arlington National Cemetery on April 6th, forty years to the day after his helicopter was shot down.
Welcome home, Tech Sgt. Avery. Thank you for your selfless service to our nation. Your bravery and valor will never be forgotten.
.


.
About the IGTNT series:

"I Got the News Today" is a diary series intended to honor, respect, and remind us of the sacrifice of our US troops. Click here to see the series, which was begun by i dunno, and which is maintained by Sandy on Signal, noweasels, monkeybiz, blue jersey mom, Chacounne, twilight falling, joyful, SisTwo, SpamNunn, TrueBlueMajority, CalNM, Wide Awake in Kentucky, maggiejean, Kestrel9000, TheFatLadySings, Ekaterin and me, JaxDem. These diaries are heartbreaking to write, but are an important service to those who have died, and show our community's respect for them.

Diaries about the fallen usually appear two days after their names are officially released, which allows time for the IGTNT team to find and tell their stories.
.
Any Soldier
– (Marine, Sailor, Airman or Coast Guardsman) Provides detailed information on sending care packages or cards and letters to deployed service members.
Books For Soldiers - View requests for and send troops books, DVDs, games and relief supplies.
Fisher House – Provides a "home away from home" for military families to be close to a loved one during hospitalization for an illness, disease or injury.
Homes For Our Troops – Building specially adapted homes for our severely injured veterans at no cost to the veterans.
National Coalition for Homeless Veterans – The VA estimates 107,000 veterans are homeless on any given night. There are ways to get involved or donate at the link.
Netroots for the Troops (NFTT) – This non-profit raises money for the assembly, mailing and delivery of care packages to American military in war zones.
Special Operations Warrior Foundation - Provides full scholarship grants and educational and family counseling to the surviving children of special operations personnel who die in operational or training missions and immediate financial assistance to severely wounded special operations personnel and their families.
USA Together - "It's like craigslist for Wounded Warriors". Brings together injured service members who need assistance as they recover, with the people who want to help them.
Veterans Green Jobs - Helps transition veterans into their communities and find career opportunities in environment sustainable sectors of our economy.
Welcome Back Veterans - Committed to providing Post Traumatic Stress Disorder (PTSD) treatment to our veterans and their families in a public/private partnership
Wounded Warrior Project - Their vision is to foster the most successful, well-adjusted generation of wounded warriors in this nation's history.
.

Please bear in mind that these diaries are read by friends and family of the service members mentioned here. May all of our remembrances be full of compassion rather than politics.