Cross posted from RedRacingHorses.com
Recently, the 203 member Pennsylvania State House voted to shrink its size in the next decennial redistricting cycle by 50 members to 153. The Senate is expected to approve the shrinkage of the House and Governor Corbett is expected to sign it.
I decided to see how a 153 district map would affect the makeup of the legislature. Incumbency was not taken into account. My map is a Republican gerrymander that focuses on minimizing county, borough, and township splits... for example, I could have easily cracked State College and York but instead kept them whole and slapped them along with the reddest territory possible. I generally used the fewest possible county splits, but I sometimes split counties that weren't absolutely necessary (Chester County had an unnecessary split as did two counties around State College. . . you'll see why. However, I didn't even realize I split MontCo two ways until I posted this map on RRH). In PA, it seems that Republicans and Democrats compete competing legislative proposals, like in New Jersey. A panel of judges picks the maps that will be used. The GOP's maps were more tame than the Democrats' maps and they were picked... but later scrapped due to caving to western Pennsylvanian interests and under populating western Pennsylvania. Due to PA's political geography, Democrats have to be more aggressive with county, township, and borough splits in order to draw a map that would produce a majority with any regularity. Keep in mind that 7 out of 10 points of Obama's PA margin came from Philly, meaning that outside of Philly, PA only went around 51-48% for Obama. Take out places like the Scranton Valley, Reading, Allentown/Bethlehem, Pittsburgh, and Erie, and you have a red state. You may say "that's taking out a lot!" Well, those areas are all super packed filled with Democrats and a court would not appreciate seeing Reading bacon sliced, for example, so it becomes a Democratic vote sink that makes seats around it more Republican. Therefore, it's easier to draw a clean map that would produce a Republican majority with any regularity than a clean map that produces a Democratic majority with any regularity, and this plays out in the favor of Pennsylvania Republicans.
Race ratings were created mathematically. They were created using a model that took into account the Obama percentages of seats that were won and lost by the GOP in the 2008 and 2010 waves. Therefore, there are race ratings for a GOP wave year and a Democratic wave year. One problem about this is that it takes seats like the ones in NE Philly and rates them like ones in the suburban portions of the Delaware Valley, where seats of up to 60% Obama seem to be held by Republicans, but seats at even 55% in NE Philly would be tough to hold or pick up for Republicans. Since this is a state as politically (and all-around) quirky as Pennsylvania, analytic ratings are subject to be way off so I decided to go with a statistical model using actual data. One may ask why I used '08 Presidential numbers for a legislative map when statewide numbers were available. Well, the partisan numbers that are non-'08 Presidential were compiled by a bunch of professors whose '08 presidential numbers have been so awful that RM has had to either heavily amend or scrap them. That's why a bunch of states on DRA have random votes missing (think New Jersey). The numbers are, frankly, unreliable when they don't come from RogueMapper.

At first, I assigned the districts to either SWPA, SEPA or everything else based on the county the most constituents in the seat live in. The areas roughly in Altmire's, Critz's, Doyle's and Murphy's seat were SWPA, whereas Philly, the collar counties, Lehigh, York, Northampton and Lebanon were SEPA.

Then, I calculated three separate logistic regressions on the old State House seats in these areas, with the dependent variable "held by a Dem after 2010" (1/0) and a constant and Obama 2-way vote. The parameters of this regression were then applied to the new seats to calculate the likelihood that a Democrat would have won the seat in 2010. The probabilities were grouped as "Less than 5% chance of loss for favored party"=Safe
"5-20% chance of loss for favored party"=Likely
"20-40% chance of loss for favored party"=Lean
"40-50% chance of loss for favored party"=Toss-Up.
Anyway, as always, feel free to comment and enjoy! I can't waive to move to Delaware County in the fall for college.
Districts and ratings are below the fold.
NOTE- DKE's page with cut off some of my pictures. To get a complete look at those pictures, here is the Photobucket album where I posted my pictures to.
http://s1105.photobucket.com/...
Philadelphia County: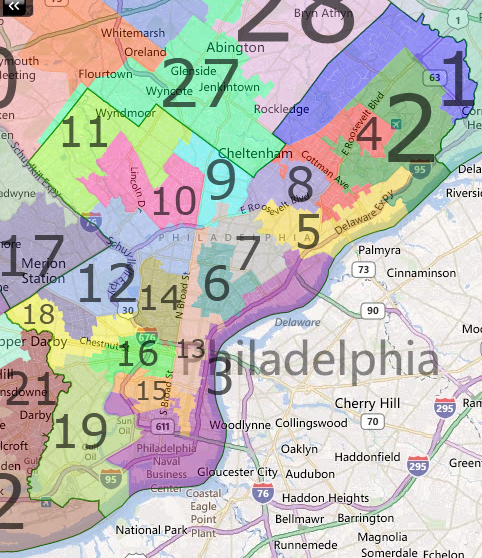 Districts: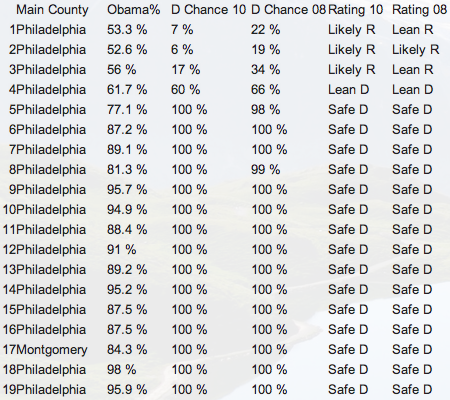 Note: To me, LD-03 is somewhere between leans/likely D, but it contains parts of Philly I imagine may even trend right.
Montgomery/Bucks Counties: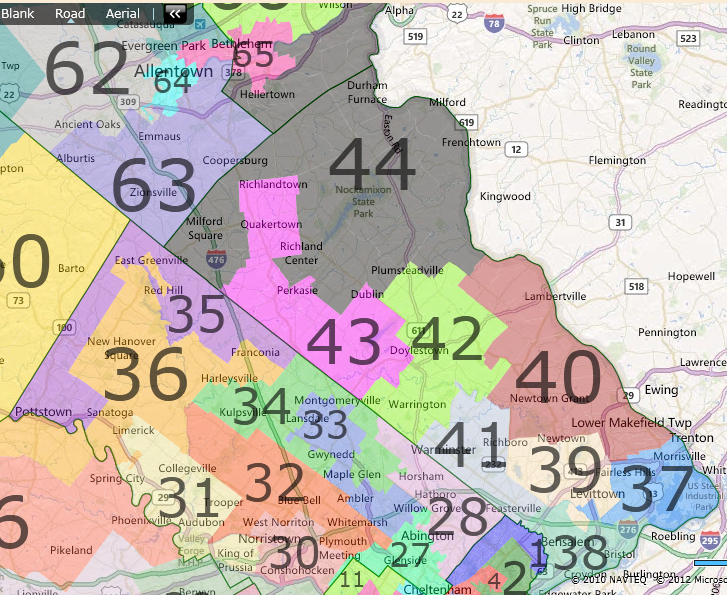 Districts: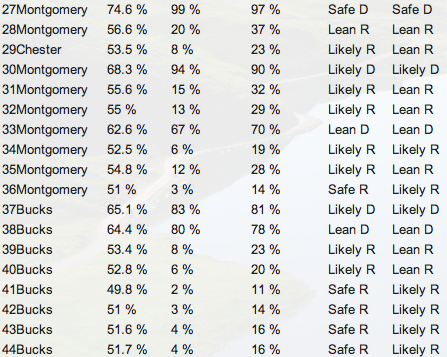 Note: I packed the most Democratic precincts of Allentown and Bethlehem into one seat and the most Democratic precincts of Allentown into another seat. The moderate precincts (where I'm sure Charlie Dent lives) were given to Republican seats. Also, I realize I probably split Easton, but it seems to be the Lehigh Valley's redheaded stepchild anyway... I guess that's the only time I split anything important in this map. (I'm just kidding about Easton... I'm sure it's a nice place, although it certainly seems to take the back seat to Allentown and Bethlehem in the A-B-E).
Northeastern Pennsylvania: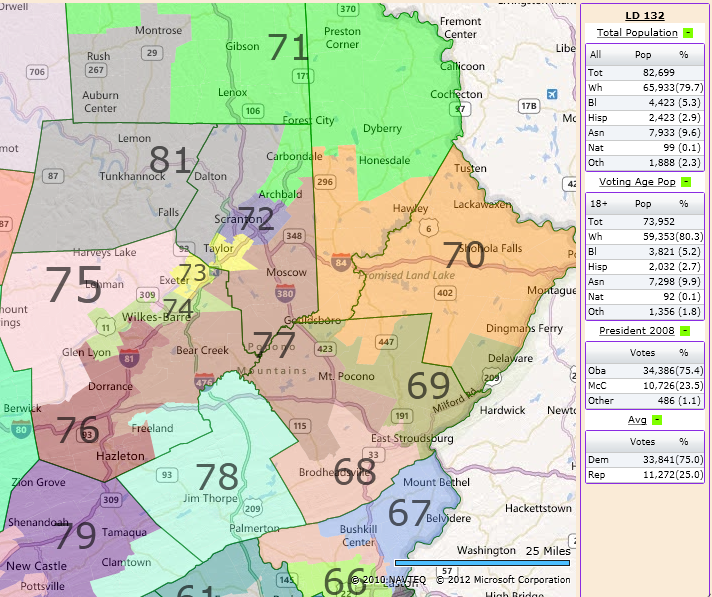 Districts: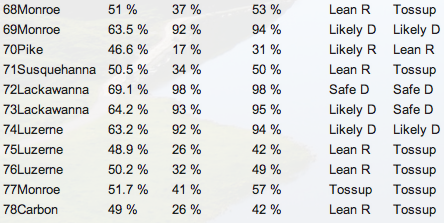 Berks and Schuylkill Counties (Note, this was pretty much Tim Holden's seat through the 1990s):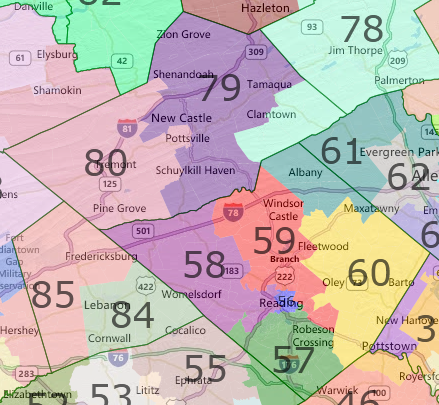 Districts:



Lancaster and York Counties: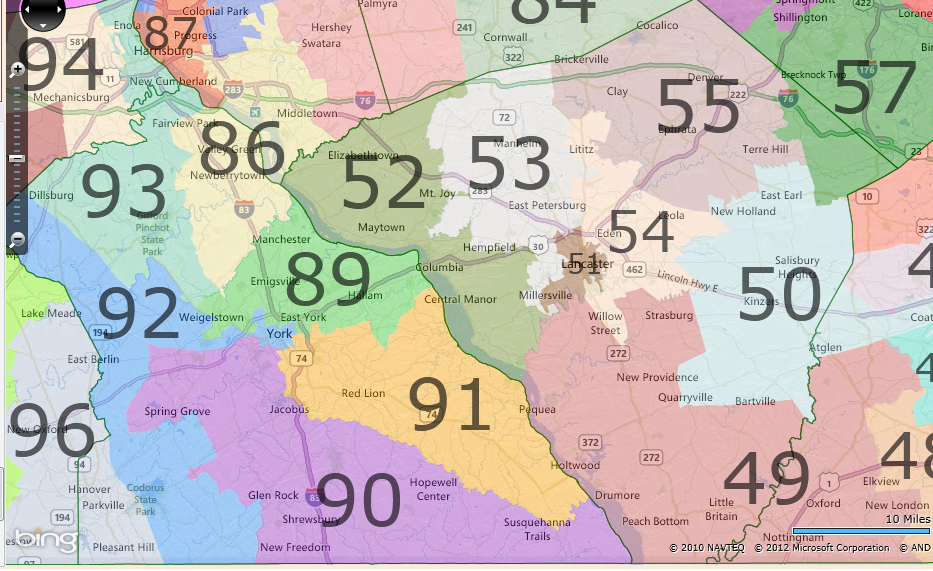 Districts:



Central Pennsylvania: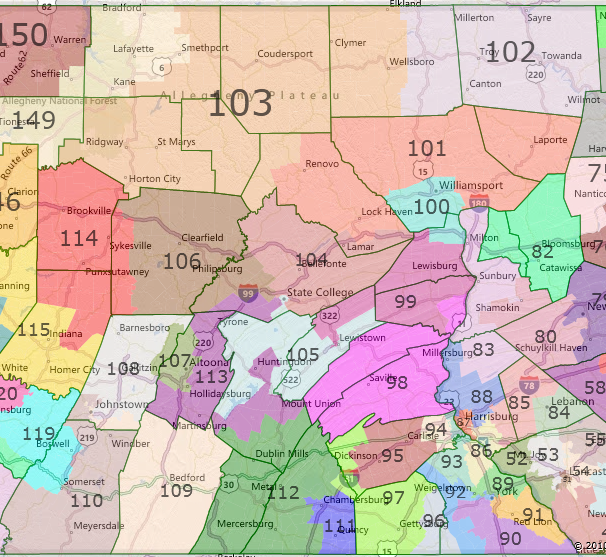 Districts: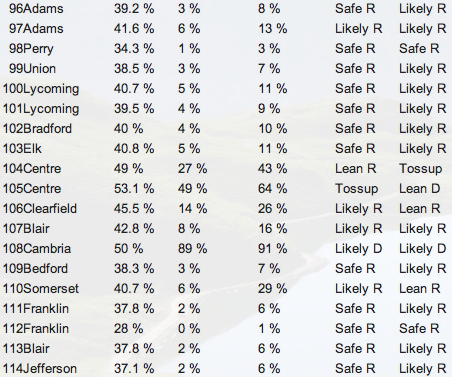 Southwestern Pennsylvania: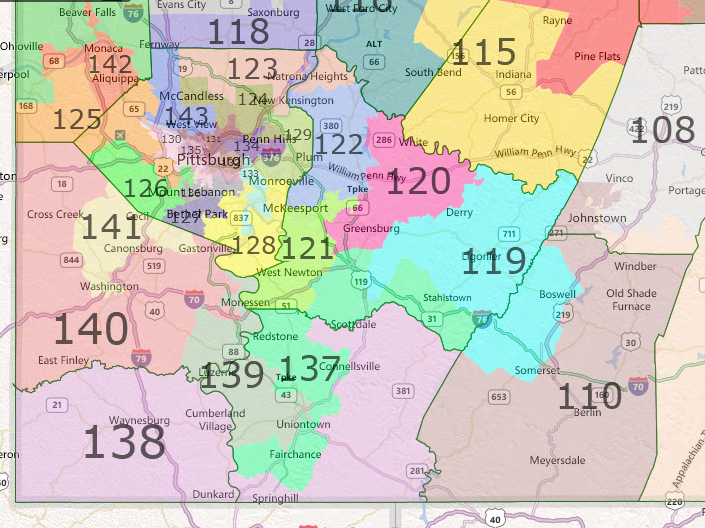 Districts:


Northern Pittsburgh Suburbs/Exurbs: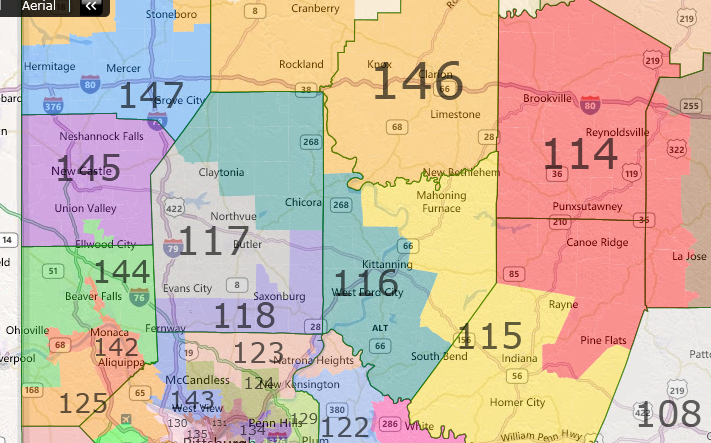 Districts:





Northwestern Pennsylvania: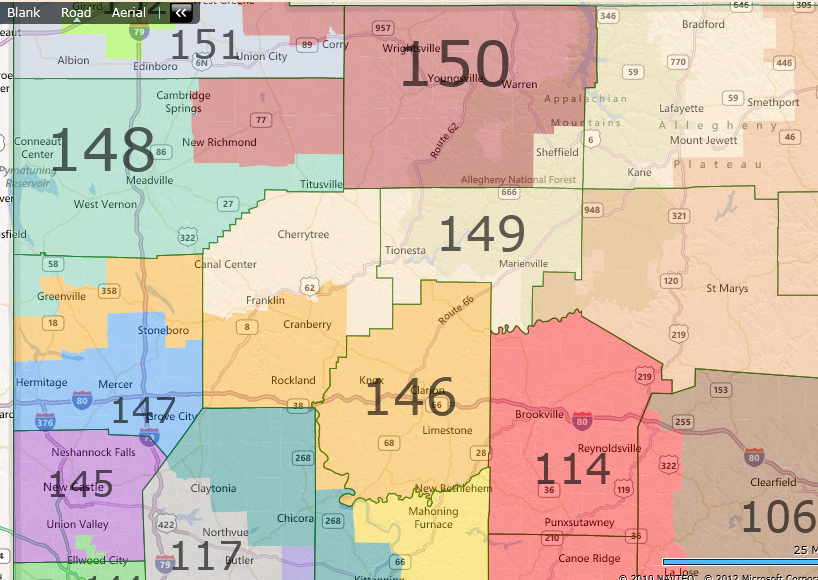 Districts:


Well, that's about it, folks. Here are two graphs that show the likelihood of a Democratic majority in a 2008 and 2010 style year. 2008 is a worst case scenario and 2010 is a best case scenario.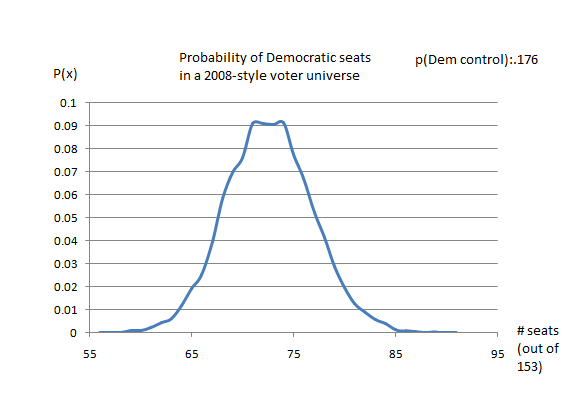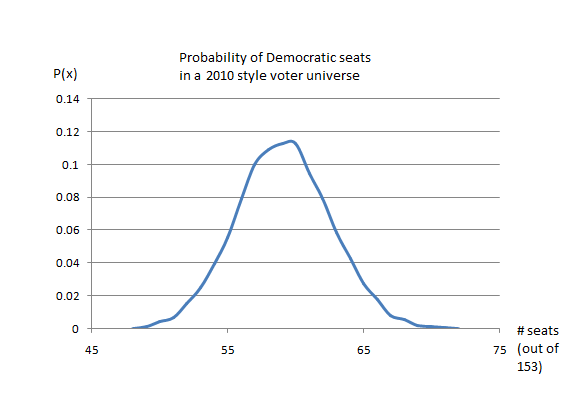 In lay man's terms, the probability that Democrats control the House in a 2008-like year is about 15% and about 0% in 2010. Statistically speaking, chances are they control it by about 1 or 2 seats if they control it at all. So, even in a Democratic mega-wave, Republicans should be favored to keep the House.
As a parting gift, here are some views of the various parts of the state under my map without district numbers. :)
Oh, and in case I forgot any seats, complete race rating charts are at the very end of the diary.
-RRR
The Delaware Valley (SEPA):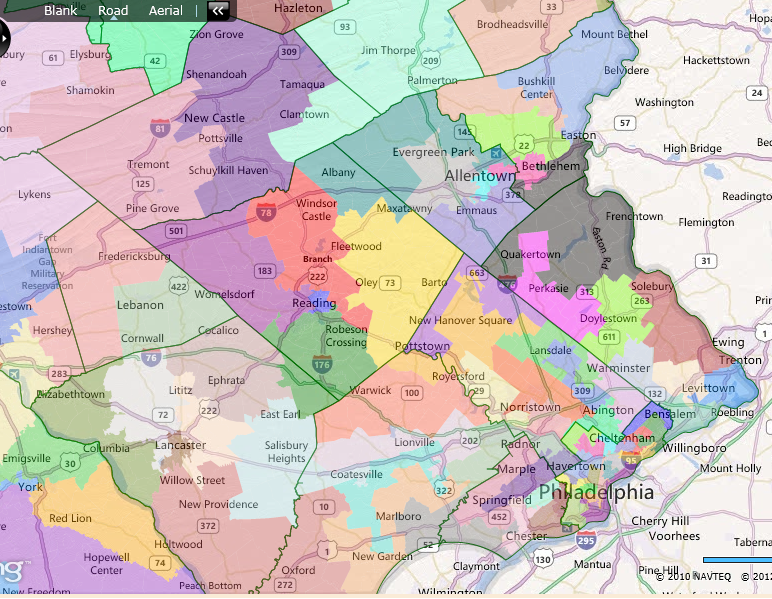 Note- Johnstown, a town of ~20,000 had the cojones to ask for its own US HOUSE SEAT when it sent a redistricting lobbyist to Harrisburg. Why? Johnstown, home of the late John Murtha, was once a prosperous town that has really declined in the last 70 or so years. As Appropriations Committee chairman (and a powerful member of the committee for so long), Murtha stuffed Johnstown with earmarks, and pork isn't flowing from DC right now. Well, as a punishment for such an absurd request as a town of 20,000 getting its own US House seat, especially when SWPA had declined tremendously in population, I tacked on Johnstown to the entirety of Bedford County, making Johnstown's seat safe R and not even Cambria County dominated. No pork for you, Johnstown. More will just go to the Monongahela Valley, I guess.
SWPA: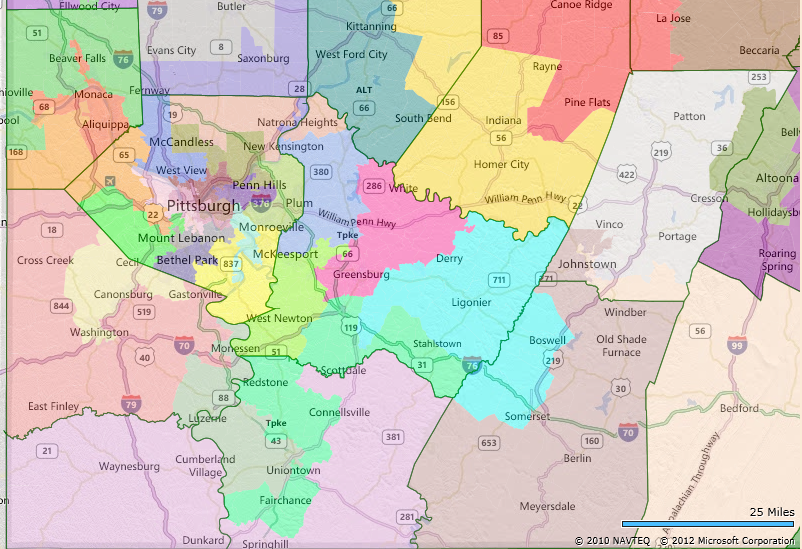 NWPA: