It's good to be back, after missing a diary completely last week. I promise I have a really good excuse, however, and a recipe to make up for it :). Follow me below the dingledoodlesquiggliedKosagnocchidividerthingie fold after a word from our sponsor...

Here at Top Comments we strive to nourish community by rounding up some of the site's best, funniest, most mojo'd & most informative commentary, and we depend on your help!! If you see a comment by another Kossack that deserves wider recognition, please send it to topcomments at gmail by 9:30pm Eastern. Please please please include a few words about why you sent it in as well as your user name (even if you think we know it already :-)), so we can credit you with the find!

NOTE: Bowing to that newfangled DK4 stuff :-), you also may send nominations to the Top Comments group email. If you don't see a nomination you made to there in the diary, please pipe up - it means we're still trying to remember not to forget to check!
It's been a week of feeling mortal. In what was decidedly NOT an April Fool's Day joke, an evening of... how to say... gastrointestinal distress left me so dehydrated Mr. Brillig deemed it necessary we go to the ER. They decided I wished to spend Sunday and half of Monday hooked up to a lovely fluid replentishment IV, and I was in no condition to disagree (who the hell KNEW one could get that dehydrated in 6 hours?!). It was confirmed as norovirus, the same thing K1 had in February just before her championship meet, and which has been rampant in these parts all winter and spring. May I never see it again.
I took last week off to recover, as the little common cold I went into the hospital with didn't like me laying down for 24 hours and flared up into bronchitis. While sounding like I had plague or was trying to hack up a particularly large hairball, I pulled a muscle in my side. Which made silly things like breathing, or standing, painful for a couple of days.
Did I mention I had an eye doctor appointment last week and learned I need progressive lenses (what we old folk used to call bifocals)? Then 24 hours later was read the riot act by my physician at the post-hospital followup visit: Lose weight and exercise more or you've got looming health issues on the horizon.
Oof. That last one got my attention. Thanks to Mr. Brillig, I am now the owner of a nifty little gadget, a Fitbit. I've been using it to track what I eat, how much activity I'm getting, and how much water I'm drinking. Yes, I'm an information-driven consumer... let me SEE how much I am eating, and I will eat less rather than write the damned Easter candy down :).
Which leads me to today's recipe... ever since a friend co-authored a cookbook my family's favorite meatballs have been the ones I make. It was time for a batch, and they turned out so good I decided to share with you :).
So here's what you'll need:

Note that the batch I made is a quadruple recipe... I try to make things in bulk and freeze for later use, and these meatballs freeze beautifully. Here's the ingredients in written form:

- 1lb (4lbs) ground beef. The recipe originally calls for 90% lean. I've made it with that, with 80%, with half beef/half turkey... you get the idea. This particular batch, thanks to sales at the store, is 3lbs 85% lean beef/1lb 94% lean turkey.

- 2 (8) large eggs

- 0.75cup (3cups) dry bread crumbs. I use homemade ones, from leftover bread. Now that we're making it all ourselves with a breadmaker, we know exactly how good they are!

- 0.25cup (1cup) grated Parmesan cheese. I'm sure this could be left out or reduced, but we like the flavor.

- 0.25cup (1cup) milk. Recipe calls for 1%, we generally use 2% because that's what we have on hand.

- 1T (4T) dried basil. I usually use basil, sometimes I've used a mix of dried herbs. Whatever you like best.
Set the oven to 400°F, then mix the bread crumbs, cheese & herbs in a bowl. This ensures that all the meatballs get equal good stuff :)
Now mix your ground meat, milk & eggs in a large bowl: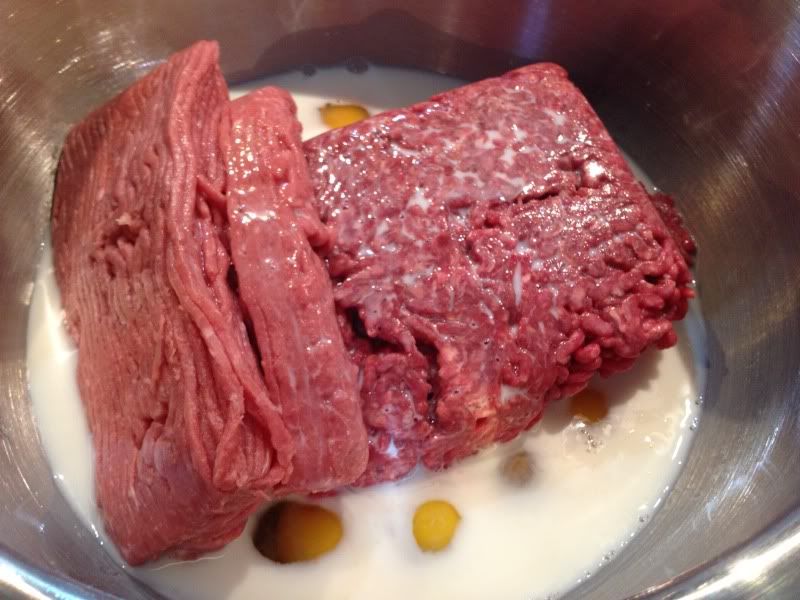 Add dry ingredients to wet and combine, either with a strong spatula or your hands, until it looks like this:

Each batch is supposed to make 35-40 meatballs. I have a 1.5T (about 1.5" across) scoop that makes this muuuuch easier when doing large batches, but by hand works just fine. For those who measure by weight, they're about 25g each on a kitchen scale. However you make them, place them on a baking pan/cookie sheet and bake for 10-12 minutes until they're sizzling. Use a spatula to loosen them and place on a wire rack to cool. Here's what my entire batch looked like (minus a few that the kids decided were defective and had to be eaten removed from the picture:
One batch of meatballs serves 6 people, at approximately 275 calories/17g total fat/10g carbs/20g protein. When served as a meal with the addition of 1 box pasta (I use Barilla's multigrain) and 1 jar pasta sauce the whole thing shakes out at ~570 calories/20g fat/64g carbs/33g protein. It's yummy, too: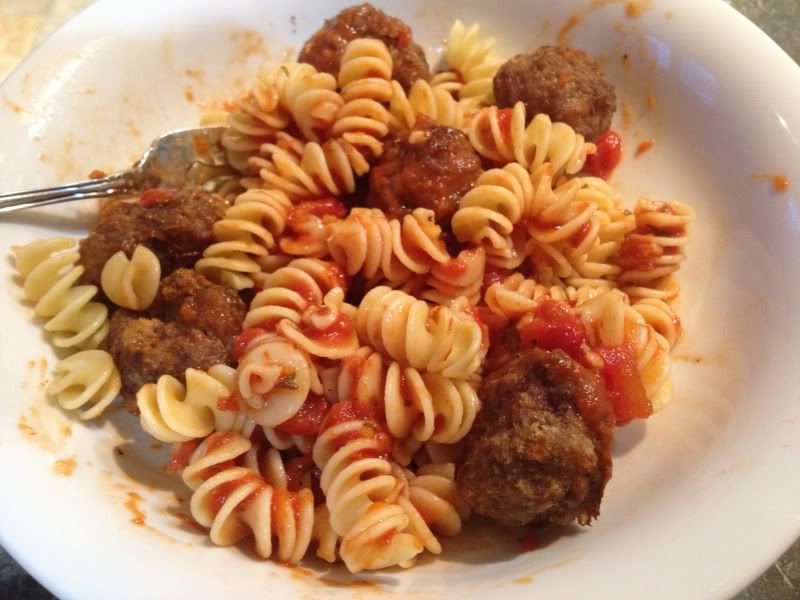 Whats YOUR favorite pasta & sauce or similar meal?
Now it's on to the Three Tops:
---
Brillig's ObDisclaimer:
The decision to publish each nomination lies with the evening's Diarist. My evenings at the helm, I try reeeeallllyy hard to publish everything
without
regard to content. I really do, even when I disagree personally with any given nomination. "TopCommentness" lies in the eyes of the nominator and of you, the reader - I leave the decision to you. I do
not
publish self-nominations (ie your own comments) and if I ruled the world, we'd all build community, supporting and uplifting instead of tearing our fellow Kossacks down.
From Wee Mama:

Even Forbes apparently thinks Obama has gotten some things done, to judge by NamelessGenXer's comment containing this list.
From BobBlueMass:

Had to send along this LaFeminista comment captioning a Rmoney photo in kos' diary. Pretty much sums up Rmoney and the tealiban right's view on women.
From Yours Truly, brillig:

Spotted auron renouille saying this comment by LordMike should be sent to Top Comments. So I did :)

I can't help it, I am easily amused some days. While chuckling in Jen Sorensen's Coffee Shop no-no's, this little cell phone transcript by joncwriter made me giggle.

Bensdad hits the nail on the head with his comment on Zimmerman's being charged.
---
Top Mojo for yesterday, April 10th, first comments and tip jars excluded. Thank you
mik
for the mojo magic!
1) Man, talking about "taking one for the team" by ontheleftcoast — 125
2) Somebody in Congress should take heed by RhodaA — 98
3) Hillary is so cool now partly because by joynow — 87
4) I'm sorry Una. by One Pissed Off Liberal — 84
5) A telling rationale by Dallasdoc — 84
6) Mark Zuckerberg, Facebook by Scarce — 81
7) three cheers for moles! by G2geek — 78
8) it also kept the economy stagnant by ericlewis0 — 74
9) Presumably, he's now lost the absolute by hannah — 68
10) o'rly? by Debbie in ME — 66
11) Well, he's going out by AnnetteK — 65
12) Tipped and recommended for a great historical by YucatanMan — 65
13) Yeah, Issa will be right on this by blue aardvark — 61
14) Don't Forget Constitution's Ban on Public Prayer by Gooserock — 61
15) Roger Ailes is paranoid enough as it is by puakev — 60
16) Demean, dehuminize, devil tactics.. by roseeriter — 59
17) (((((((((((((((Una)))))))​)))))))) by Horace Boothroyd III — 58
18) Yes, NewsCorp hates illicitly acquired material by bobinson — 58
19) This is typical. A wing-nut says or does... by markthshark — 56
20) Well by Joan McCarter — 56
21) boop by Debbie in ME — 55
22) moose boop by Debbie in ME — 55
23) This little shitstain better cease... by PvtJarHead — 54
24) Fascism by Diane Gee — 54
25) A charitable interpretation is foolish by Dallasdoc — 53
26) Good news. Maybe there is hope for Arizona. by TomP — 53
27) bullshit by Lost and Found — 52
28) More guns, less education by MinistryOfTruth — 51
29) Mitt, if you're reading, I have two words for you by BenderRodriguez — 51
30) I don't wanna get you even more upset... by News Corpse — 51
31) Yeah, just imagine by AnnetteK — 51
---
Top Pictures for yesterday, April 10th. Click any image to be taken to the full comment. Thank you
jotter
for the image magic!