A link in today's Midday Open Thread belatedly captured my attention a short while ago. Another firing of a racist by National Review Online, a dull echo of the Cleansing of the Derbyshire, this time targeting a guy named Robert Weissberg. "Oh, no," I thought to myself. "Could it be?" I wasn't going to merely have to go to Google for this one; I'd have to go to Google Images to see if it was the Bob Weissberg I knew -- my colleague from the Political Science Department at the University of Illinois twenty years ago.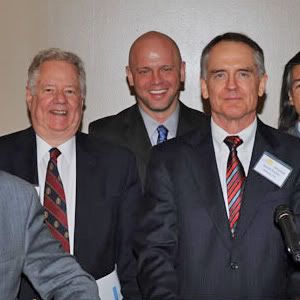 This, according to a caption in the Little Green Footballs story on the firing, is Robert Weissberg (left) alongside white supremacist James Edwards and Jared Taylor on the right. I could never forget that genial Easter Bunny face that seemed to express constant amusement at how all of life was a scam and he was scamming far better than most.
Bob's office was at one point near to, maybe even next to, mine in the third floor of Lincoln Hall; he was eager to seek out and chat with the new hire in American Politics. It didn't seem to matter to him that he considered to me to be on far left (although there was further left than me there, then); he had been a leftist himself back in the day, he assured me, with hopes that I might someday get over it. He identified strongly with former Trotskyite David Horowitz, whose meat and potatoes those days (when he was still consiered to be relevant to much of anything) was rooting out "liberal bias" in academia. Illinois was a ripe target, with liberal academic lion Cary Nelson in residence and his acolyte, future super-academic blogger Michael Berube, having been hired the same year as me. (Because my then-wife was finishing her literature degree at English, our social circles often crossed.) Weissberg, as I recall, headed the local chapter of this organization providing "balance" to the Marxists abounding there.
Oh, my God, there's his resume. I remember that, after it became clear in 1991 that I would soon replace him in his main teaching class, he was very proud of an essay he was writing called "The Queens of Academe," arguing that conservatives in academia had to operate much like gays then did in most areas of society. It was paranoid nonsense, an example of which -- that being himself -- I will describe below.
The LGF article went on with several excerpts about the white nationalist "American Renaissance" conference:

By all accounts, the anti-Semites in the mix kept quiet about the "real enemy," while American Renaissance chief Jared Taylor tried to construct a viable white nationalism without open hatred of "the Jews." David Duke did not attend and stand up and demand a discussion of the people he loves to hate. Michael Hart did not pull out, insulted that David Duke had been allowed to pull off his unseemly stunt. There was little snarky national socialist sideline banter like that which acolytes of William Pierce had produced in the past.

he main subject at hand is always the problems created by people of color and white liberals who want to live in a society of political and social equality among the races. And Jared Taylor spoke as if this crowd of racists was really a group of Copernicus-like seers into the workings of the universe. Unlike the first Renaissancer conference that took place in 1994 at an Atlanta airport hotel, however, this event focused less on the "problem," and more on finding a solution. Various forms of eugenics were proposed. Sam Dickson once again proposed the "ethno state," not mentioning, of course, the Yugo-like bloodshed and horror that would be necessary to institute such a thing. American Third Position (A3P) presidential candidate Merlin Miller, a Hollywood film industry insider turned white nationalist, told the crowd that his was the only party concerned with "white dispossession." And Robert Weissberg argued that white nationalism itself should be abandoned in favor of finding segregated white enclaves to live in—which is what many white people are already doing.
"Well, of
course
they did," I thought to myself. "Out of deference to Bob." Here's a kinder review:
The first speaker Saturday morning was the always stimulating Robert Weissberg, Emeritus professor of University of Illinois at Champagne, who proposed "A Politically Viable Alternative to White Nationalism." He argued that any movement that is explicitly based on white racial identity is "dead on arrival," and must be repackaged in order to win successful recognition. The reality—that racial nationalism "is intuitive and written in our genes" and that even children are conscious of race—is a huge advantage for those who want to build a racial movement, but any white movement today that takes an explicitly racial stand will fail: "We are considered just above child molesters." Prof. Weissberg also noted that there is no economic advantage to promoting white racial consciousness, and that most people do not act without financial incentives.
As I recall, I took over his Political Science 150 class -- the Introduction to American Government class at the University of Illinois in Urbana-Champaign -- from him exactly 20 years ago this semester. "150" wasn't just any class; it was held in the theater at one end of the campus's quad. Enrollment was 1200 students. Weissberg's class was always filled. However, I was told that only about 50-100 students, if that, would show up to any given lecture. Why, you ask? Two reasons.
The first reason is that the tests for his class were based entirely on the textbook, which as I recall was accompanied (or maybe contained) a study guide. Only one person in the galaxy used the textbook to teach American Government by that year: Bob Weissberg. Bob had, you won't be surprised to know, written the textbook and made a substantial amount on it each semester. The rest of the time he was, and I am not making this up, a haberdasher -- he had started a clothing store and so far as I could tell spent most of his time managing it. (He told me that he had become a conservative largely after seeing how regulation was stifling small businesses such as his; I thought, but prudently did not say to him, that if you were a tenured faculty member at one of the major research universities in the country and decided to go put your time into a clothing store instead of teaching and research, whatever liberalism had once suffused your soul had probably already dried up.)
This was not a difficult thing for him to do because of the second reason: he did not actually "give lectures" because everything he expected people to know was in his book (which was slanted pretty much the way you'd expect.) Instead, he used lectures as a chance to try out his, in essence, political comedy, a la the already past-his-sell-date Mort Sahl, which involved largely a jocular hammering women and minorities, for their not being like white men, in ways that the National Review Online could have pretty easily discovered had it ever cared to check. Lots of students simply didn't want to subject themselves to that -- so they didn't. This seemed to be OK with Weissberg. A more homogeneous audience was a better one for his comic stylings.
I chose a textbook, when I took over the class, that was from professors of mixed ideologies (liberal, conservative, and libertarian), combined with supplementary material from socialist critic Michael Parenti. Students could choose to read one of several books for a written report -- this included Laurence Tribe's The Clash of Absolutes on reproductive writes, some obscure crank named Chris Matthews with a book called Hardball, I think one by Arlie Russell Hochschild, and a few others. (I don't recall whether Randy Shilts's And the Band Played On was then among them; I did use it in later years.) I spend a semester in Fall of 1991 practicing on a small section, then in the Spring of 1992 I prepared to step out on stage in front of the 1200 enrollees. The first day was largely spent going over the syllabus. And -- I believe that I set a world record that may still stand today.
About 300-400 students dropped my class in the first two weeks.
The undergraduate advisor and his sweetly empathetic secretary were sad for me. "It's not that you aren't doing a good job," they told me. "It's just that you're going to make them work, and that's not what they thought that they were getting." It turned out that Poli Sci 150 had been a scam in more respects than I had thought: it was the "gut" class for which coaches would sign up their athletes -- their largely African American athletes, let it be noted, in light of today's events -- so that they would not have to waste time actually attending a class. (Who took their finals, themselves or someone else? Let me just say that I have little reason to think that Weissberg would have been fastidious about checking.)
Still, 800-900 students -- one semester was one, one was the other, but I can't recall which was which -- was a pretty significant number of people to serve. It was one of those classes where I still keep in touch with various students -- one just sought me out a few months ago after he moved to Orange County and saw my name as being involved with our local Occupy protests -- who include brilliant college professors, a pretty famous CNN foreign correspondent, and many more. (If you want me to know who you are, I told them at the beginning of each class, you would best sit in the front row -- and those who cared, did.) I received recognition for my teaching -- something that I'm confident hadn't happened to a 150 instructor since perhaps the very early days of Weissberg teaching the class, if even then -- and still consider it to be among my best teaching experiences.
Weissberg, meanwhile, was writing about how lousy liberal arts education was and how much better conservatives could do it. He's remained, apparently, an influential thinker within conservative academia -- as well as to the "let's be polite to Jewish conservatives" brand of white supremacy, of course.
About fifteen months after I started with the class, I was turned down for tenure -- one complaint being that I had been putting too much time into teaching rather than research. And so, by 2004, I left the teaching of Poli Sci 150. I was interested in seeing with whom I'd be replaced, although I don't remember who took it the next semester. It wasn't until years later, when talking to a student who had gone to Illinois after I left, that I found out who had replaced me in the longer term.
It was Bob Weissberg -- back in the saddle again. Congratulations on sifting out the academic excellence, National Review Online.