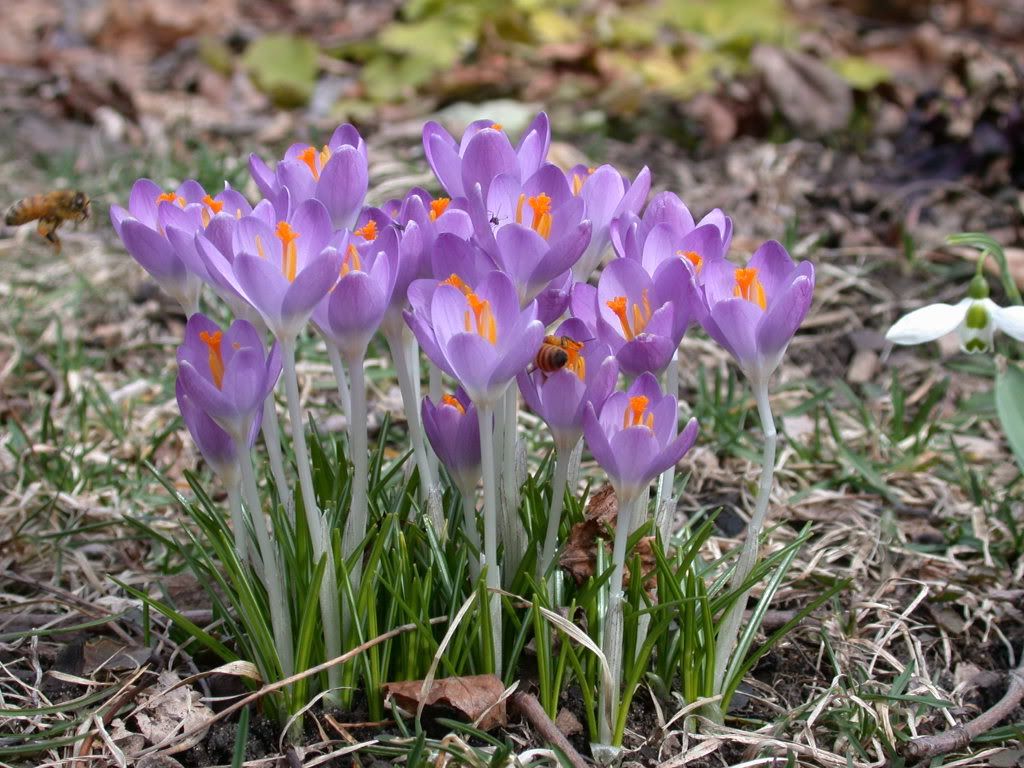 There is no way for me to prove, regretting now I never kept a journal of my 22 winters here in Chicago so I could point to a notation on a page, yes this is definitely the earliest I've ever seen bees. It was March 7th when I muddied my knees to take this photo, the ground still not frozen and no crusty inches of dirty snow creating havoc for crocus shoots struggling to make their stand instead in full bloom now in swaths across front yard lawns everywhere. So many purple and orange reasons to be cheerful under clear blue skies after weeks of uninterrupted sun incubating their arrival, stirring expectations of long lazy days that start warm and end warmer. A short sleeve shirt and moist sweaty skin a prescription for anything that ails me, the six month unwelcome and emotionally debilitating hibernation of winter as I experience it and have learned to dread, the sunless skies, the grey after clouded over grey never came to be this year, my body and psyche so grateful for the unexpected reprieve.
What seems like a life ago now on a rainy wind whipped March afternoon so unlike this one, after all the boxes were emptied and flattened and the furniture finally placed in the rooms of my first ever house, weather I would normally make every excuse to not experience, grousing, instead had me out walking every inch of the expansive yard and staring wide eyed at this house I now lived in. The narrow, two story wood framed design would be considered common except for the carefully hand carved wooden plackets above the window and door casings their trim painted a deepforest green, the uneven hand troweled stucco softly texturing the entire two stories capped by an impossibly steep roof and worn brick chimney listing slightly, so reminiscent of a little farmhouse you might encounter hiking deep in the rural hills of a northern European countryside, nestled in a shallow surrounded by rolling green grass hills with livestock lazily grazing their days away.
These romantic images filled my head standing shivering againt the January wind waiting for the realtor to arrive, looking at this house for the very first time. This vivid imprint remained even as she apologized for the rundown condition of the exterior, the smallish rooms and the absense of any modern amenities most people are accustomed to expect in a house these days, her rehearsed pitch predicting a reaction she wasn't getting. She struggled in her high heels as we walked a worn grass path to the two story building hundreds of feet away from the house built not for cars but a horse drawn carriage, the two huge wooden doors swung out as she promised it wouldn't take much to build a new garage with a spiffy remote control door. Surprised herself, her eyebrows arched quoting from the listing sheet she dated the house to 1908, then waving her handful of other pages so sure I now wanted to see the rest of the houses on her list, she turned and began her torturous walk back through the frozen grass. I however was more interested in the rolling gravel back alley that I found out was the only one in the entire town, it paralleled an embankment choked thick with trees and messy underbrush that the kid in me just needed to climb, the realtor now dumfounded. I carefully navigated the steep incline and reached the top, shouting up at me that the freight train rarely came through this set of tracks anymore and it rumbled through slowly and quietly when it did her trained enthusiasm waning as the words left her lips.
A house filled with so many potential dealbreakers is a realtors' nightmare and this house had languished for so long in a white hot market there was no longer a for sale sign out front, it became the classic drive by, the office joke, an oddball, a fixer upper that no one could see the value in repairing and few realtors had any interest in ever showing prospective buyers.
Much to my agents' astonishment and more than a little of my own, I bought the house that day.
This committed city dweller who walked asphalt and concrete and rode elevators and subways and rented apartments his entire adult life was about to get quite the unexpected education in home ownership. A lifetime spent building and renovating I was prepared for the fixer upper but spring was threatening its' arrival and as the dormant winter landscape would tranform itself, much to my surprise so would much of my life.
I was 36 and sadly never held a spade or put a plant in the ground.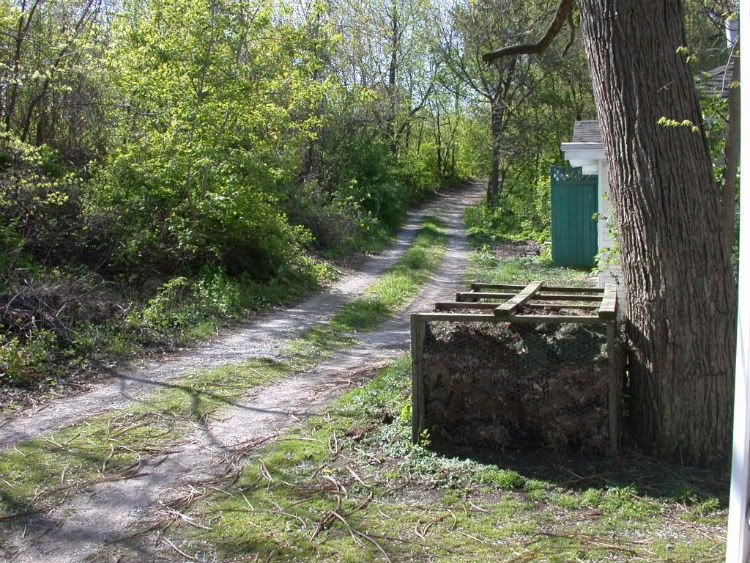 An old couple lived here in this house before I did, staking their claim on this leafy tree lined street in this near western Chicago suburb known for its' stately 100 year old trees, classic four square houses and extra large, quarter acre parcels. A perfect place to raise kids but apparently this married couple had none or at least no one was ever seen visiting, holidays included. They were friendly but quiet and minded no ones' business but their own, with such a large piece of land and a house to maintain as meticulously as they did their chore list never ended. As their story was revealed in sidewalk chats as new neighbors introduced themselves a more intimate history emerged over time as each room in this old house had a tale to tell, the house and their life slowly explained itself in details, well worn areas on countertops and stair treads and around draw handles and door pulls, decades of daily habits rounded into the old pine and oak wood.
For as long as anyone could recall there they were in the yard digging, tending to every errant leaf and branch, planting and harvesting the vegetables they grew as the inherited history of this couple who lived their lives so frugally and as self sufficiently as they could, emerged a respect for the choices they made and the simple but beautiful life they chose intentionally to live so differently from my own.
A sense of melancholy inhabited this house too, an uneasy feeling that must overtake many who age that maybe life just gets too big and overwhelms the ability to keep up, fewer steps taken, a slow imperceptable retreat from so many responsibilities that can no longer be accomplished as well as they once could, the condition of the house explained. They were married forever and committed to their garden as they were to each other, she died within a month of his passing.
Spring always stirs up memories of my first year in that house so I took an early morning windows down head clearing drive, a short wistful road trip back through time and familiar streets and instinctive turns, wondering if the new owners treasured it as much as I did, worried if it was even there at all. So many beautiful old houses have been sacrificed, torn down in the guise of ficticious progress and profits since I bought that house almost twenty years ago. Chicago and its' people are poorer for the loss of so much of our architectural history cleared away as though it meant nothing, as if our collective memories would so casually accept the loss, our sense of stability not always a measure of our money.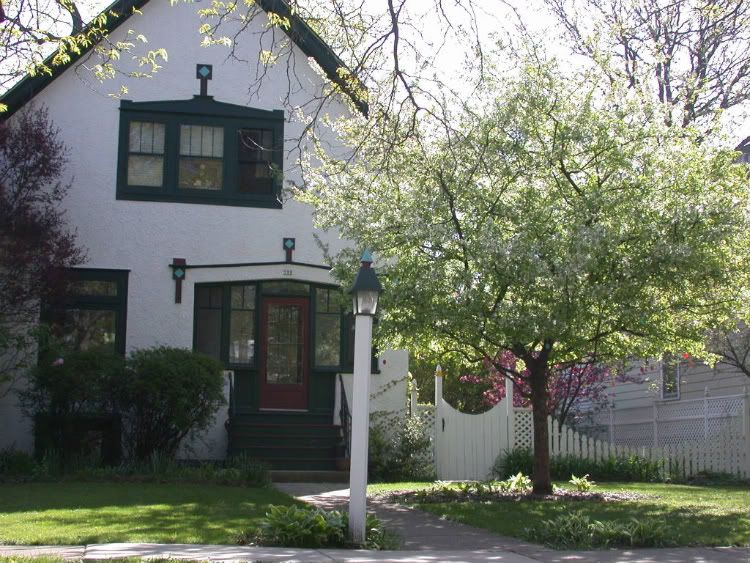 So I went to visit my old house today, missing the mornings sitting in my chair just outside the back door at 5am watching in silence as the two racoon families slowly click click clicked down the enormous tree in my yard shining their little eyes at me as they passed, the pair of cardinals' first chirp soon after, signaling the swarm of birds throughout the day feasting from the two feeding platforms I built, the sparrows, starlings, crows, purple finches, yellow warblers, bluejays, hummingbirds and the occassional hawk swooping down for lunch, the cardinal chirps closed the day as they were always last to feed. My realtor correct about the freight train, its' slow rumble was as quiet as tons of steel could be, a steady clackclack clackclack of wheels across tracks almost clock like, the sound was reassuring somehow.
Remembering the sweat of so many days, projects that took months, heat stripping and painting every window and door frame, refinishing the wide plank pine floors, building a compost heap in the back alley, building by scratch a fence around the entire perimeter, digging every posthole, setting every post, cutting and shaping the pickets when I couldn't find exactly what I wanted and then painting both sides twice.
I remember ending everyday with dirt under my fingernails missing my garden most of all.
What happened that first spring season opened my novice eyes to what I had never known firsthand, living my entire adult life in apartments in big cities. To tell you this experience was transformative would be cheating the word of it's meaning, a lightening and thunderclap sensory storm transformed how I would view the world, myself and what I did for a living.
Crocus, old fashioned daffodils, hyacinths, poppies and tulips emerged from their winter slumber and exploded in color across the entire yard, bright and nuanced hues and shapes that pushed up against the continous clouded spring skies, an established gardeners' garden, this incredible gift I didn't even know was there inherited from this wonderful old couple I never even knew began an obsession for me as it was for them, days beginning and ending in the garden from that very first spring.
Visiting every garden center within miles, asking questions, quickly stacking a library of reference books I began that year to understand what plants I had growing in this garden and how to continue to care for them. The soil was tired and needed amendment and all the plants required dividing so over the next 2 seasons I supplemented my art training with my newfound knowledge and redesigned the entire landscape, English cottage style. I built the fence to enclose the garden and give it context, built the bird feeders, compost heap and added to the existing vegetable garden. One Saturday in late June of the second year, a yellow school bus pulled up and out piled a professorial looking man followed by dozens of women, they were on a field trip from the Botanical Society to tour local gardens and my house happened to be on their list as a must see garden.
I could go on forever talking about my self education, how I spent every waking moment in that huge garden I cherished, how I began to lend my labor to designers who needed help, picking up technical information and advice, how I eventually shut down my small one man business to start my own landscape design company and the only way to do that was to sell the house and leave my garden behind. It was an incredibly difficult decision, I just couldn't afford the house and begin this new business at the same time. I can tell you that my business thrived, the timing was perfect and just happened to hit the sweet spot in the booming 90's economy, eventually employing a dozen people and 6 trucks leaving every morning. I made a modest living and was no different from many small businesses, operating on thin margins with no help from banks or credit lines, going unpaid for weeks just to keep the lights on.
I did afford another house, the front yard garden renovation won an award that first year.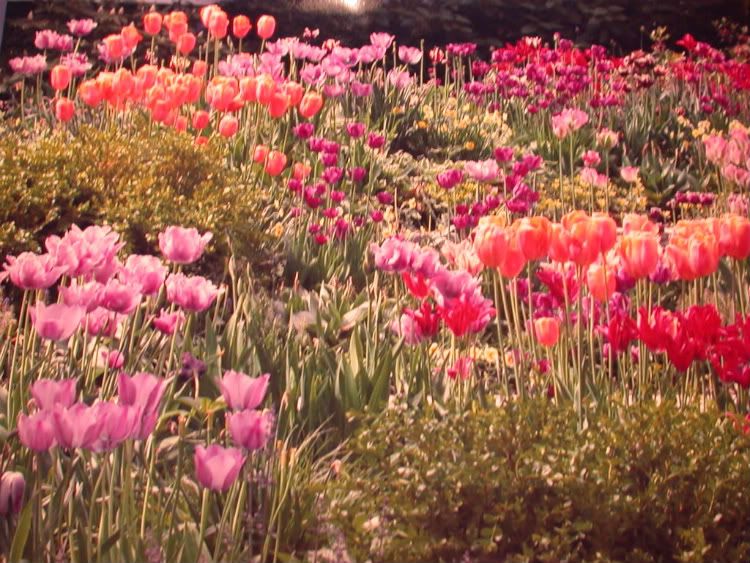 So I went to visit my old house today, standing on the sidewalk in shirt sleeves this warm March morning so unlike the first time I stood here almost 20 years ago shivering, the farmhouse in the country surrounded by rolling grass hills was now one of a thousand images and memories of my time spent in this house and yard, my life so different now. Yes, thankfully my old house has survived and though so much of my garden is gone, the current owners kept the fence, use the compost heap and have built a tasteful garage that matches the house nicely with a spiffy remote control door. I can't blame them for that decision and I won't judge them for removing the garden, few folks with family obligations have the time required for such a committment and honestly fewer folks would do what I eventually did, selling my beloved house to follow a newfound passion. I like to believe I created some beauty where there was none, maybe inspired people who needed just a little help to pursue their passion for gardening as we all do sometimes, still as I stand here some 20 years later it's hard not to wonder what my life would be like if I stayed, melancholy for simpler days that seem to have passed so quickly.
Now in a turn of the century six flat condo building with a tiny front yard, I live vicariously through other peoples' gardens, I'm not about to complain, so many people are struggling with so much less I feel fortunate to have so much. City living has its' challenges for me though, I am a misfit here in the concrete canyons and perpetual noise that Chicago is, I miss working the soil and the tranquility it brought, there was a gentle rythym to it all, an intimate connection to the natural order of things.
It was there I learned to embrace silence for the first time in my life.
I have a special place I go when I need to get away from things these days, to see color, smell the intoxicating fragrance of so many plants and flowers, inspect the texture of leaves when the incessant noise and movement of city life upsets my equilibrium as it often does.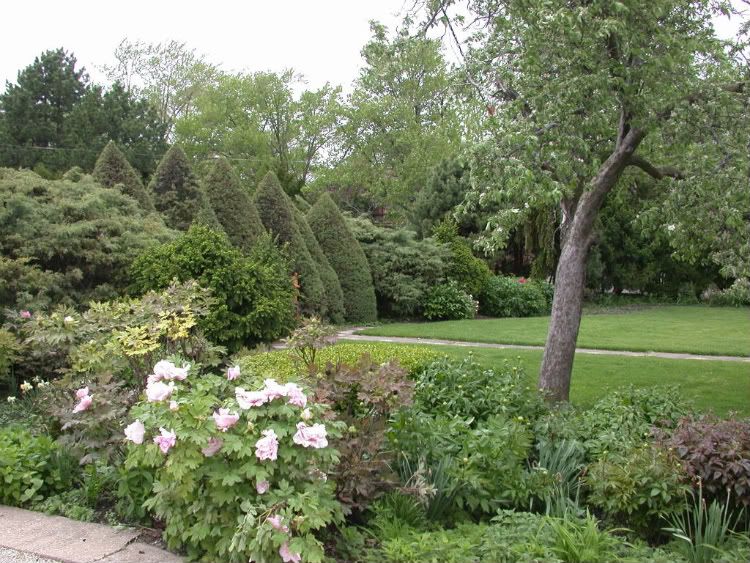 I discovered this refuge by accident one day as I took a wrong turn in a neighborhood I don't normally visit, a neighborhood that has been built up around this secret place 30 minutes from downtown that was established by plantsmen decades ago. It's a nursery as nurseries were originally, all the plants grown from seed, a three generation family run labor of love with acreage for growing and 2 acres of enormous cedar wood greenhouses. I love coming here spending hours sometimes, my ultimate vicarious garden experience, always visiting early Monday morning when no one else is here except for the folks quietly going about their work tending the plants.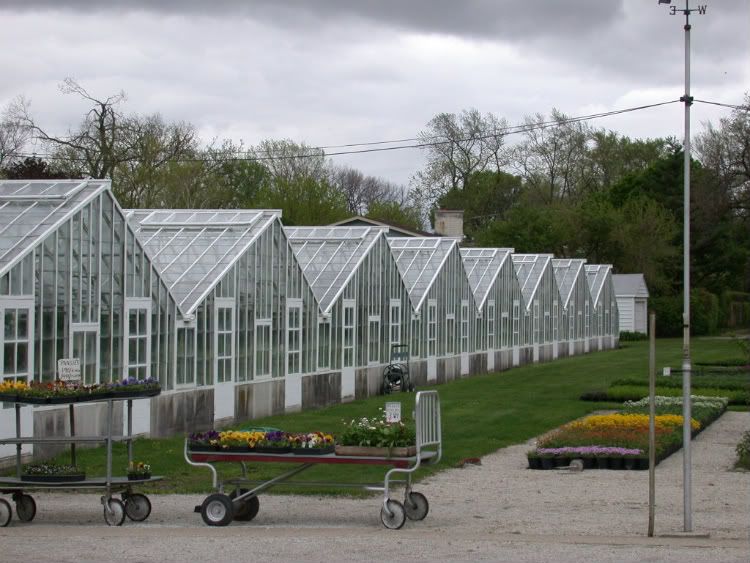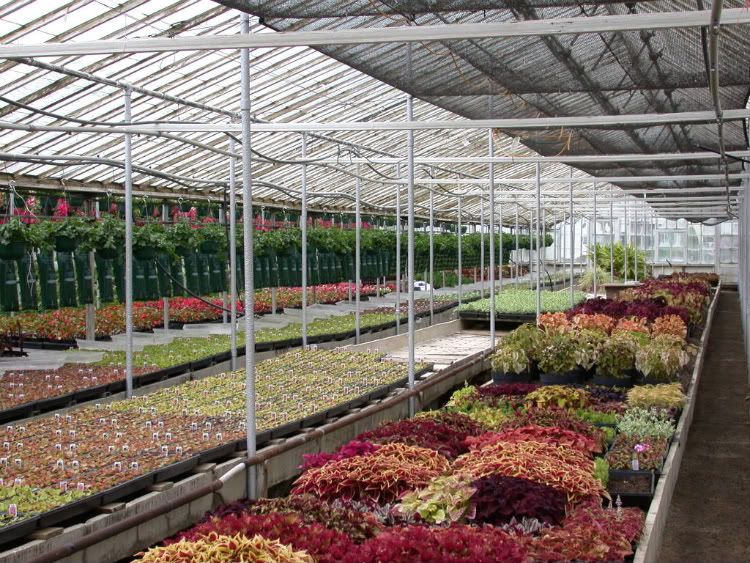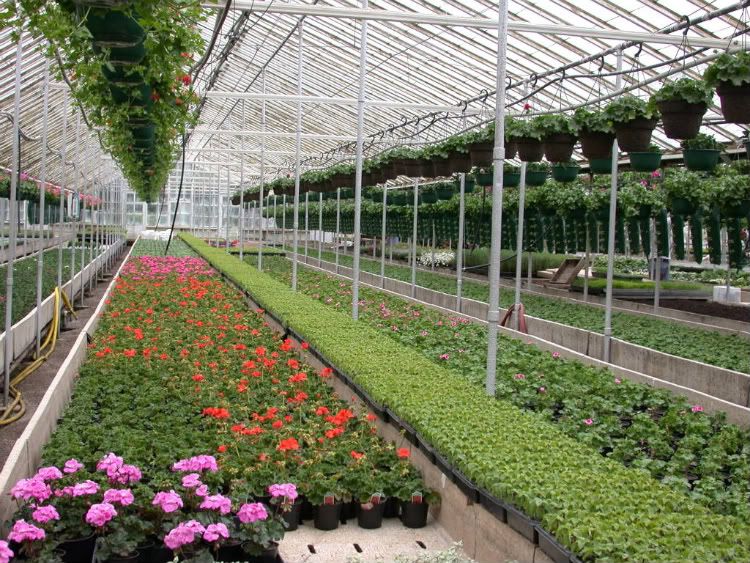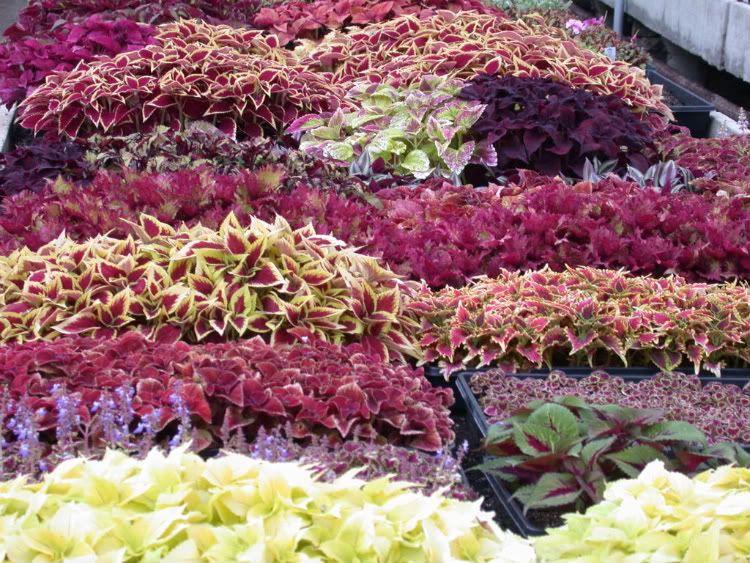 It's here surrounded by so much color and beauty that I embrace my silence again.
peace.
bonus pic :-)
tulips struggling against the 40mph wind yesterday.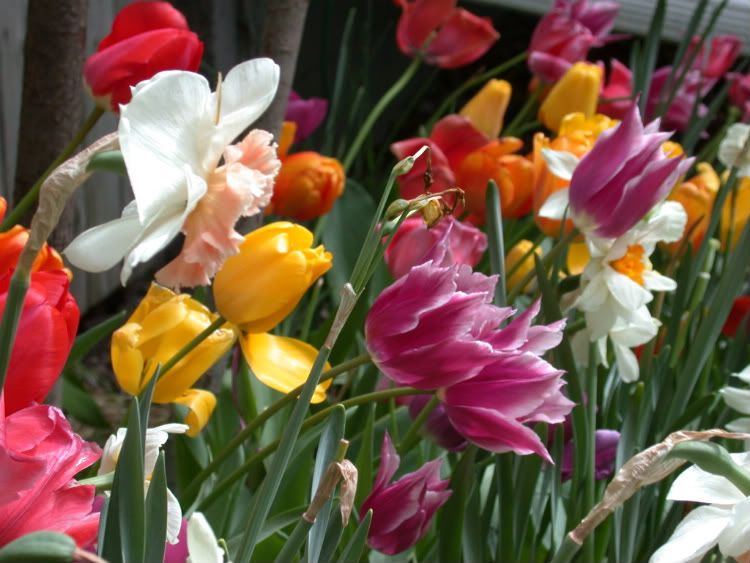 6:13 AM PT: geez, went to make a cup of coffee and came back to see this on the rec. list? thank you all so much. i'll need to get back to everyone when i get back from work.