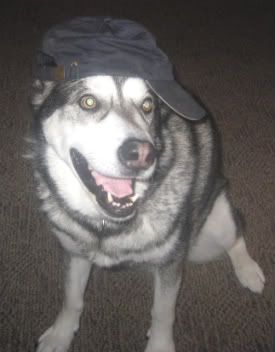 This is Jack - our Alaskan Malamute.
It is with a heavy heart and jangled nerves that I'm writing to let you know that "Malamute Jack" - a.k.a. "The big guy" a.k.a. "my buddy" a.k.a. "Snapperhead" (pronounced "Snappah-head" with a Boston-ish accent) a.k.a. "Mr. Jack" a.k.a. "Hannibal Jack" a.k.a. "Mr. Woo" and a myriad of other names that he wears with glee (and an appropriate touch of mischief) has been diagnosed with an aggressive form of bone cancer.
Wifey & I are devastated.
The doc says that the prognosis isn't good, even tho they've not tested beyond the affected limb - in her experience, even removing the limb only gave the affected dogs another 6-8 months before the cancer returned & metastasized. We can't afford - literally as well as figuratively - any more tests.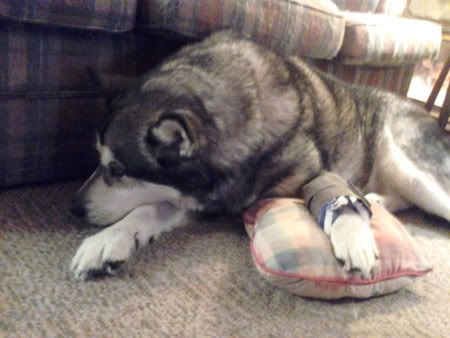 One of the things that Jack has learned since he came to live with us is how to trust, as well as the meaning of the word "Help." He knows that when we ask him if he needs "help" then whatever he's trying to do, or whatever is ailing him, is something we're going to try and fix.
He's amazing the way he communicates his understanding.
And he's always been stoic - as a guardian, as a care-giver and as a friend. Here he is, along with the little dog, watching over Wifey not too long ago when she was unwell: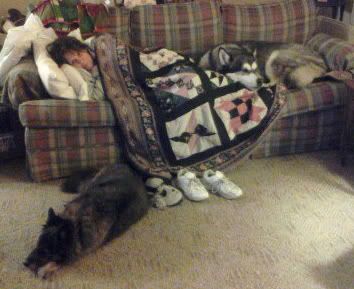 We don't know how long we have with him.
We've faced cancer in our pets before - Missy, the Woo, had been diagnosed with it three different times. All three times it was removed surgically and then we followed doctor's instructions, save the last - that time, after it was removed, we aggressively addressed dietary and supplemental items - similar to what we are starting now with Jack - because, at the time, the vet & the consulting oncologists had thought that a third return of cancer was just a precursor to a final, thorough bout of it.
With Missy, the cancer never returned. She lived to a ripe old age, until her body just couldn't continue.
With Jack, his cancer is aggressive, and we're starting further behind the starting line. We have no illusions that we're going to be fighting an almost vertical uphill battle, but we're determined to give him as much high-quality time as possible at the very least...we don't want him to experience worse suffering, and we don't want to prolong his current suffering. We hope that the pain pills we're giving will help alleviate some of that, so that we can give him some quality ultra-attention in what appears to be his final months.
He is only 8 years old...granted, that's not "young" for a dog, but he's no codger.
Please keep him in your thoughts & prayers.
We're giving him some pain meds, and doing what we can homeopathically & holistically to try to ease his current pain & slow the progress so that we can try to extend the number of good days remaining before we have to say goodbye...