Public school money has been involved, and the authorities are trying to figure out where it has gone.
From the NYT School Book:
Believe Charter Network Founder Indicted

The office of the state attorney general, Eric T. Schneiderman, has been investigating Mr. Calderon-Melendez, 48, since last year, digging through tax and expense account records to figure out where tens of thousands of dollars of public money has gone, The New York Times reported on Friday.

In a statement, Mr. Schneiderman said: "While earning a six-figure salary funded largely by taxpayer dollars, the defendant robbed the State of New York of much-needed revenue when he failed to pay his taxes for six years in a row. He then compounded his crime by creating false evidence to throw investigators off his trail."
The school's lawyer had this to say about Calderon-Melendez.
Mr. Calderon-Melendez, who opened Williamsburg Charter in 2004 and went on to form the Believe High School Network in Brooklyn, suffered from "founder's syndrome," Ms. Eagen said, which she recognized from her experience as a former teacher and school administrator.

Like some other founders, she said, Mr. Calderon-Melendez was charming and charismatic but ran his school with little influence from others. "We had one person calling the shots," she said.
Here is more from Susan Ohanian on this topic.
School Official Charged: Charter Schools Founder Accused of Tax Fraud, Billing Network for Europe Trip

Last night we were sent a photo purporting to show a sign posted on the third floor of Public School 126 at 424 Leonard Street, which houses the Williamsburg Charter High School as well as its two spinoffs, Believe Northside Charter High School and Believe Southside Charter High School.

Evoking the old "Wanted" posters of the Wild West, the flier asks for help to "recruit students who you feel would benefit from the exceptional opportunity to attend Believe Schools in all grades." It promises $100 for each student recruited, provided they enroll and "remain for at least one term with us!" (The same picture also turned up Tuesday night on Education Notes Online.)

Jacqui Lipson, a spokeswoman for the schools, declined to comment but did not deny that the sign was up.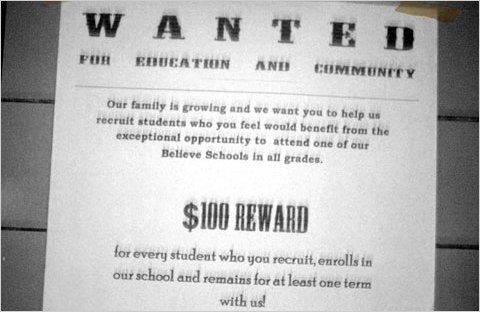 To make things worse the state of NY, knowing all this, approved two more schools in spite of the problems.
From Ed Notes Online:
State Ed Dept Should Be Indicted With Believe's Unsteady Eddie
Note how long this has gone on.

2004: Mr. Calderon-Melendez founded Williamsburg Charter High School and became the school's CEO.

2005:Mr. Calderon-Melendez failed to file taxes despite earning up to $500,000 a year in salary and consultant fees. After receiving a subpoena, he "produced false New York tax returns" for years 2005 through 2008.

2009-10 school year. A state audit found more than $80,000 in overpayments to the network and hundreds of thousands of dollars in mishandled expenses.

2010: The state approved Southside and Northside to join the newly created Believe High Schools Network, which Mr. Calderon-Melendez also headed. ---- Wall St. Journal

The state approved two more schools just 2 years ago?
This sentence from Ed Notes Online sums up the outrage so well:
Almost all of the money to operate the three schools came from public financing.
Several years ago Eddie Calderon-Melendez moved his charter school into a public school against the wishes of that school, JHS 126. The students and parents had recently remodeled the school library, but the charter school moved in on it. The words of Eddie Calderon-Melendez in response to that really angered me.
Access to the library for more than 400 middle schoolers will be restricted to one side of the space for less than two hours each day, with an extra hour on Wednesdays. Eddie Calderon-Melendez, founder of the Believe High School Network, which runs the charters, said the use of shared space is negotiated every year.



"We figure out what's in the best interest of all the children in the building," Calderon-Melendez said.

NY public school students get limited use of school library so 3 charter schools can use it.
That man who is now indicted had a lot of power over public schools, their resources and their money.