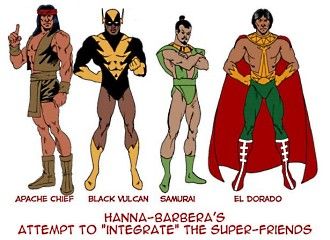 Television & film of today is much different than it used to be. There was a time when the only black people you saw on TV shows & in movies were either playing the criminals, or the servants in the background. The same thing goes for the representations of women, gays or any other minority group.
However, the diversity of TV shows & films, while better, is still an issue to this day. And sometimes the solutions can be as insulting as the problem they're attempting to address (i.e., tokenism). Moreover, this gets into some of the same arguments bandied about with affirmative action. When we're talking about positions within government, educational opportunities, and even the hiring performance of companies & corporations, diversity has become at the very least an important agreed upon "goal" in most people's eyes (even if they may disagree about how you go about getting there). But does a writer or producer have a duty to present diversity when telling a story? If we're dealing with fiction, something that by its very nature can be unrealistic, does that fiction have to at least represent race, gender, orientation, etc., in a realistic way?
This issue seems to have been rekindled a bit last week by HBO's new series "Girls." The series, created & starring Lena Dunham & produced by Judd Apatow, is about the lives of twenty-something women living in Brooklyn. Before it premiered, the discussion tended to be about its depiction of women, since the show has been likened to a younger, more realistic version of "Sex and the City." After it premiered, the discussion turned to race. "Girls" has come under criticism for its all-white cast, with the argument being that in the "Girls" universe there seems to be very few black people or people of color anywhere in New York City.
This is not a new criticism of television shows & films set in NYC. Both "Seinfeld" and "Friends" were criticized for a lack of diversity in the depiction of the social circle their respective characters inhabited. Woody Allen is a man who has dedicated a huge chunk of his life to making films about New York & is largely identified with the city, but I think I could probably count on both hands the amount of black characters who've been in his films over the decades.
And the issue of racial diversity in media is not just a white-black one. For example, I believe I remember reading an interview with John Cho and Kal Penn (of 'Harold & Kumar') who pointed out that almost never do Asian male characters have love interests in movies. And more often than not, if an Asian female character is the main love interest, she's being fought over by a white guy and an Asian guy, with the white guy ending up with the girl. Some years back, NPR had a fascinating article about the effect 'Sixteen Candles' had on Asian males who grew up during the '80s. One quote that stood out to me is where someone argues "Every single Asian dude who went to high school or junior high during the era of John Hughes movies was called 'Donger.'"
So in some ways, the debate about "Girls" is a continuation of an old argument. But part of the reason the issue has gotten traction in the media with "Girls" is that HBO has sold the show as being a "Woman's show," created by a young woman, that is supposed to have something funny/distinctive to say about the lives & relationships of young, aspiring women.

From Jezebel:
It's no secret that the show's stars are four white women. In the first episode, there was a minor character who was Asian (and good at Photoshop) and a cameo by a black man who appeared to be homeless. For those of us who are — or have been — young twentysomethings living in New York, this version of New York is a bit peculiar.

As Kendra James writes for Racialicious:

Not only do I work with a WOC who attended high school with [Lena Dunham], I have friends who went to high school with both her and her younger sister and, because my friends consist of Latin@s, Asians, Blacks, and whites, I know her life couldn't possibly have looked as white as the posters for Girls (which is semi-true to life; she calls her character Hannah "another version of herself") would have you believe.

I, too am a black woman who grew up in New York. I went to both public and prep schools. I, too, have been a struggling twentysomething writer. And yet. The world in which Hannah and her friends inhabit seems familiar, except for its complete lack of diversity.

Jenna Wortham, writing for The Hairpin, agrees:

These girls on Girls are like us, they are like me and they are like you, they are beautiful, they are ballsy, they are trying to figure it out. They have their entire lives ahead of them and I can't wait to see what happens next. I just wish I saw a little more of myself on screen, right alongside them.
After Wortham's post went up, the discussion about this got kicked up another DEFCON level when Lesley Arfin (
a writer on "Girls"
) tweeted the following:
For her part, Lena Dunham has been open to discussing the criticism that the show is centered on "White People's Problems" (e.g., the major issue in the first episode is the fact Mommy & Daddy won't give the main character $1,100/month to live in NYC), and that if the show gets a second season she wants to "address" women of color. Also, some reviewers have argued that maybe the lack of diversity may be true to the depiction of the characters, which are all self-centered & insulated to each other.
From The Huffington Post:
Critics of "Girls" have blasted the series trying to speak for a generation of young women living in the city and for not including much diversity in the process. But despite the joke that Dunham makes in the pilot episode, "Girls" doesn't intend to represent everyone, said the show's co-executive producer Judd Apatow on Wednesday night at the Tribeca Film Festival premiere of his latest movie "The Five-Year Engagement." As for the show's backlash? Apatow says it was expected.

"We wanted it," he enthusiastically explained. "That's the point of it, really. It's supposed to be a comedy about women in New York who are really smart, but their lives are a mess. They know they should be doing great things, but they don't know what it is, and they have kind of a feeling of self-entitlement about it. That's the joke of the show."
There have been more than a few race related casting controversies in recent memory. There were several instances in which Hollywood decided to replace Asian (or Asian-ish) characters with White characters that led some to complain of a "
whitewashing
" of the source material. M. Night Shyamalan was heavily criticized for casting white actors in lead roles instead of Asian actors, for the movie adaption of the cartoon "
Avatar: The Last Airbender
." A live-action adaption of '
Akira
' has been stuck in development hell, but fans of the original animated film have raged against some of the changes that have leaked out, which includes replacing the Asian characters of the original with white equivalents. Going back a bit further, back in the late '80s/early '90s the producers of the musical "
Miss Saigon
" got a lot of grief for casting Jonathan Pryce in the role of a Vietnamese pimp, with some likening the production to a minstrel show.
The counter to the "whitewashing" argument is these sorts of changes are no different than what Martin Scorsese did in adapting 'Infernal Affairs' into 'The Departed.'

Donald Glover (who's African-American) of NBC's "Community" publicly lobbied for an audition to portray Spider-Man in the reboot of the film series; 'The Amazing Spider-Man.' However, from all reports, Sony only considered white actors for the role of Peter Parker, with it eventually going to Andrew Garfield. In this instance, you get a reverse of the 'Akira' example above in fidelity to the source material. There is nothing innate to the Spider-Man story that says Peter Parker must be a white teenager. But some of the more rabid fanboys feel that because Stan Lee & Steve Ditko drew Peter Parker/Spider-Man as a white teenage boy, he must always be a white teenage boy.

Some shows & films have tried to deal with this issue by having race neutral casting. Instead of casting a character as being specifically a white male or black female, whoever is the best actor/actress that auditions for the part gets it. If I remember right, this is the way its done on Shonda Rhimes produced shows & it's the reason many of the guest stars that play the patients & families are interracial couples on "Grey's Anatomy." However, the process still doesn't guarantee diversity.
For example, there is nothing intrinsic to the four main characters of "Girls" that says they need to be four white women. But I'm sure that if I asked Lena Dunham & Judd Apatow if they cast the four best actresses for those roles, irrespective of race, they would say "Yes." So if you end up with an all-white cast, is that truly a lack of diversity or is it just happenstance?
From Ta-Nehisi Coates at The Atlantic:
I think storytellers--first and foremost--must pledge their loyalty to the narrative as it comes to them. I don't believe in creating characters out a of desire to please your audience or even to promote an ostensible social good. I think good writing is essentially a selfish act--story-tellers are charged with crafting the narrative the want to see. I'm not very interested in Lena Dunham reflecting the aspirations of people she may or may not know. I'm interested in her specific and individual vision; in that story she is aching to tell. If that vision is all-white, then so be it. I don't think a story-teller can be guilted into making great characters.

This selfishness tends to ultimately serve the writer and the audience. I think back to "Friends," which for years, was dogged by criticism of its all-white cast. When its creators finally relented they casted two great talents--Aisha Tyler and later Gabriel Union--but didn't even bother to write separate story-lines. They simply recycled the same plot, and plugged in a new black girl... It is not so wrong to craft an exclusively white world--certainly a significant portion of America lives in one. What is wrong is for power-brokers to pretend that no other worlds exists. Across the country there are black writers and black directors toiling to bring those worlds to the screen. If HBO does not see fit to have a relationship with those writers, then those of us concerned should assess our relationship with HBO.
Many television shows of the '70s & '80s went the
Very Special Episode
route to deal with some of these criticisms. Basically it's an episode where you have the collection of rich, white characters come to the realization that death, drug abuse, alcoholism, AIDS, suicide, gay people or black people & racism actually exist in the world. The problem with the "very special episode" is that it comes off as both incredibly naive while at the same time horribly condescending. The original "
Beverly Hills 90210
" didn't have any black main characters & came under criticism for it, so they went the "
very special episode
" route by having Brandon (
Jason Priestley
)
go into South Central
to bridge the cultural divide while at the same time trying to solve gang violence.
The other dunder-headed way of trying to deal with diversity is the "Token" character. A token character is defined by TV Tropes as:
A character designed to get more minority groups into the plot. This serves several purposes:

Allows the producers of the show to broaden the appeal of the show by giving more viewers protagonists they can identify with.
Is useful for bringing in discussions of racial issues, gender issues or homophobia into the plot.
Helps the producers feel a little better about using a Scary Minority Suspect in every other case.
Allows the producers to make jokes related to a minority group without any shame.
Allows the producers to avoid criticism from minority groups.
Fulfills the executives' desire for the show to be more ethnically respectful.
However, the problem with the token character is that the token character is defined by whatever his tokenism is, and that's usually a collection of stereotypes. If you look back at sitcoms & game shows between the '60s and the '80s, you had gay actors (
Paul Lynde, Charles Nelson Reilly, etc.
) on shows that went to ridiculous lengths to not acknowledge something that almost everyone knew, but also played around with the actors homosexuality by slyly alluding to it. On the Ted Knight sitcom "
Too Close for Comfort
," one of the supporting actors was Jim J. Bullock, who played "
Monroe
." The show never acknowledged the actor's sexuality with the character, but went to a strange "
very special episode
" route by having the character be
raped by women
.
These sort of plot developments are usually deployed by hack writers, but even good ones get caught by it. For example, an interesting case is Aaron Sorkin with "Studio 60 on the Sunset Strip." Simon (D.L. Hughley) is the one "black guy" on the sketch show, with every story involving him being about how he doesn't want to be "the black guy" on "Studio 60," which ironically makes every story involving him about that very thing. The most sensible & progressive thing to do if there's a character that's a "token" character, either by design or chance, is to write that character as being as normal as everyone else & never draw attention to their tokenism.
One thing that's ironic about "Girls" is that HBO expected to get recognition for it being a female dominated show from a female perspective, which while more prevalent is still somewhat rare. In fact, some have called some of the criticisms of "Girls" sexist. "The Smurfette Principle" (which is basically having a female token character in a male dominated cast) can still be seen in a lot of TV shows (for example, "The Daily Show" rarely has more than one female regular at a time).
The Bechdel Test was created by Alison Bechdel, and it's been used by some as a litmus test for the depiction of female characters in film. It states that in order to pass the test, a movie must:
Include at least two women.
The female characters have at least one conversation.
The conversation is about something other than a man or men.
However, the Bechdel Test has some issues itself. For one thing, a good many "
girl-on-girl
," lesbian porn films satisfy all of the criteria of the Bechdel Test.
Secondly, it can only be used in the aggregate to judge female roles in movies at a given time, since it's not a test that can be applied universally to every film. The Feminist Frequency video above uses 'Fight Club' as an example of a film that fails the test. The fact that 'Fight Club' fails the test is not surprising since it's not a movie about women. It's about men & male self-image in the modern world.
That also brings the conversation full circle in a way, since it's a question of narrative versus depiction.