A friend of mine from Lombard, IL has been trying to get her city to allow citizens to raise chickens, and is now trying to get the city to consider purchasing some of its power from renewable resources.
She and I got to talking about civic activism. See......the more I get involved in civic activism the more I'm convinced it's the most direct route to progressive change in this country. Not through the state. Not through the Fed. But through hyper-local action. From the bottom, up.
I mentioned to my friend how it seemed, now, after getting deeply involved in local politics and activism, that it seemed so obvious a choice of where to put ones active energies. It seemed obvious to focus on the small. On the SMALL. And she made an interesting and insightful observation...
...that before we got involved we felt like we were on the outside. Distant and helpless from the decisions made that affect our cities and our lives. But after getting involved, all the information flowed TO us rather than us having to actively seek it out.
Case in point....yesterday I got a voice message from the Blue Green Alliance about a conference in Detroit. And I got invited to a meeting about a bike path being planned for my community. I didn't have to look for this information. It just came to me. And who am I? I'm nobody who made all of $200 this month. Seriously.....the point is, if you stick your neck out as somebody who gives a damn, you'll be in the loop.
Yesterday I sat in on a meeting of folks planning a bike trail in the Muskegon area. The purpose is to connect a bike trail further north with bike trail that goes through Grand Haven, and gives bike trail access to several more parks along the larger trail, including Lake Harbor Park and Hoffmaster State Park. Cuz in addition to our cities being too automobile-centric in their layout, Muskegon also has a lot of work to do to improve its health. We're frequently rated near the bottom in Michigan for health: we smoke, we're fat, we drink an awful lot.....
...and a lot of folks are trying really hard to change this old industrial blue collar town into a walkable, sustainable, and healthy community....
I showed up. So I got to put my two cents in about what I'd like to see in such a bike trail. I'd like to see it meander not just along the lakeshore but up into the commercial areas where lower income folks have greater access to it and where I can bike with my kids to the store easier or to the parks easier....cuz driving down the curbside bike lane on a fairly busy street with a wobbly biking 4 year old isn't really something I like to do.
There we were. Gathered in the room. Folks of different political ideals. And we were there working to fix a problem...to make our auto-centric town more bike friendly, give more families bike access to the Lake and the public parks.
This is what I see going on all around me. I used to not see it. But now I see it everywhere.
I see it everywhere because I've started to get involved in the economic and physical health of the local community.
There is an army of people on the ground working their asses off trying to make their communities better places. Community gardens are bringing neighborhoods together. People are uniting to get the site of the shuttered, 100 year old paper mill property along the Muskegon lakeshore cleaned of pollutants and re-developed into something that gives people access to the water. People are working to promote the sales and consumption of locally grown organic produce...the late Chris Bedford worked tirelessly for years to establish an organic farmer's market that gives this out-of-the-way town access to local, responsibly raised meats and produce.
People are raising chickens. People are putting solar panels on their yards and rooftops.
There are many groups, our group included (West Michigan Jobs Group), working to drag wind power and renewable energy into the community, and drag wind turbine component manufacturing facilities into the area. The West Michigan Jobs Group and others are working to organize mobs of people to introduce them to independent business districts and restaurants in lesser known parts of the community.
People are holding bottle recycling and can drives to raise money for playground equipment for local, struggling schools.
There are people jumping up to stop the demolition of old buildings and VOLUNTEERING to renovate them. Not just volunteering to renovate them, but using that as training opportunities for the local community college people interested in learning about construction or insulation...
.....AND THEN they freakin' GIVE the BUILDINGS to a small business person with the best business plan for a full year.
HOW COOL IS THAT?!?! I talked to a fellow who had gotten his first job at a now-gone but well known ice cream parlor. Said it was an important part of his life and he wants to offer the same opportunity to area youth. He wants to turn one of the buildings into an ice cream parlor...it's a perfect location for it. I hope he gets the chance to do it.
Below is a group of folks who jumped into the freezing Lake Michigan waters in the winter to try to lure a brewery to the area.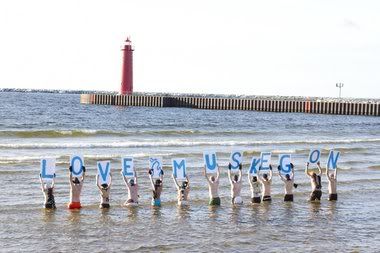 The health disparities coalition is a coalition of organizations working to make sure people have equal access to health care and food and healthy work and play and school environments.
All around me, every day...EVERY DAY...I see people rallying to help this community: get jobs here, bring arts here, clean the land, clean the air, make the area healthier.
Every day, this is what I see.
It seems like this is the most effective and direct way to promote progressive change. Start at the local level. Get out there and do it. Do it! Start talking to people about your wildest dreams. And who knows...maybe they want the same thing.