Good morning, everyone. The Saturday Morning Home Repair Blog (SMHRB) is where we gather to discuss the many and varied aspects of home repair. Some here are trained professionals. Some, talented DIYers. Some, hopeless thumb-hammerers. All are welcome. Please feel encouraged to ask questions, share successes, lament sags, drips and cracks and, as always, share any advice that you have for the rest of us.
(Really pissed-off aside: I cannot get photobucket to re-size the pictures. I also cannot get my computer to do so. I've spent 2 hours in these attempts and I cannot do it anymore. I'm leaving the body of the diary as it stands now. You are all just going to have to use your imaginations. GRUMPY, NOW!) (See edit below.)
Okay, so this project is neither in our home, nor is it a repair. But it is attached to the deck which is attached to our home, and since I consider any new construction project to be in a state of pre-repair, I'm going to say it qualifies. ;-)
The back of our lot has a ton of cement. We've been doing things to try to mitigate the "sameness" by putting in features that will draw your eye up, away from the gray. One thing we designed is a pergola with attached mesh for growing viney things.
Last week, we (and by "we," I mean MrCJB) finally built it. (I'm the "design" end of things.) Here is the first Saturday AM pic, post-Lowes run for supplies. MrCJB has dug his post holes.:
Then I disappear for 2&1/2 hours of the Annual Springtime Tea at my mom's church and return to this:

Pretty good progress considering the incremental adjustments that have to be made to each feature based on the slope of the ground.
A bit later and MrCJB stopped for the night at this point: I can't find that one, so here is a picture of a cat. (Man, I miss "The Scotty Show...")

The next day was taken up by installing the second mesh and cutting the overheads.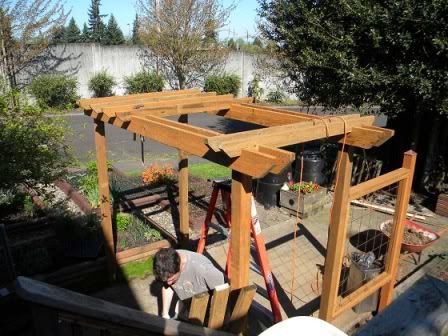 And there you have it.

Two days and about $250.00 and we have a sturdy, nice-looking and functional feature. I luv my handy guy! :-)
[EDIT: Finally found the program that will resize the pictures and keep them resized. I may gradually edit the diary and add them. For now, there's picture of the finished pergola in the comments along with a link to my photobucket page if you want to see the rest. Thanks to OLinda for the suggestion.] (Okay, that didn't work.)