Georgia Little Shield
(1959-2012)
Friends, it is with a heavy heart that I must inform you that Georgia Little Shield has died. On Tuesday morning she had a heart attack at home and could not be revived. We're all shocked and sad - family, friends, and the entire Cheyenne River community. I feel like I've lost my sister. I still can't believe she has died.
Her funeral took place in Isabel Saturday afternoon at 1 p.m. Central Time. First, there was a community lunch, then a service, and then her ashes were spread around the family ranch.

Georgia was known to many at Daily Kos as the director of the women's shelter known as Pretty Bird Woman House on the Standing Rock Sioux Reservation, which straddles North and South Dakota. The shelter was founded by the sister of Pretty Bird Woman, who was raped and beaten to death in 2001. Many Kossacks, including nbier, AndyT and Front Pager Mark Sumner (aka Devilstower), wrote diaries and helped raise tens of thousands of dollars for the shelter in 2007. More recently, Georgia worked to get a food pantry and youth development center set up on the Cheyenne River Reservation in South Dakota. An entire 40-by-60 foot building was donated and moved to the site. Kossacks have also contributed to the funding of the pantry, called in Lakota Okiciyap, "We help."
—Meteor Blades
Georgia was my friend, a tremendous role model and leader, and all-around nice person. She taught me about the kinds of things that many American Indian women endure. But, by her own stubborn example, she also showed me that it is possible to overcome.
Publicly, Georgia was a warrior woman, a role model and just a nice person, in whom the many people she helped could confide. This is what made her a strong director at Pretty Bird Woman House on the Standing Rock Reservation.
When her health issues forced her onto the disability rolls, she didn't stop trying to help other people. She wanted to improve her own community, Isabel, which is on the Cheyenne River Reservation. So she convinced a group of people, including some of her family members, to form Okiciyap ("we help") the Isabel Community. That's how the project started.

Georgia Little Shield at
her nursing school graduation
(Photo courtesy of Renee West)
This diary is a tribute to Georgia: the work she has done for women and her community through Pretty Bird Woman House and Okiciyap, and her love for and dedication to her family and friends. I will tell you what I know about her life, how we met, and give you two options for donating in her honor.
I think it would also be nice to send cards to the family. Her daughters and husband will have one more thing to look at to remember her for years to come. Whether or not you can donate, I encourage you to send a card to the address below.
UPDATE: I just received the family-written obituary for Georgia. Here it is. The details are much more clear, and you see that her Lakota name is Eagle Wings Woman.

Georgia Lynette Taylor was born in Rapid City December 10th, 1959 to Charles and Angeline Taylor. After growing up in Iron Lightening and Isabel she left to find work when she was 18. She worked in a computer chip factory in Rapid as well as in the oil fields and coal mines near Gillette, Wyoming. Georgia married and adopted a baby girl named Crystal Lee and after living in Gillette for several years moved back to Isabel and completed her GED.

She then went on to college at Presentation in Eagle Butte and received a Bachelors Degree in Nursing and Social Work. She then moved to Canby, MN where she worked as a nurse. She then decided to move back to Isabel to try and help make the reservation better. She began her work at the Cheyenne River Housing Authorities Single Mothers Program that was stationed in Isabel at the Manor. There she helped many young women get on their feet and find their way in life. She was their mentor and friend. When they needed something that the program could not provide she helped them and many of them are still her friends today. When she finished her work here she then went on to be a Domestic Violence Counselor in Eagle Butte where she helped many families stop domestic violence and to see that it is not part of the Lakota culture. While employed here she took a stand against authority when she and her co-workers locked themselves in their office for several days because the Administrative Officer of the tribe wanted to view their confidential files. She and her 2 other co-workers ended up going to jail but they succeeded in keeping their clients identities safe from prying eyes and they were praised for their efforts. Unfortunately, the program eventually ran out of funding. After this, because of what she knew, she was asked by the South Dakota Coalition against Domestic Violence to start a program in McLaughlin. Pretty Bird Woman House was created and this was Georgia's baby. She received her Masters from the University of California at Berkley while working here. She did for Standing Rock what she did on Cheyenne River in helping as many people as she could.

Over the years while helping the people in her programs she had taken in many foster children and helped them to realize that they do not need gangs or drugs and alcohol to be happy and enjoy life, and that education and helping others was the best way to better yourself. She volunteered to work with the Isabel Lakota Youth Group and was their mentor for many years.

Throughout her career she has made many friends in many places across the country because she went to many conferences and workshops for her job. This is the reason she was given the Lakota Name of Eagle Wings Woman, because she was "always flying somewhere". She hung up her wings and decided it was time to retire back in 2010 and moved to the country with her current husband Norman Little Shield where they raised horses together. Here they helped to raise their grandchildren Isis and Talib Smith, and Krystal Brings Plenty. She was volunteering as President of the Isabel Okiciyap which created a food panty and started the Isabel Community Pow Wow in 2011. She was still helping everyone she could up to the time of her death.

She is survived by her mother Angeline Taylor; husband Norman Little Shield; daughter Crystal Lee Reeder-Taylor; grandchildren Isis, Talib and Onyx Smith, Krystal Brings Plenty; Brothers Jerry, Ted and Bradley Taylor; Sisters Cindy Taylor and Barbara Moncrief; and many other nieces and nephews.

She was preceded in death by her father Charles H. Taylor and her brother Jim Anderson.
Georgia Little Shield, Amnesty International and Pretty Bird Woman House
If you joined this community after 2007 or 2008 you may not realize that Kossacks and others from the Netroots funded the only women's shelter on the Standing Rock Reservation. The effort was catalyzed by an Amnesty International report, Maze of Injustice: the Failure to Protect Indigenous Women from Sexual Assault in the USA.
After I heard the report's findings that one in three Native American women will be sexually assaulted in her lifetime, I Googled it and landed in the middle of a big discussion here at Daily Kos. The report had highlighted the plight of Pretty Bird Woman House, a woman's shelter that was in danger of closing because of funding issues. Kossack nbier raised $27,000 here in three weeks, which kept the shelter operating until Georgia obtained some grants to keep it going on a more permanent basis. Then, the Kossack grant-writing group that formed to help didn't hear from Georgia for a while. Pretty soon it was just me and one other person left. Turned out that burglars had stolen all the computers and the next day a Molotov cocktail had been thrown into the basement, effectively making the place uninhabitable. Then the federal funding Georgia had procured came into jeopardy for lack of a structure in which to shelter the women.
When I decided to bypass the grant process and see if we could raise funds as nbier had, AndyT immediately volunteered to help (along with a bunch of other people, including Winter Rabbit) and called up Georgia to interview her. Georgia took the risk of trusting us crazy bloggers to help her, which some members of her board didn't approve of.
Here is an excerpt from one of AndyT's extremely effective diaries on Georgia and her mission for Pretty Bird Woman House. The stubborn determination comes through really well here:

Georgia Little Shield has modest dreams for Pretty Bird Woman House:

I want to have a shelter and four paid advocates. Two advocates would focus on sexual ass[au]lt — currently we must travel 120 miles to get rape kit[s]. We need two advocates for domestic violence as well. Domestic violence calls make up most of our crisis calls, but sexual assault requires a lot of resources. I want to be able to teach women's safety classes, parenting classes, offer assistance in getting GEDs, have a place for women to look for jobs on line. These are the kind of support services I want to offer.

She has not forgotten the men who batter either:

I want to offer them classes to help them stop being violent. Anger management and things like that. Hopefully it would make a difference.

Georgia Little Shield hopes these things can happen but the most important goal for her: Pretty Bird Woman House must be self sufficient. I have chronic heart problems and diabetes ... my health is real bad. I just want to make sure Pretty Bird Woman House will be able to continue without me.
You can see that Georgia was aware of the severity of her health problems. But she really didn't think they were going to take her so soon.
Here's another part of Georgia's story, and how it related to her current work, from the same diary:
Georgia Little Shield knows a little about domestic violence:

I'm a survivor. I was abused as a child. It was real bad. I almost succeeded in committing suicide — you see, back then, the only place I had to go was to die. There was nothing, no shelter, no counseling on the reservation, nowhere I could turn. There was no help for me and I just wanted to die. No woman should have to go through that. No woman should feel that way ...

Nobody's going to talk for these women but us. We have to help them. We have to let them know, there is help. We don't have to tolerate it no more. We have rights.
In the fall of 2007, we had just started to do fundraising diaries in earnest when Amnesty International had its own fundraising event at the American Indian House in Manhattan around the Maze of Injustice report, and they included Pretty Bird Woman House in it.
That's where I met Georgia in person.
Georgia spoke on a panel and brought everyone to tears when she choked up talking about what American Indian women go through and why there is such a need for the shelter. Kerry Kennedy got prime billing in the event, so Georgia later also asked her for a donation too.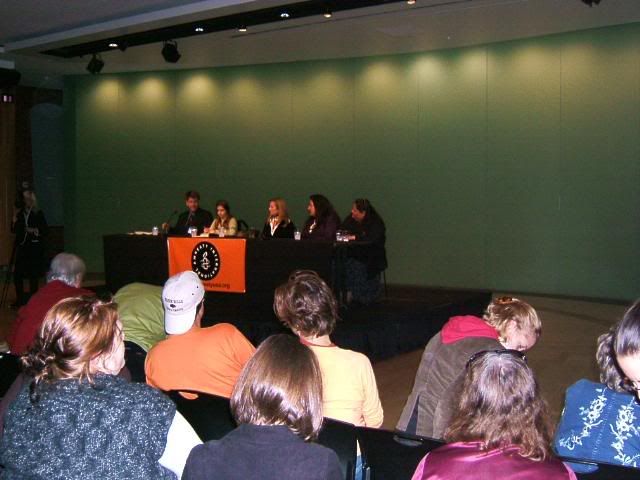 Georgia and the panel get a standing ovation: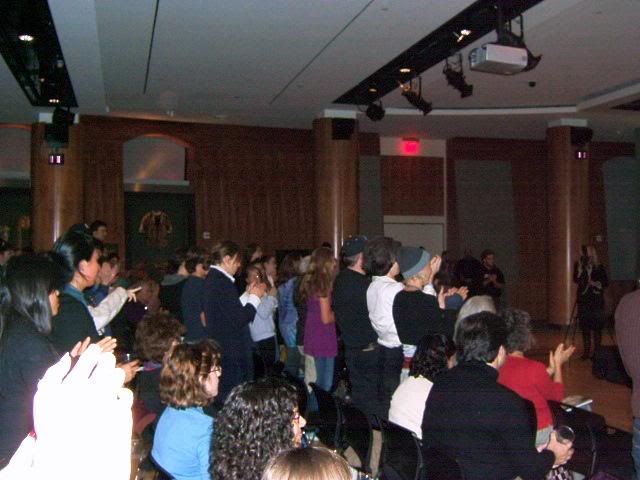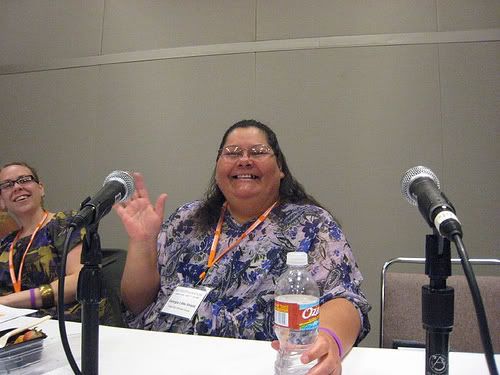 Georgia at Netroots Nation 2008,
with Amanda Flott of Amnesty International
Georgia with Larry Cox, then
President of Amnesty International



After that, perhaps the next day, I don't remember so well, I went to dinner with Georgia, and then we spent some time together in her room as she told me about her life, chain-smoking through the most difficult parts of her story.
We also got around New York City a bit.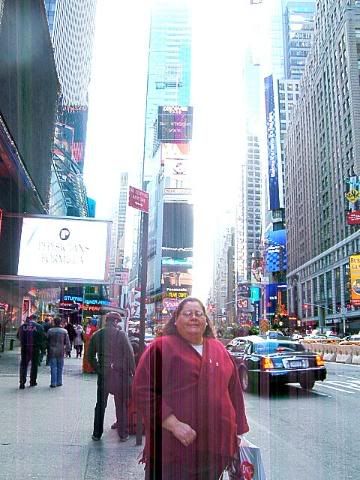 Georgia in Times Square,
after the Amnesty International event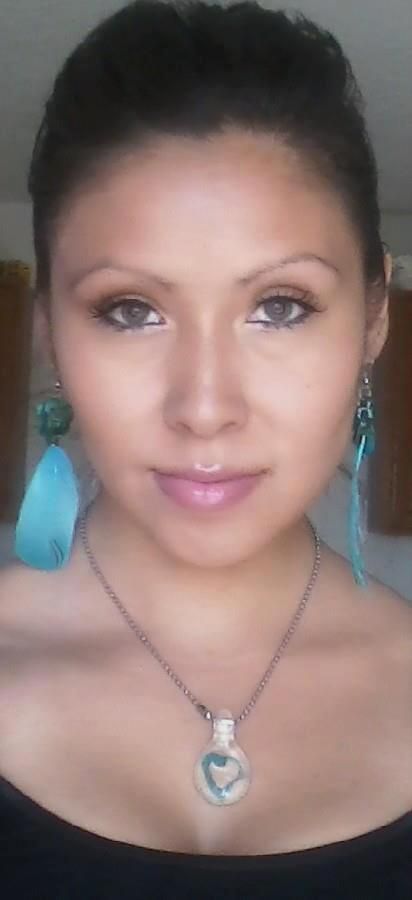 Crystal Lee has recently
begun to do some modeling
A Life
I don't remember all the details that she told me about her life that night, but here is what I do recall.
Georgia was born Georgia Taylor. She was a registered nurse. She was the daughter of an Indian mother and a white father, who seems to have been one of the most brutal men imaginable. She had two brothers and at least one sister. I believe her mother is still alive, having survived a bout of colon cancer in 2008.
Georgia's father built their house, which was very small for the size of the family. He was an extremely violent man, and worked the kids unrelentingly hard on the ranch, although they remained impoverished. It was so bad that her brother had a heart attack at the age of nine from overwork.
She didn't share a lot of specific details about what she endured herself, outside of a lot of really bad beatings. But she did say that she and her brother were singled out for worse treatment because her skin was darker than that of the other siblings. Ugh.
I believe Georgia's first job as a young woman was working at some mines in Montana, which paid decently. I think she was also married and divorced at a young age.
The mines weren't a place you stay long, so she went to school and became a registered nurse. She also adopted a daughter, Crystal Lee, who is now in her 20s. Crystal lived in Salt Lake City for a while with her partner, with whom they soon had two of the adorable children you see in some of the Okiciyap pantry pictures. They moved back to Isabel last year.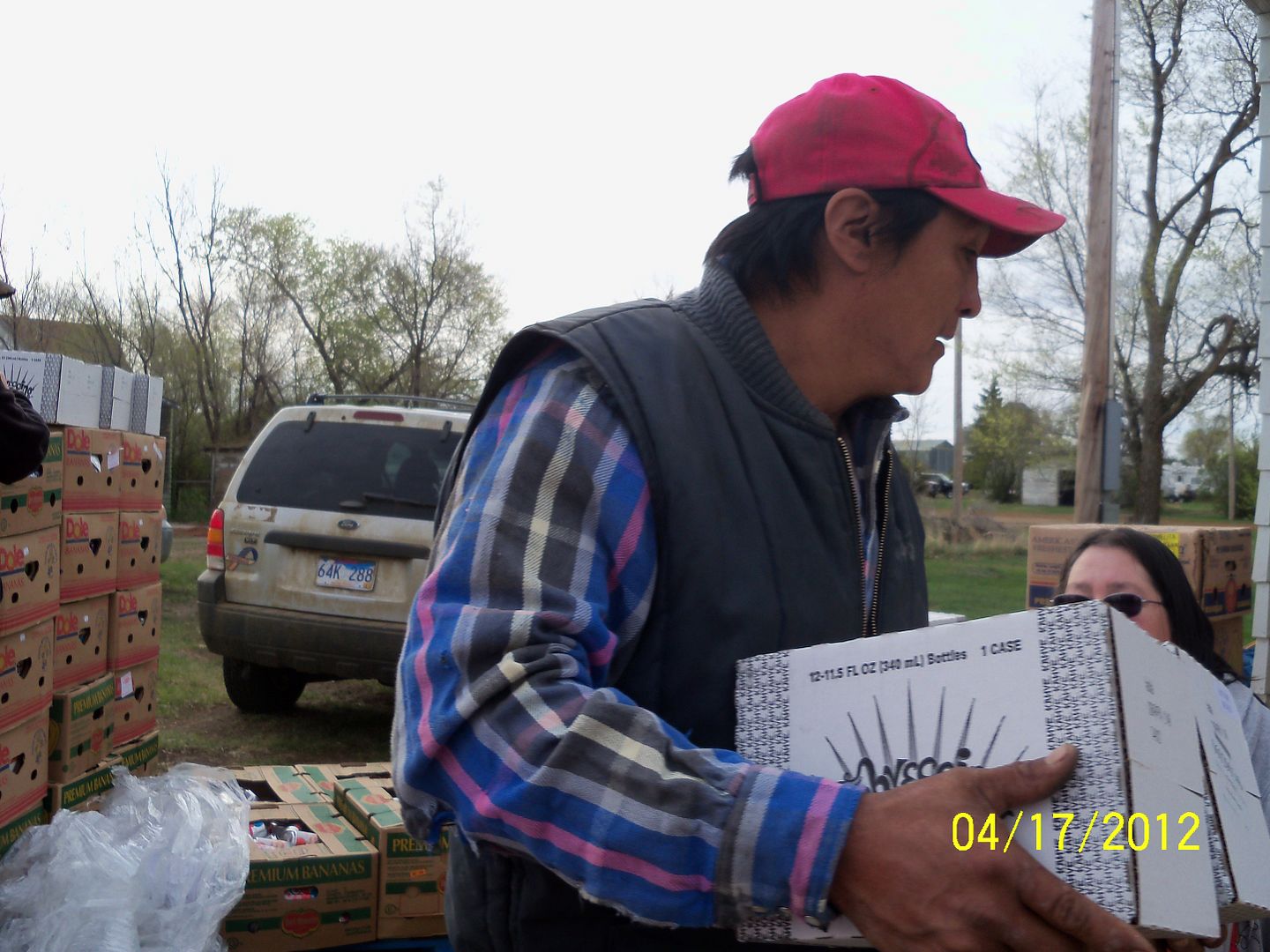 Norman helping unload some food for the pantry
When I met her, Georgia had been married to Norman Little Shield for about 10 years. Norman initially was violent, too, but Georgia made him get counseling and they eventually achieved a peaceful marriage. Norman seemed like a quiet, unassuming guy when I met him. He raises horses and occasionally sells one.
When I first met Georgia, she was also fostering one of Norman's nieces because of her mother's alcoholism. When her niece engaged in some behavioral problems, Georgia made sure she got the help she needed. She eventually gave in to peer pressure and began drinking and eventually got into some pretty bad trouble. But Georgia had done all she could to get her counseling by then. When I visited Georgia at her house in 2009, she had just adopted the girl's 8-year-old sister because their mother had been found dead in a ditch.
Georgia talked about all three girls a lot. She really loved them and was concerned that they have healthy lives.
You see, after her upbringing, Georgia didn't start out life with the healthiest of behaviors herself. She is an alcoholic and says that for a while she was verbally abusive to Crystal Lee. But then she stopped drinking and went to counseling. She internalized what her counselor taught her and became determined to see that her children were as mentally healthy as possible.
She also got into the field of domestic violence out of a desire to see that other women not endure what she, her brothers and sisters and mother had. As a nurse, she found herself not that interested in clinical practice because she was more drawn to talking with and helping the battered and abused women she saw. So she transitioned into that. She was already well-know in the field when the South Dakota Coalition Against Sexual Assault asked her to direct Pretty Bird Woman House.
Georgia was generally good at talking to people. I was doing the fund-raising for the shelter just as my mother was becomng seriously ill. She eventually had stomach surgery that almost killed her, after which she was diagnosed with pancreatic cancer. Georgia was incredibly supportive through my own tribulations. She was particularly comforting during the last couple of months of my mom's life when I was caring for her in home hospice. In fact, I raised the last $5000 for the shelter's furnace a few days before my mom died. Georgia was there for me. I wanted to be there for her.
A couple of months later she invited me out to Standing Rock to attend some community domestic violence workshops put on by the Native Women's Society of the Great Plains. Unfortunately, it was January (2009) and blizzards killed that idea. But the pictures you see below of Georgia are from that trip. I just visited with Georgia and a volunteer with the shelter, Tinnekkia Williams, and spent time at the shelter, instead.
When I was there a pair of U.S.-based French journalists, Anne Sengès and photographer Stéphan Gladieu, were there to do a story on Pretty Bird Woman House and the situation of Native American women (inspired by the discussions Daily Kos, by the way), called The Women of Standing Rock (check it out. Stéphan Gladieu is a very well-known photographer in France and his images are fabulous. Anne's reporting is thorough and sensitive).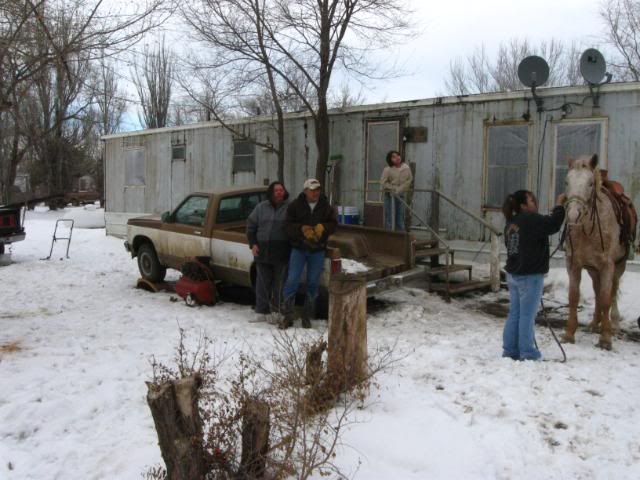 Georgia, Norman, Krystal, and her sister,
Kristy, who came to live with Georgia
after her mother's alcoholism got in
the way of child rearing.
Okiciyap
If you've read this far you're probably familiar with the Okiciyap project that Georgia started after she went on disability — when she and her sister quit smoking. That must have been harder than quitting drinking because Georgia was one of those people who lived in a cloud of cigarette smoke.
Just last weekend, she had sent me the following photos hoping that we would be able to use them to raise more money so they could keep buying food for the pantry. You can see from these new photos that it really is coming along nicely, thanks to Georgia's leadership there and your donations here.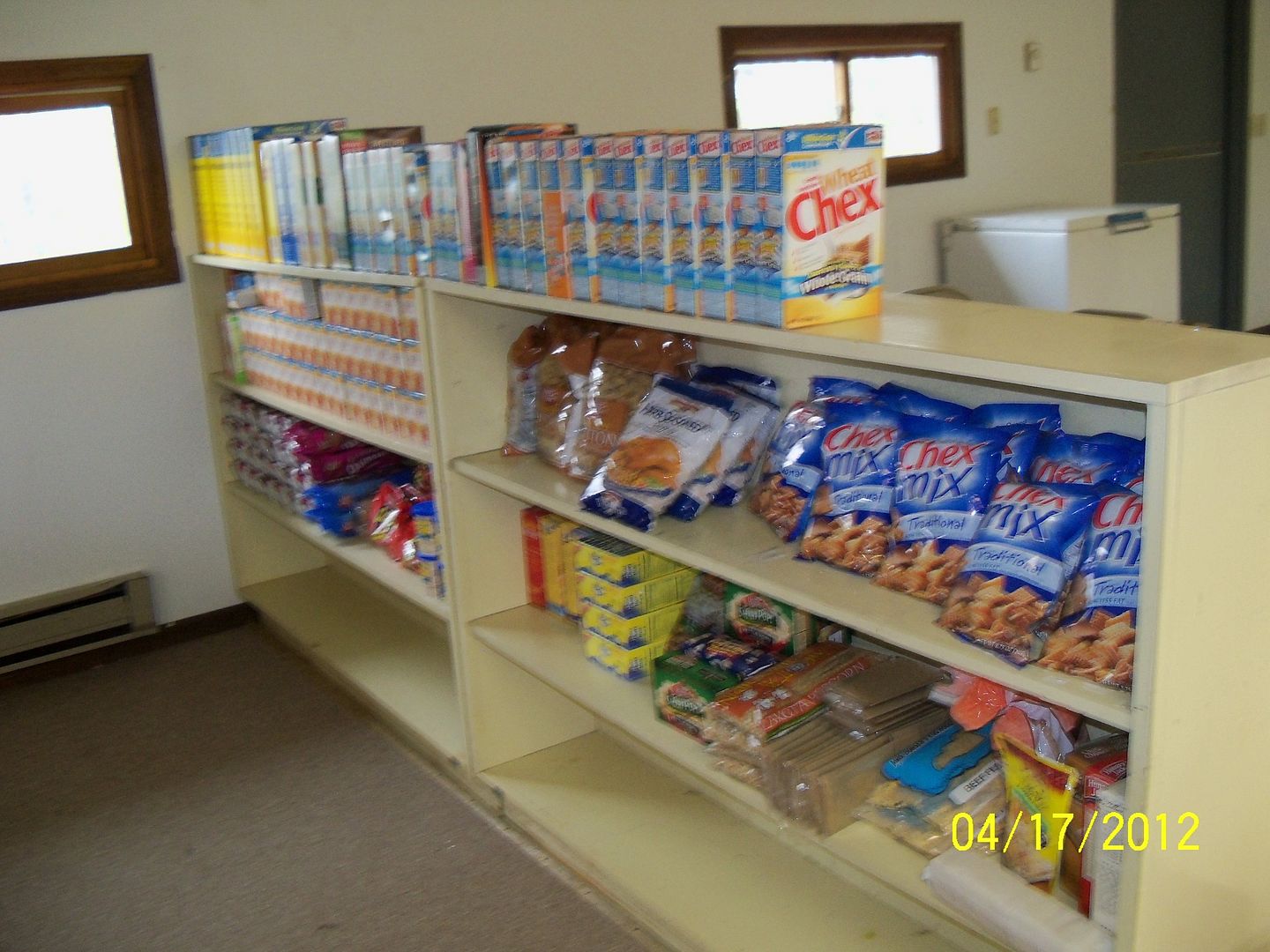 The board is going to keep on with the food pantry. You can contribute money now in Georgia's memory.
Here is the link:

You will notice that the email is in my name, not Georgia's. The other board members don't have PayPal accounts, so I am going to be sending a check to them with your donations.
I am also feeling very bad for Krystal. Losing two mothers by the time you're 12 is just unbearable. For those who want to give to the family, here is another ChipIn. I will be collecting these together and then sending a check once I figure out the most appropriate family member through which to get Krystal and Norman the funds.
And remember, if you can't donate, you can always send a card. I have been in touch with Georgia's niece, and we can get cards to Norman, Krystal and Crystal Lee through the Okiciyap mailbox. Here's the address:
Okiciyap
PO Box 172
225 W. Utah St
Isabel SD57633
I will leave you with the following memory that Georgia's niece Emily (who is an Okiciyap board member) left on her Facebook page:

Since i will not be able to attend the services for my Aunt, Georgia L Little Shield, because i am surrounded by mud & puddles, I shall, in memory of her, drink an entire pot of Vanilla Biscotti coffee :D

When she quit drinking alcohol, me, her, Donita Buckley and Salina High Elk used to go to her house and drink coffee till 2 in the morning. We did a lot of laughing and goofing back then lol
So, I say, lets have a cup o' Joe in Georgia's honor!
Goodbye, my friend. You led a hard, but very good and proud life. It was an example of what can be overcome through the cultivation of self-awareness.