The beating heart of Reykjavík. Or perhaps I should say hissing, whining, whirring - the sound of steam, of turbines, of pumps and vents. Hot water flowing into every home, business and industry is like the lifeblood of the city, from heating to bathing. People seem to relish in having it come so cheaply from the tap that it's used at such a pace you might call it wasteful if only it wasn't so ridiculously abundant here. The heated public pools with their saunas and massage jets, the oversized bathtubs, the multiple-head showers all over the place, etc - all stands testament to how important this hot, mildly sulfur-scented water is to Iceland.
But of course, it doesn't just appear everywhere on it's own.
Oh, and plus? I'm home in Kópavogur again. And this time, I brought a parrot ;)
When last I wrote, I was in the US, and had just received word that, yes, I would finally be going back home to Iceland. And this time, I would not have to keep returning to the United States. I had my atvinnuleyfi and my dvalarleyfi, my work and residence permits. What I didn't have was permission to take the one being that'd be totally lost without me: my yellow-headed amazon parrot, Malcolm.
Well, I got the paperwork that I needed and finished packing. My suitcases were stuffed with edible gifts for my friends - l-arginine supplements for my plant-sitter, and for everyone else, tons of exotic fresh fruits and vegetables (plus a little bit of Texas in the form of super-spicy chips). Everything was weighed, down to the nearest fractional kilogram, and all right at their upper limits. It was of course a bit of slight of hand to keep them from noticing that I was over the carryon limit (thanks Mom!), but that was the airlines' fault: Mal would have to fly under my seat for the first two flights but in a special pet compartment for the Icelandair flight.
After spending ~$600 on blood tests and more on permits, the costs continued to come. A large fee to bring the parrot on the first two flight, then another large fee for the second.
It wasn't easy, but before I knew it, I was at Washington-Reagan -- not having to activate my emergency-backup plan of calling my uncle to pick up the bird, but instead saying goodbye as he passed out of my hands into security. Only after he was gone did I realize that he didn't have any water for the trip. :(
I rush to my gate, then notice an Icelandic flag hanging over it. I can't help but smile, pull out my flag, and pose for a picture. :)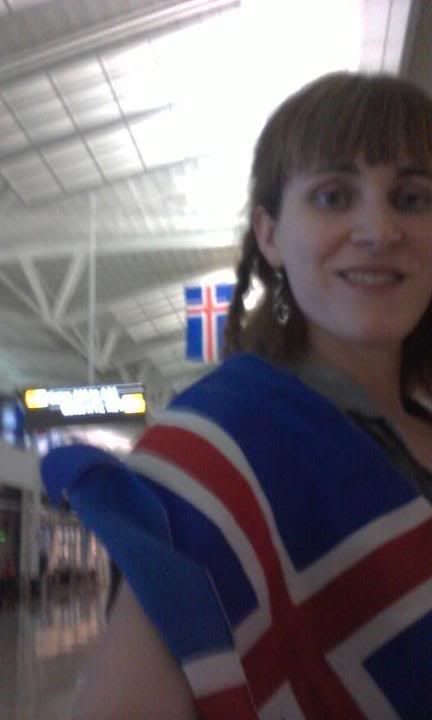 The flight goes as uneventfully as always, and with a bit of sleep and a bit of Icelandic studying, we're suddenly descending and the lava flows of Keflavík come into view over the waves.
On the ground, I get my giant, super-heavy bags, but Mal is nowhere to be found. A bit of confusion on the ground, a good helping of delay, and then I'm told that he's in a totally different building -- air cargo. They recommend I take a taxi. I do a ten-minute walk instead.
I get to air cargo and talk with them (always keeping the conversation as much in Icelandic as possible; I've gotten pretty solidly in the habit of this by now). 10 minutes later, Mal shows up. There's water in his bowl. Awww...

(Above: Mal glances back at me briefly before returning to staring at the lava fields)
I bundle his cage up with multiple layers of insulation, then it's back outside toward the terminal and onto the bus to Reykjavík, to then pick up my rental car until my things arrive two weeks from now, and then back to my home to quarantine Mal aside my (much missed) exotic plants. Waiting for me inside my apartment?
It was already emotionally overwhelming to be back home. I was just overflowing after I saw that. It's taped to my refrigerator now. :)
Rather than narrate the day-by-day, a couple random highlights and observations, then on with today's theme topic, the hot water system of Reykjavík.
* The days are getting long. I keep waking up early and thinking, "OH MY GOD I HAVE TO BE AT WORK!" and then realizing, no, not yet (it starts to get bright at around 4:30 AM). Then I fall back asleep (I have no problem with sleeping when it's bright) but the same thing happens half an hour later. This didn't happen last July when I was in Iceland because I was on vacation, so I didn't care when I had to get up. ;) Ah well, I'm sure my mind will learn to ignore the concept of "Sunlight = Late for work" sooner or later ;)
* The same applies to mealtimes. I keep thinking that I can't eat dinner yet because it's not dark yet. Well, it's not dark until after 10:00.
* I keep getting frustrated by how darned efficient the road system is here. ;) You know that whole, "I need to do "X" on the way to my destination thing, so I'll just do it when I'm stopped at the next light"? Well, I get stopped at lights and stop signs half as often, tops -- probably less. Reykjavík makes great use of traffic circles and onramps (even on small surface streets) to keep vehicles moving as much as possible.
* My only continual source of angst here has nothing to do with the change in culture, food, light, distance from family or old friends, work, or any of the sorts of things one would expect. It's essentially always relationships and/or intimacy in one form or another and complications stemming therefrom. But that's a whole different story.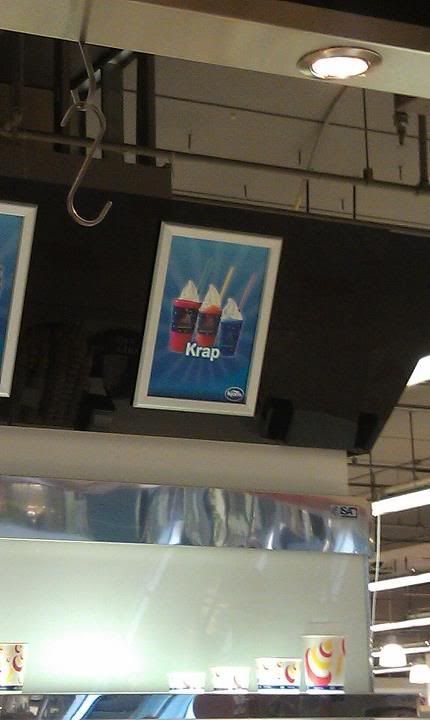 (Above: Here's what I think about that! Hehe, just kidding... "krap" means "slush" in Icelandic)
* As I've experienced in past trips, but it's worth mentioning: it's quite a different experience (not necessarily bad, just different!) to have almost every action you take be deliberate, with forethought, due to the language and unfamiliarity with other aspects of living here. "I'm going to say this... do I have what I'm going to say memorized right? Let's say it in my head a few more times. Okay, there. Now, what if they respond this way? Okay, that's easy, I can respond to that thusly. But what if they say that..." Now picture combining that with a situation that would be difficult to handle even in the land you came from. Every time, a large part of you wants to chicken out and either not go where you're supposed to or to speak English. But I virtually never chicken out now. And while the lows for failure to communicate well can be frustrating, whenever you carry on a whole conversation with a stranger in your new language, or even most of a conversation, its so rewarding. But to sum up: everyday conversation becomes a rollercoaster ride.
* I may have some comments on the healthcare system soon.
* Showing up to dance at midnight and finding the clubs mostly empty, I was surprised. Then I remembered, "Oh yeah, this is Reykjavík." Sure enough, when I was passing through Miðbær again at 4:30AM, the streets were full of people streaming out of them.
* I'm really digging these long noontime walks through the woods of Öskjuhlíð.
* Oh my god, I can't believe I actually managed to open a bank account while speaking with the guy only in Icelandic. I mean, seriously, how the heck did I pull that one off?
* I'm starting to feel like a right-winger when it comes to some of my fellow immigrants, lol. It really frustrates me when something happens like when I was at IKEA and was trying to ask for information on something in Icelandic, but the guy kept switching the conversation back to English. It makes me feel like I failed when he's the one who was doing this. And I would have been frustrated with him for doing so except that I had just watched not one but two couples buying furniture come up to him and start speaking to him in English straight off, not the slightest attempt to speak the language, even a simple góðan daginn. And all I can think is, "Learn Icelandic!! Come on, unless you're planning to bring that couch on the plane with you, you clearly live in the country - do you not want to integrate?" It's one thing to not be good at the language, but it's another to not even try. Lol, I swear, though, back in the US, I was the first person to get frustrated with the sort of people who shout "Learn English!" at immigrants.
* Anyone here see Sigur Rós's documentary Heima? Remember all of those little dinners in crowded rooms with tons of little kids playing around while their parents chatted over the meal? I had my first one of those recently - a fundraiser for Fríðarhús, the local peace center (Iceland is generally ranked as one of the most peaceful nations on Earth, and often, #1). I just adore the fact in contrast to the US that over here "pro-family" isn't simply code for "anti-gay".
* Oh, how much I missed the food here! Oh, and these mountains, too... and the sea... and the colorful buildings... and the forested hillsides... everything, it was just so overwhelming being back, and there's not a day that goes by where all of this fades into the background of daily life. I know that'll probably happen some day. But not yet.
* Definitely need to focus my search for houses in the Mosfellsbær area.
Now... on with the hot water!
----
Reykjavík has always been geothermally active. The name itself means "smoking bay", and the trendy/touristed shopping street, Laugarvegur, is named for the hot springs that used to be in the area in which people would do their laundry (and where, in rare accidents, people died from falling into the scalding waters).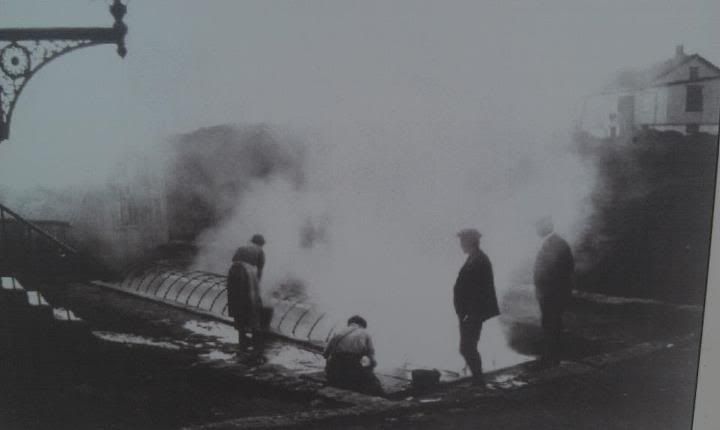 (Above: This is where it started - originally used for doing laundry, the city's first public-hot-water borehole was sunk here)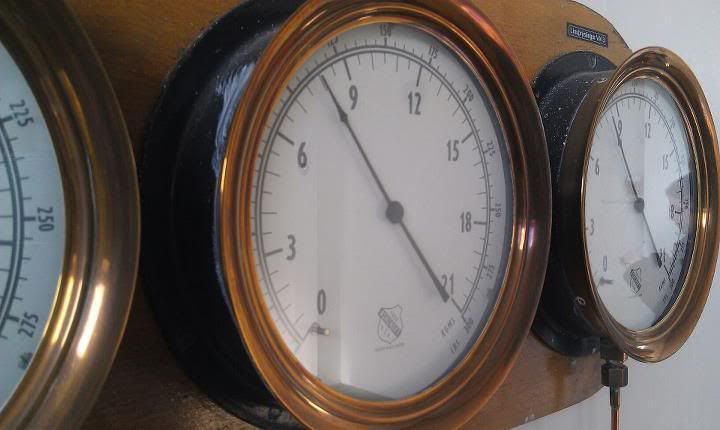 (Above: Beautiful old gauges from some of the obsolete equipment)

(Above: Today, pump stations dot the city and surrounding countryside. In Reykjavík, they're primarily concentrated in the eastern side of Laugarvegur, and range from shiny aluminum buildings like the above to poorly-painted sheds. Once you've had them pointed out to you, they're so obvious, but most of the residents of the city never even notice them.)

(Above: Hot water pipe coming straight out of a borehole (background))

(Above: A control panel in a pump station)

(Above: Basement of a no-longer-used production site.)

(Above: Pumps located where multiple water streams are combined.)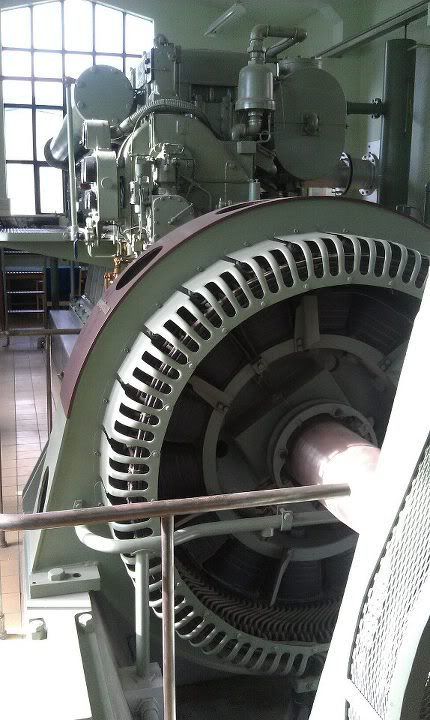 (Above: Geothermal-powered generator)

(Above: Orkuveita, the company that manages it all)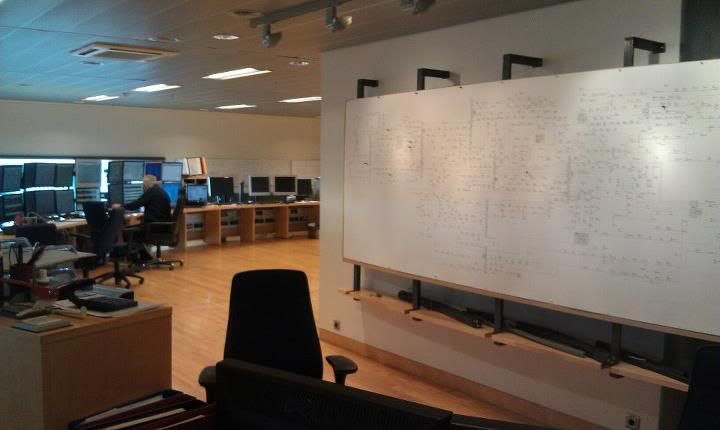 (Above: Control station inside Orkuveita where the hot and cold water flows are monitored)