The day began as gray and drizzly. Whatever the weather, this is a big event in Vermont for progressives, not to be missed. Unions organized the event, along with VIPRG, a Vermont public interest group that supports workers' rights, single payer, and other progressive initiatives.
So off we went in the trusty Millenial Falcon, our 1997 Volvo station wagon.
Despite the weather, there was a good turnout. Spirits were high, and Vermonters from all over the State turned out to show their support for workers and our unions. There were teachers, AFL-CIO members, the Bread and Puppet contingency arrived, as did a representative of Anonymous.
The crowd marched towards the Capital building with horns blaring, drums banging, children being carried, wheelchairs being pushed, and interest groups from all over the State showing their support for Vermont's workers.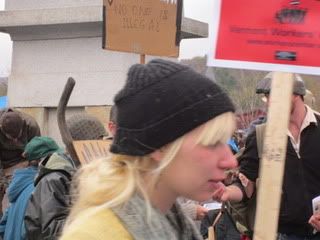 The groups attending the march assembled on the Capital steps. There was a group of Buddhists, nurses who support single payer, survivors from Irene, representatives from each of Vermont's 14 counties, a parent's group, students who had marched for debt relief, and several other public interest groups.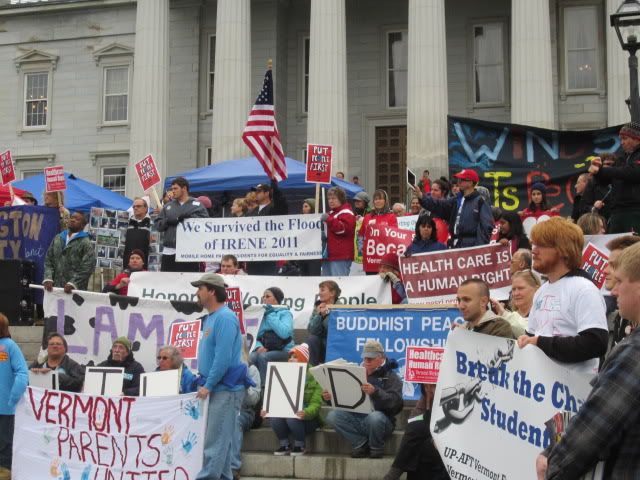 I thought everyone had landed, and thought that was a good turnout, then a second band of marchers arrived. The crowd had to be at least 1500 to 2000, a good turnout for our small State.
Bernie urged special support for early education providers. He emphasized the importance of standards and quality care. As always , he supported fair wages and good working conditions for the providers.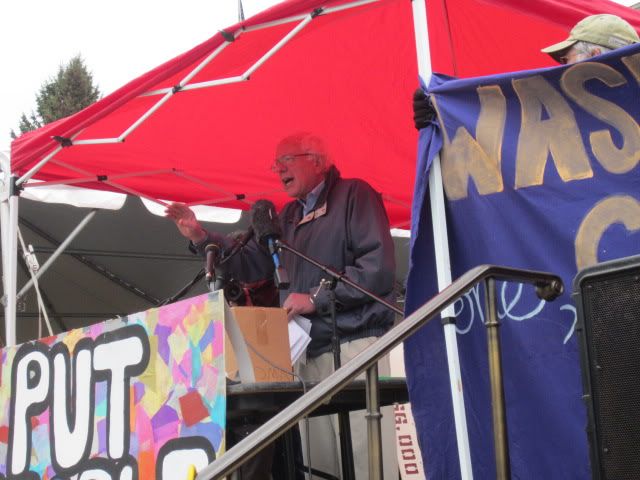 Bill McKibben re-emphasized the need for us to de-fossilize our economy, which he called the economy of the 1/2 of 1%.
Vermont has its share of undocumented farm hands who come from several countries to work on dairy farms and orchards around the state. As in other states, without support from the State House they can't legally drive, and need the Legislature to grant them licenses.
Bread and Puppet.
Occupy Vermont made free food available for everyone.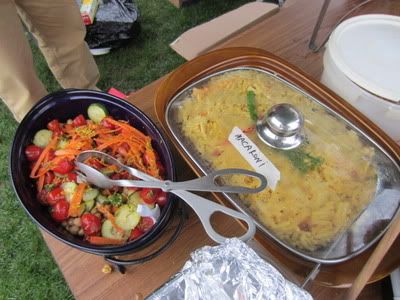 We went up to the office of the Speaker of the House to encourage his support for the rights of early educators, as we are constituents in his county.
On the way home after a great day with other progressives. The May Day event was the opening of the campaign season for many of us.