Portions of 9 states are under a tornado watch at this moment: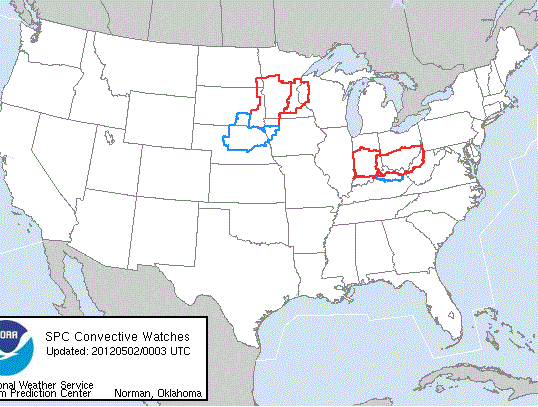 Minneapolis is in the area under watch until 1am. Joy.
Indiana is tracking a persistent cell that keeps spawning funnel clouds.
Here in Minnesota, a weak tornado has just finished passing by Saint Cloud-it appears to have dissipated at the moment.
The good news is that all tornado watch areas are projecting nothing over F2.
The bad news is that there is a large area under a watch until o'dark hundred-and after the (lucky lucky lucky) fizzle of the moderate watch area a couple of weeks ago, people here in Minneapolis are being far too un-concerned about this one.
I'll keep my fingers crossed for a fizzle here, too.
Put your comments below-I'm making dinner (crappy time at work today, I should just go out for a steak or something) but I will update as I can.