Time to step up to the plate for the President--Romney will not be defeated by snark alone.
Pres. & Mrs. Obama will be at Ohio State this Saturday to officially kick off the campaign. Here's the "priority" ticket given out to volunteers who have done at least one shift: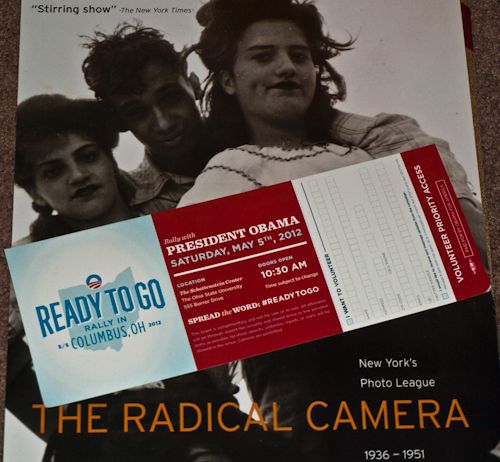 Volunteer of course at http://www.barackobama.com/
I volunteered at the Columbus Obama HQ at the Gateway center on High St. Volunteers working out of that that office have been working the OSU campus heavily, collecting names of people saying they will attend the rally Saturday at the Schottenstein Arena (seating 20,000) & in many cases signed up to volunteer. This flyer advertises the event: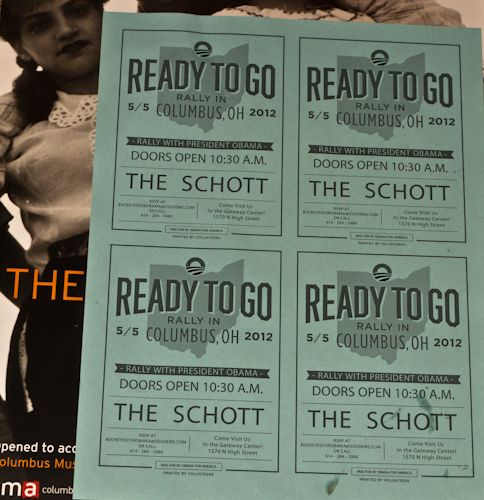 BTW, the background poster is from a very interesting exhibit at the Columbus Art Museum titled Radical Camera:

Change the world – one photograph at a time. Guided by a belief in the transformative power of photography, the Photo League took to the streets in the 1930s and 1940s to record the effects of poverty, war, racial inequality, and social injustice. Artists in the Photo League were known for capturing sharply revealing, compelling moments from everyday life. Their focus centered on New York City and its vibrant streets – a shoeshine boy, a brass band on a bustling corner, a crowded beach at Coney Island. Many of the images are beautiful, yet harbor strong social commentary on issues of class, race, and opportunity. The Radical Camera exhibition explores the fascinating blend of aesthetics and social activism at the heart of the Photo League.
If anyone is in Columbus for the Obama rally, I'd heartily recommend they take in this exhibit as well.