Nebraska Attorney General Jon Bruning has an opinion. And his opinion has made conservative nut-job Sean McCoy (R-Omaha) very happy.
McCoy offered legislation this year that would have barred counties from adopting anti-discrimination ordinances that go beyond statewide laws. Even Republicans, faced with the fact that this intended anti-gay measure would also strip rights and protections in several localities which had been accorded to people on the basis of age and marital status, which do not receive protection under state law, refused to let the bill out of committee.
So attention turns to Bruning, who just happens to be running for the US Senate. He has gained the endorsement of Rick Santorum.
Jon Bruning is a trusted conservative who is unapologetically pro-life, will fight to reduce the size of the federal government and will ensure that the government spends less and does not tax more. There is no question that Jon is the strongest conservative candidate to defeat Bob Kerrey in November and help Republicans take back the Senate.

--Santorum, in a written statement
As a legal mind
In his
legal
political opinion, Bruning has chosen the Goldilocks precedent. While rights and protections of LGBT people should adhere to the states (as every States Rights Republican knows) [well, except in the case when the people want to do something stupid, like endorse marriage equality: In a case like that, something like DOMA is required], Bruning would not extend the same principle to smaller political units, like cities or counties.
Nebraska statutes do not authorize political subdivisions in Nebraska, including municipalities, to expand protected classifications beyond the scope of the civil rights classifications created in state statute.

--Bruning
Nor do Nebraska statutes prohibit such expansion, but Bruning doesn't mention that.
Omaha recently passed anti-discrimination measures protecting people on the basis of sexual orientation and gender identity. Lincoln is considering them.
Critics of Bruning's opinion believe the opinion won't withstand scrutiny by the courts. Omaha plans to ignore it.

If somebody sues us, we'll deal with it in court.

--Paul Kratz, city attorney for Omaha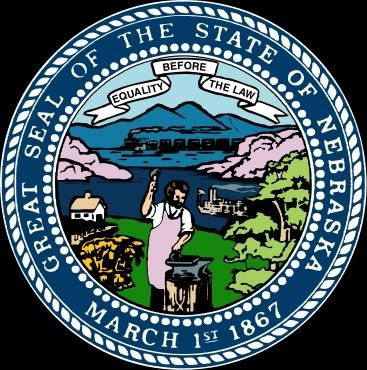 The basic issue here is fairness. No one should fear losing their job because of sexual orientation.

--Lincoln Mayor Chris Beutler
Beutler points to the state motto for support:
I don't believe his ruling, per se, would withstand further constitutional scrutiny.

--Jonathan Benjamin-Alvarado, political science professor, University of Nebraska-Omaha, who also called the opinion "disingenuous"
Dozens, if not hundreds, of cities in the United States have done exactly what Attorney General Bruning says is not possible in Nebraska.

----Meredith Bacon, political science professor
Of course, Family Council types are fawning all over Bruning. They say equal rights and protections should be controlled by the state…or else everyone will want them.
Lincoln City Attorney Rod Confer pointed out that Lincoln has what's called a "Home Charter Rule" which allows it to make adjustments to state law when it feels it is necessary.

City Attorney Rod Confer said rules that the city has already that the state doesn't includes discriminating on nation of origin or denying housing on the basis of age. He said after looking over Bruning's position, those would also be unconstitutional to the Attorney General.
When asked if he thought politics played a role in Bruning's opinion – since Bruning is running for the U.S. Senate and the primary election is May 15 – Beutler said, "I am not going to speculate on this specific case because I really don't know."
But he added that in his 24 years in the Legislature he worked with attorney generals who were wrong about legal issues, sometimes due to faulty legal analysis, or because they "worked too quickly" or because "political forces act on them."