Tree Climbers at Daily Kos is a community composed of survivors of childhood sexual, physical, and emotional abuse and those who support them.

Tree Climbers tell our stories, recover, sustain each other, learn about childhood abuse, and discover and create ways to protect children.
When SwedishJewfish posted her
F**K Joe Paterno
diary back in January, she knew up front that she would create a firestorm of controversy that she thought might last a day or two before burning out. What she hadn't counted on was the outpouring of emotions from fellow survivors of abuse, that have only grown over time. What began as a heart-rending expression of rage at the horrific treatment of children who have been sexually abused, has now grown into a movement that has spread from Daily Kos into the community at large. SwedishJewfish (aka Rebecca Berry) has teamed up with another survivor of abuse, Roxine Behrens, and together they have formed a new charity:
TREE Climbers, Inc.
The entire web site was designed and written by Rebecca herself, in the past two months. Be sure to check it out. You can read more details about how and why the charity was formed by going to the Our Story page on the web site.
You can help by clicking on the donate button for the cause. Follow me below for more on how you can offer your support.
Rebecca's diary announcing the new charity included the poignant photograph of her as a little girl, climbing a tree, just a year or two before her sexual abuse began.
Rebecca explained:

"It was the picture of the girl who climbed trees- the one who I wrote about in "Fuck Joe Paterno". The child that died, or at least disappeared into a fog and never reemerged. It is the only candid picture I have ever seen of myself as a child. My parents did not own a camera, so all of my pictures were awkward group shots, usually taken at holidays or family gatherings. This picture of me in the tree showed an image of myself that I had never seen before. Oblivious to the camera, looking upward at the branches, wondering how far I could climb - it was the living embodiment of the child I was before I was raped. It is the only true picture I have of the girl who climbed trees - and in a way, the sole proof I have that she ever existed."
That is where our name comes from.
The Girl Who Climbed Trees
. The girl, who after being repeatedly abused and raped, was never able to climb trees again. The girl whose childhood was shattered, and lost forever. As a descriptor,
The Girl Who Climbed Trees
is very reminiscent of a similar title -
The Boy Who Lived
from the Harry Potter novels. Traumatic injuries in childhood completely altered the vectors of their lives. But in Rebecca's case, the trauma, unfortunately, wasn't fiction. It was all too real. Only now, after baring her soul and telling her story on Daily Kos, is Rebecca finally able to connect with that child within her - and become a tree climber again.
The new charity is called TREE Climbers, to differentiate from Tree Climbers at Daily Kos, the group that started here shortly after the posting of Rebecca's initial diary. The charity's new logo explains why TREE is all capital letters: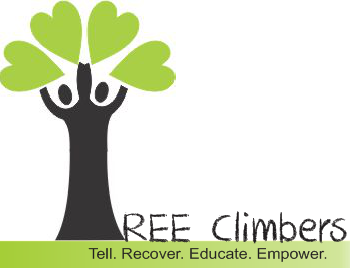 Tell. Recover. Educate. Empower. These are the four pillars of the tree, and explain what we are trying to accomplish. The Our Mission page on the web site explains the TREE acronym in more detail. Roxine explained in a recent diary:

"One of the most isolating things about sexual abuse is feeling like you can't talk about it. It makes people too "uncomfortable." And there is no safe place, no forum, no platform to really talk about your experiences - with people who truly understand. We fear being judged; we feel guilty about forcing the outside world to experience what we have lived through; and we are embarassed that we had to live through it.
But here at Daily Kos we've found a place where we are allowed to speak the "unspeakable." This community provides a safe place where we have found the ability to use our voices, to tell our stories without judgement or fear. The first step in the recovery process is TELL -. It is also the first branch of our TREE..."
Through Rebecca's initial diary, the conversation began. People are beginning to TELL their stories; first here on Daily Kos through various
Tree Climber diaries
but now also beginning to spread into the world beyond Daily Kos.
In his Rec List diary this past weekend, Bud Fields wrote about the overwhelming sense of community here on Daily Kos. And true to his words, many people on this site have already helped make our initial successes possible, as Roxine pointed out in a recent diary.

"While I won't name individuals in this diary, I wanted to take a moment to share with the rest of you exactly how powerful this community is.

The kossack who volunteered to help found this group - Tree Climbers - and the other kossack's who tend to it every day, creating templates, republishing diaries, commenting on every person's story - bearing witness for all Tree Climbers who are slowly finding their voices...

The kossack who offered assistance drafting legal documents, reviewing budgets, and providing overall general help offline as well as on...

The kossack who already has made a HUGE impact on Tree Climbers - both by sharing their story as well as opening their wallet... showing through both word and deed that they are behind this 100%...

The kossack who, after posting about her own personal trials and tribulations, volunteers their time to research on behalf of Tree Climbers...

The kossack who brings a wealth of experience and knowledge to our venture and who volunteers to share this with us...

The kossacks who sign up on a daily basis, some ready to share their stories, others just to bear witness to those who can..."
When Rebecca's computer broke a month ago, the Tree Climbers group was able to provide funds for a replacement laptop, so that she could continue work on the web site. So, a lot of people have already pitched in to help. You may be able to help out as well, perhaps through research, writing diaries, telling your own story, or just supporting those who do. Just this week, Roxine posted in a Tree Climbers group message:
"Yes, we are saving children. I personally know of three people who have within the last week called Child Protective Services to report suspected abuse. We are making a difference!"
You can make a difference too. We are already working to TELL our stories. But we need even more help to RECOVER, to EDUCATE and to EMPOWER survivors of childhood sexual abuse.
Please consider making a donation to aid the Tree Climber cause. Credit cards, PayPal, and personal checks are all welcomed. Every dollar raised is much appreciated, and it is also tax deductible, since TREE Climbers is a 501(c)(3) organization! Please join us in helping to bring the topic of childhood sexual abuse out of the shadows.
TREE Climbers, Inc. is already at work on grant applications from charitable organizations, and working to begin local and national fund raisers. You will be hearing more about that from Roxine and Rebecca in coming weeks. But your donations now can help tide us over until those big dollars start flowing in. In a comment in a recent diary, Roxine noted that:

"It is our goal to maintain less than 20% overhead costs - putting 80%+ towards programmatic costs.
It should be noted, however, that Rebecca is currently devoting 100% of her time to the charity and is receiving zero compensation for it."
The TREE Climbers, Inc. budget for the year does include a small salary for Rebecca, for the second half of this year. But there are not yet enough funds in the account to cover it. I know that this community has been very generous in funding work for various Kossacks, including Bill in Portand Maine, for his invaluable, engaging, entertaining, and just plain hilarious writing each day for his
Cheers and Jeers
column. I am hoping that many of you will also see the value of the work that Rebecca and Roxine are doing, and contribute what you can, so that maybe, sometime soon, Rebecca can begin drawing a salary too. And even more importantly, so that through education and prevention, we can reduce the number of children who will need our help in the future.
Updated with Aji's comment at 4:17 PM EDT:

Survivors of abuse (any kind of abuse, but CSA carries unusually heavy burdens and steep costs) need moral support. They need understanding. They need people to be willing to face ugly, criminal truths head-on, think through those truths and their implications, and then become part of the process of educating the public - correcting how society as a whole thinks about, relates to, and acts on these issues.

They do NOT need deflection; derailing; rationalizations for abuse; justifications for covering it up; minimizing their own experiences; and most certainly not the continued canonization of powerful people who could have prevented such victimization but instead chose to do nothing, in order to protect their own sense of comfort.

As a member of Tree Climbers who has not yet diaried, but who fully supports SJ, Rebecca, SallyCat, and all the other members, named and unnamed, I am asking you: If you cannot - will not - participate in these diaries without engaging in the latter behaviors, then please move on. Such behaviors are too damaging to survivors, and the psychic risks are too great. they should not have to bear yet another burden foisted on them by those who don't want to know or understand.

If you want to help in ways apart from donating money, you can best do that by learning, understanding, and then taking up the fight to change how society handles abuse and the myriad related issues it spawns.
... for those who do not have time to read the comments (update by 2thanks).

Follow the Tree Climbers.† If you click the red heart (♥) or the word "Follow" next to "Tree Climbers at Daily Kos" at the top of our home page, our diaries will be delivered directly to your Stream.

Join Tree Climbers. You are welcome to join us. To do so, send a private message via kosmail to SallyCat for an invitation to join the group. If you want to Join, you must also Follow. (Not intuitive, but unfortunately true.)

Special diaries and a radio broadcast. If you missed the first few days of the Tree Climbers, we recommend that you read the following three diaries and also listen to a radio interview.
• F**k Joe Paterno by Rebecca, January 22, 2012.

• "No One Spoke Up for Us": For The Children Who Had No Voice and for Those Finally Finding Theirs by Rebecca, January 26, 2012.

• In Solidarity. There is No True Justice for a Crime That Lasts Forever by dear occupant, January 26, 2012.

• Tree Climbers - Roxine's Interview. On Dr. Laura's radio show on November 11, 2011, Roxine read her letter on air (8 minutes).
Technical questions? See the Daily Kos Frequently Asked Questions, found also at the bottom of every Daily Kos page.

† Following. Once you become a member of Daily Kos, you can Follow (subscribe to) any diarist or group. From your home page, when you click on the tab "My Stream," a page will open that looks like an email Inbox. To see what a Daily Kos Stream looks like: SallyCat's "My Stream" page.

National Sexual Assault Hotline 1.800.656.4673.


Donations. If a Tree Climbers diary inspires you to make a donation, please support the group founded by two of our members, Roxine and Rebecca, TREE Climbers: Tell, Recover, Educate, Empower. There you may donate by PayPal or credit card.