Make no mistake, Minnesota has some awesome high schools producing state, national, and even world leaders. The yearly U.S. News rankings of America's top High schools are out. The usual suspects top the list, along with a few surprises.
Minneapolis Southwest is the top High School in Minnesota and in the top 200 nationwide, out of tens of thousands of high schools. Pretty impressive. A funny thing happens though, when you use subsets of test scores for judging schools, and in essence their teachers. You see, the number 1 high school in the state has been labeled a failure for at least six straight years. Tests are wonderful for guiding day to day instruction, and improving teaching, and focusing efforts, but used to make high stakes decisions about closing schools?
Luckily for them, Southwest does not receive Federal Title 1 Funds. If they did, they would have been closed down four years ago! I will say that again for emphasis. If the #1 High School in Minnesota just had a few more poor kids, they would have shut it down years ago.
Saint Paul Central is another great, urban school. It is ranked fifth in the state. Test scores tells us that the fifth best school in Minnesota has been a failure for at least six years. Again, there are not enough poor kids at Central, otherwise they would have been shut down. St. Louis Park, Eastview in Apple Valley, TrekNorth in Bemidji, and Eagan are all also massive failures based on test scores, but top ten. All in all, more than half of the top ten are made up of NCLB failures.
The only Title 1 School in the top ten is TrekNorth in Bemidji. They have a large poor, and Native American population. They are an amazing school. Because of our obsession with test scores they are on the verge of being shut down. Luckily for most of the top ten, they will never be punished. Their kids will not be disrupted. Their staff will not be fired en masse. If you have enough poor kids though, you can be top ten and shut down.Please tell me the general public can see the insanity of this obsession with test scores? Please tell me you understand that the teachers of Southwest are just as big of heroes as at Edina? Please tell me you don't think the staff at our #1 school should be fired en masse like they do to Title 1 schools.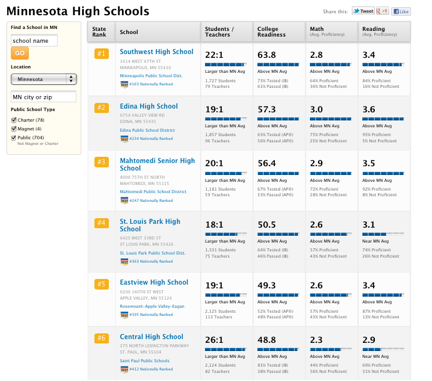 Crossposted at MN Progressive Project