Rush Limbaugh just announced, in an effort to counteract the "National Organization for Women" and their (valid) "attacks" against him, he formed a Facebook page for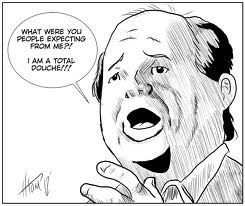 Conservative women. I guess he figured that was the least he could do, literally the least he could do.
His new Facebook group goes by "Rush Babes for America". What immediately strikes me is that, apparently to Rush, there are only two kinds of women, babes and feminazis...could he not think of a less patronizing name? Or did he not realize that being called a babe is not a respectable way to refer to women?
His page is dedicated to "the millions of conservative women who know what they believe in: family, American values and not being told by faux feminist groups how to think."
But so far, his page only has 22,000 likes...just a few short of "millions".
This quote pretty much sums up how he thinks...

"The National Organization for Women is not a female organization. It's a liberal organization disguised as a group that's interested in the rights of women. These groups, they happen to have 'woman' or 'women' in their names, and they're claiming to represent all women. And in reality, they represent a tiny number of highly-agitated activist types. They're basically miserable and unhappy women, for whatever reason."
That's news to me, as a woman, that the National Organization for Women is not about women. It's about liberals. And I guess me wanting basic human rights makes me a "miserable and unhappy" woman. I think he's missing the rest of the explanation for that part though. I'm only miserable and unhappy when my human rights are attacked for no apparent reason, other than I was born with a uterus.
He goes on to attack Bill Maher, who recently tweeted some joke about Bristol Palin, basically saying that if Bill Maher can make jokes, why can't he? Umm, the immediate reason that comes to mind if the Bill Maher is fucking comedian - he tells jokes for a living, it's kind of his thing. No one is watching his show under the misguided idea that it's meant to be a news program. The other main reason is that Bill Maher is on HBO, no need to worry about pesky advertisers or sponsors.
The National Organization for Women launched a campaign ("Enough Rush") to have the him taken off the air. The campaign has several rallies planned later this month, to which Rush responded that NOW doesn't care about conservative women. That there are "many more" conservative women that listen to and agree with Rush's sexism than are in the NOW. Now those conservative women should be outraged (?) that women are standing up for women's rights and standing up to a flamboyant sexist chauvinist. Now Rush has answered their calls and created a FB page for all these conservative women to rant about how much they hate women's rights organizations.