Congressional redistricting in Michigan was controlled entirely by Republicans, which allowed them to draw a gerrymander aimed at protecting all of their seats and eliminating Gary Peters. Given how control of the state government was divided from 2002-2010, I wondered what the map would look like had the state courts been forced to draw it. Michigan has a statute which requires congressional districts to split no more than 1 county with another district, but it only applies if the court were drawing the lines. As such, I followed that rule with one exception for the VRA in Wayne County.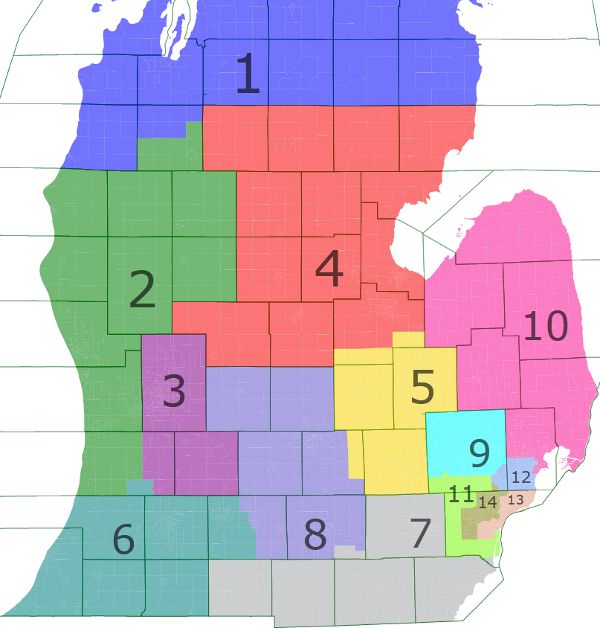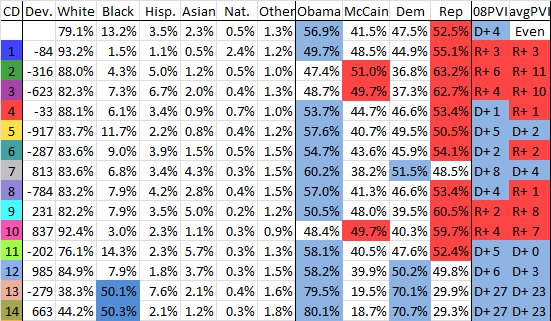 MI-01
Dan Benishek (R)
This district takes in all of the upper peninsula plus the northernmost part of the lower peninsula. It loses areas around Saginaw Bay and gains Traverse. Politically it is not much different than the old version or the actual new one. Local Democrats perform better than national Dems, even though Obama narrowly won this seat. As in real life, I believe 2010 Democratic nominee Gary McDowell will defeat Benishek in a rematch.
Tossup
MI-02
Bill Huizenga (R)
This district remains based on the western edge of the state on Lake Michigan. It contains the cities of Muskegon and Holland, among others, but is strongly conservative thanks to rural areas plus the suburbs/exurbs of Grand Rapids.
Safe R
MI-03
Justin Amash (R)
The 3rd district is still anchored by Grand Rapids, but now drops Ionia County. Politically it is made even more conservative and is a stronghold for local Republicans.
Safe R
MI-04
Dave Camp (R)
The 4th district changes somewhat significantly in the absence of the Republican gerrymander. The tri-cities region of Saginaw, Bay City, and Midland are united instead of split between the 4th and 5th. This turns the district from a narrow Obama win to a D+1 seat. Camp is a well entrenched incumbent and should survive, but Democrats would be sure to field a strong challenge.
Lean R with Camp
Tossup if open
MI-05
Open/Mike Rogers (R) (Dale Kildee (D) - retiring)
The 5th district remains based around Flint and Genesee County. Instead of being used as a vote sink for Saginaw and Bay City, the district now takes in Livingston County which was sort of a leftover when I drew the map. Still, this allowed me to keep the tri-cities together as those three plus Flint were too large for one district. Politically, this is still a strongly Democratic seat, but not entirely safe as the old district was. Genesee County treasurer Dan Kildee, the nephew of the retiring incumbent, would be able to hold onto the seat with relative ease. Mike Rogers, despite living here, would run in the less Democratic 8th district.
Likely D
MI-06
Fred Upton (R)
This district takes up the southwest corner of the state and stretches from St. Joseph to Battle Creek and includes Kalamazoo. Despite it's D+2 PVI, Upton is ridiculously well entrenched here due to his faux-moderate reputation. Democrats might be able to mount a respectable challenge, but would really need to have a 2008-style wave or a retirement to take the seat.
Safe R with Upton
Tossup/Tilt D if open
MI-07
Tim Walberg (R) (John Dingell (D))
Since Michigan had to lose a seat due to reapportionment, this one is a mash up of the old 7th and 15th districts. It contains all of Ann Arbor as well as four counties along the southern border. Dingell would most certainly run here rather than run against John Conyers in the 14th. He would also most certainly defeat Walberg in this over 60% Obama district.
Safe D
MI-08
Open (Mike Rogers (R))
The Lansing area is no longer split between multiple districts and as a result this seat becomes several points more Democratic. It also includes the Democratic base of Jackson which, together with Lansing, creates a D+4 seat. Rogers has held on with ease in the past, but with a district where Obama got 57% of the vote he would be a very appealing target. Former Rep. Mark Schauer could run here, as could state Senate minority leader Gretchen Whitmer.
Lean D
MI-09
Gary Peters (D)
Gary Peters gets a rather unfortunate district here and might even prefer running against Thad McCotter in the neighboring 11th. This seat takes in northern and central Oakland County, but becomes several points more conservative by shedding some inner suburbs. Despite Obama winning the seat with 50.5%, Peters would have a very tough challenge given the 60.5% Republican average.
Lean R with Peters
Likely R if open
MI-10
Candice Miller (R)
This district is comprised of the Thumb region of Michigan plus northern Macomb County, much like the old version, since there is only so much you can do with a peninsula. This is one of the more solidly Republican seats in the state and Miller is fairly well entrenched.
Safe R with Miller
Likely R if open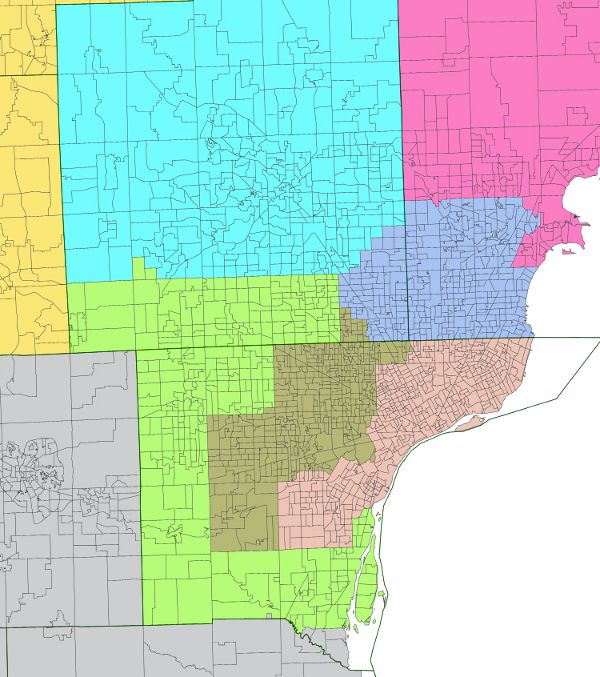 MI-11
Thaddeus McCotter (R)
The 11th district shifts several points to the left as it trades western Oakland County for southern Oakland townships such as heavily Democratic Southfield. The seat itself is comprised of the outer suburbs in Wayne County plus the southern edge of Oakland, forming a rather rough C shape. At D+5, McCotter would surely be in trouble and would definitely be a top target for Democrats. Gary Peters could run here, though his old district has relatively little overlap. Southfield Mayor Brenda Lawrence, who is running for the 14th district, would probably run here instead. Regardless, Democrats would hold an edge over McCotter, but it isn't impossible for him to hold on.
Lean D
MI-12
Sander Levin (D)
This seat is based in southern Macomb County and southeastern Oakland and is fairly similar to the previous iteration. It sheds Southfield and picks up more of Sterling Heights to shift the district slightly to the right. Levin is well established though and would have no trouble holding onto a D+5 district.
Safe D with Levin
Likely D if open
MI-13
Hansen Clarke (D)
The 13th district takes in the eastern half of Detroit as well as some suburbs to the south and is one of the two VRA majority black districts. It contains the entirety of the old 13th district, meaning that Clarke would have far less trouble in the primary than he is in reality.
Safe D
MI-14
John Conyers (D)
Instead of being a gerrymandered mess packing Democrats from Oakland County, the 14th is now a compact VRA district taking in western Detroit and its western suburbs such as Dearborn. The district only needed to take in about 30,000 people from Oakland County by including the suburb of Oak Park. Both this and the 13th are able to clear the 50% black VAP threshold while still remaining far more compact than the actual new districts are, which goes to show how unnecessary it is for the actual map to reach up to Pontiac.
Safe D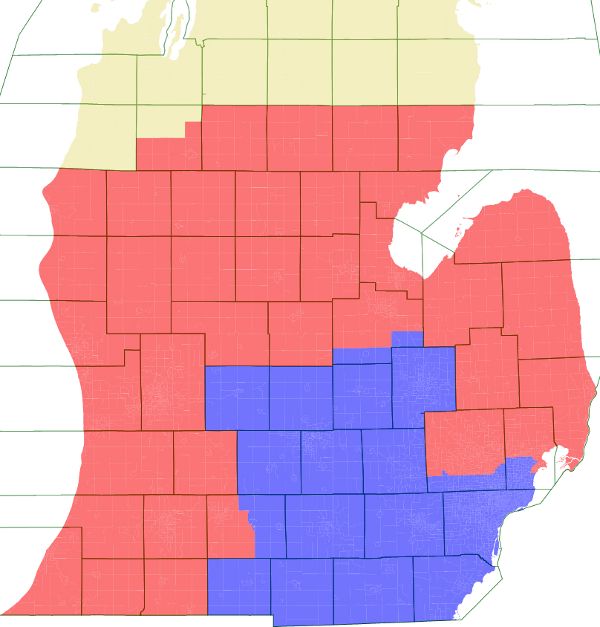 The result of this map is that Democrats would be favored in 7 districts, Republicans in 6, and one pure tossup. However, the map could result in anywhere from an 11D-3R split to a 10R-5D split depending on where incumbents run and the national environment.