At the end of last year he left again for another deployment.
This is the fifth one. Twice in Iraq was bad enough. Now Kandahar awaits, again.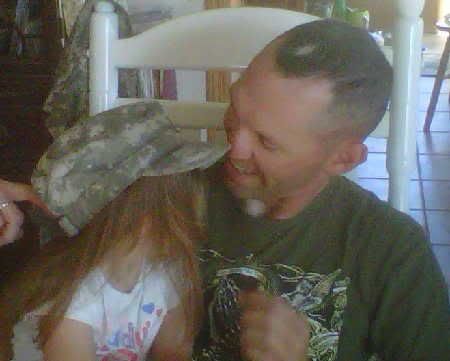 This time is different. Last time there wasn't those beautiful eyes framed by soft brown hair looking at him with an adoration and love than you never thought possible for another human to feel for him.

The last time he left to go to a war zone he didn't carry with him the tender sounds of her little voice and the confusion in her eyes as he tried to explain to this just turned three-year old why daddy won't be around for a long time.

The last time he left he didn't have to worry that his little girl's mother, now his ex, would relapse into meth addiction again. A part of her past she had hidden from him in their early years. A facet of her life that sadly reared its ugly head while he was stationed thousands of miles away after they had separated.
His only peace of mind is knowing that his family and a damn good lawyer are keeping a close eye on that situation.
This time is different. Leaving parents, siblings, family and friends all the times before, knowing he may never return, was hard. Leaving this time with the reality he may never see his little girl again is beyond description.
This time it is different. She loses so much precious time with her beloved daddy. He's losing so many irretrievable precious moments with his little princess during crucial developmental years.
This time it is different. He left knowing that his odds of seeing his biological mother again are slim. She is dying of bone cancer.
This time it is different. When he returns on leave he will learn what he doesn't know yet. His father has been diagnosed with Non Frontal Lobe Temporal and Parietal Dementia - most likely early Alzheimers. The father he's known is slowly disappearing in his absence.
It is the starkest of contrasts to watch this highly trained soldier, capable of killing another with just a move, gently brush out his daughter's wet hair for the last time before he leaves.
This isn't meant to be a sob story. This is reality for too many of our troops. Take the format and insert different issues, some much worse than these.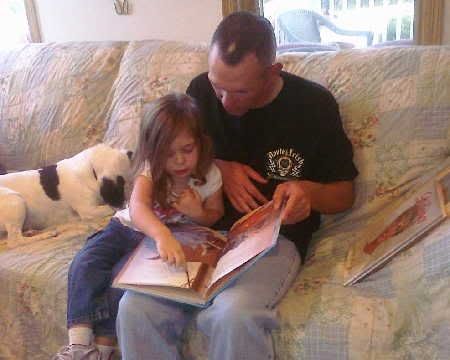 We are not powerless to make a difference. As I know from our families personal experience, the little things matter greatly. For my nephew it's cookies, the packages of cheddar and peanut butter crackers, and small packets of baby wipes that provide some bit of feeling human. He can wash up a little while out on missions that last for days on end without a real shower.

NFTT provides many other items for our soldiers that make a big difference.

It is our chance to serve those who serve and sacrifice so much.
While he sacrifices these chances to read to this little girl would you please spare what you can to give something back to these wonderful men and women?
We IM whenever possible. I cannot tell him enough how proud I am of his service. Whenever I thank him for it he always says the same thing: "Don't thank me, I'm doing my job."
For all of these reasons our family is putting a $300 match offer on the table so you can double your donations. We really can make each dollar go further.
Netroots For The Troops
---
Netroots For The Troops® is raising funds to send Care Packages to our soldiers stationed overseas.
We are asking all of you to support our efforts and to also make a contribution for this worthwhile cause.
Over the years, many soldiers have sent letters to express their appreciation for these Care Packages and even posted thanks at Daily Kos

It was in the middle six months of my assignment in Afghanistan that the packages started arriving. I received an array of things from them… letters, candy, toothpaste, floss, baby wipes, razors, food, socks, books, dvd's. The list could go on and on. It was amazing. Netroots for the Troops was always there... The packages were a reminder that our country knows about our fight. Every day, because of their support, I knew that if it was going to be my last day, I would be remembered and I would be honored.

Please make a donation HERE. Thank you from the entire 2012 NFTT Team.
Netroots For The Troops® is a project of Netroots for the Troops, Inc., a Virginia non-profit corporation. The organization raises money for the assembly, mailing and delivery of Care Packages to American military in war zones and to provide assistance to military families in the United States. Netroots For The Troops, Inc. is a 501(c)3 tax-exempt organization.
The NFTT diaries are a way for the Daily Kos community to support the troops in Afghanistan. We send them packages of items they might not otherwise receive through the normal military process but that they find useful. This is a non-political diary. While we understand there are differing views on the wars and the warriors, the site gives plenty of opportunity to express those views elsewhere. Furthermore, we would hope that users do not engage with those that attempt to hijack or otherwise disrupt these diaries.

We appreciate your understanding and support. Thanks!