I had made a comment in last week's diary by Jim H about how great is to come across previously unknown photos, and that it was a bit like discovering lost treasure. Little did I know that about 24-hours later, I'd discover treasure of my own.
I've long had a subscription to ancestry.com, and since ancestry has a database of old newspapers, periodicals and books, I thought that I didn't need to get a separate subscription to newspaperarchive.com. But BOY, was I wrong. Newspaperarchive.com has a much larger database, containing many of the editions of newspapers I was researching that were missing from ancestry. From those newly discovered editions I was able to find out quite a bit more information about my great-great-grandparents, William Theodore Tanking and Dina Christina Tenspolde, and within one edition was my treasure.

William Tanking and Christina Tenspolde are my ancestors along my mother's line, so a few words about the history of the family names. The family names originated in the far northwest corner of Germany, along the border with the Netherlands. At times that region was part of Germany, at other times it was part of Holland, though always ethnically German. Tanking was originally known as Tankink, or Tankinck, or sometimes just Tanke, from present day Gelderland; and Tenspolde was originally ten Spolde, meaning "of the hill".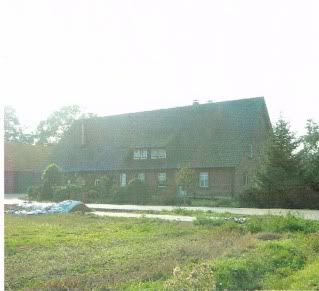 This is the old farm house. Unfortunately, the land is no longer owned by the Tenspolde family after over 1000 years in the family.
The name ten Spolde has been found in documents dating back to at least 1319, but it is believed that the name goes back much further to identify those who lived at that specific location near Vreden, Germany during the time of Charlemagne. You will not find the name Tenspolde originating anywhere else in the world, so anyone who traces their lineage to the name Tenspolde will find their ancestors originated literally from that hilly spot.
When I began the research on my maternal grandfather's side, I had to start completely from scratch. Along the way, I came into contact with many distant relatives who have been generous in sharing photographs and stories about my mom's paternal grandparents, Peter and Josephine (Tanking) Becker, but no one knew much about Josephine's parents. Once I found that Peter and Josephine were living in Racine, Wisconsin in 1900 (before they moved to Iowa), I concentrated my digging there, and wasn't long before I found Josephine's birth record of 1872, born to William and Christina (Tenspolde) Tanking, and then discovered William and Christina's marriage record of 1870. I later came into possession of the one photograph that wa known to exist for William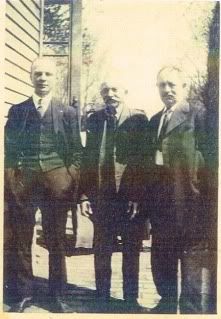 This was taken in the 1920's. William is in the middle, my g-grandfather Peter Becker is on the right.
Sadly, there were no known photos of Christina.
I found William's parents in Kenosha, I found Christina's parents in Racine, I found all their immigration records and their census records and their tax records, etc, etc. I found Christina Tenspolde's birth records in the Vreden, Germany Catholic church record book. I later stumbled across William Tanking's birth record in the same book (that was a huge surprise, cuz I never imagined the families knew each other in Germany, since William and Christina didn't marry until 15 years after William's family came to America).
But still, I knew very little about them and who they were.
Well, after I got a 3-month subscription to newspaperarchives last Friday on a whim, I've discovered that the society pages of small town newspapers can be a lot of fun:
In 1907, I found in the Racine Daily Journal that Peter and Josephine Becker, along with their 10 children, came from Brancroft, Iowa to Racine to visit William and Christine.
In 1908, I found that Christina and daughter Cassie went to Bancroft, Iowa to visit Peter and Josephine for a month.
In 1910, I found that William went to visit Peter and Josephine (I wonder why William and Christina didn't go at the same time – or is that how small-town gossip starts?)
And there were parties attended here, events attended there, daughters and son marrying, Christmas caroling performed, commencement speeches given, yada, yada, yada.
Then there are the more serious events:
In 1902
William Tanking …. was driving a horse attached to a wagon down the Mead Street hill. The harness broke and Mr. Tanking leaped out and caught hold of the wheel so as to prevent the wagon from running on the horse's heels. In so doing he fell and the wagon ran over his arm, bruising the member and bursting a blood vessel.
Ouch
In 1905, William was a plaintiff in a foreclosure lawsuit. One of the defendants was Mary B. Ammann.
In 1908, a warrant was issued for the arrest of Charles Ammann (angry husband of Mary mentioned above?) on the charge of assaulting William Tanking. A fine of $1 was paid and costs on the charge of intoxication (against Mr. Ammann, I assume).
In 1909, William Tanking wins a judgement in a civil suit against Charles Ammann, awarded $100 by a jury upon the claim that Ammann broke William Tanking's arm, who suffered considerable loss through his inability to work.
Ouch, ouch
In 1909, William was the first man on the scene of a man drowning in the river. William heard cries of distress, leaped over a rail (okay, at nearly 70, I don't know if "leap" is quite the appropriate word), ran (shuffled?) to within a 100 yards of where the cries were coming from, and then there was silence. The police showed up, and William shuffled on home, and the poor soul, one Gustav Krupp, drowned.
One of my favorite articles came from the sports pages in 1904:

Says the Kenosha News: "Bill" Tanking, the old-time Racine chicken fighter ...
SCREEEEEEECHHH! Wait …. What?? Chicken Fighter???
...who has a reputation all over Southern Wisconsin for the fights he has won in the pit, came to Kenosha on Sunday morning with the intention of taking home with him a lot of easy money from the Kenosha sports, but when he carried the empty bags back in the evening, he had little to show for his journey. The Kenosha boys had not expected to pull off a main, but when Tanking threw down the defy to them there was nothing else to do, and in a short time a pit had been set up on the North Side, and half a hundred sports gathered round to watch the battles. Tanking got the first battle, but after that his fighting cocks failed to make a showing. The Kenosha boys won all the other battles. The fights were continued until nightfall, and the great sport (?) was enjoyed during the day. It is claimed that several hundred dollars changed hands on the different matches.
William, you scoundrel! Cock fighting? Really?? This took me by surprise, because by every account, William Tanking was a fairly prosperous and very respected man in the community.
Or maybe times really have changed in the past 100 years.
In addition to the magazine articles, I recently discovered via a new database at fold3.com that William was paid visit by the Bureau of Investigation, precursor to the FBI, in 1919. Seems we just had this World War (the first one, you may have heard about it), and all Germans in the U.S. who were not U.S. citizens had to register as Alien Enemies. You might ask why is it that a person who had immigrated to the U.S. from Germany in November of 1855 was not yet a citizen. Well, according to the investigator, William said he had only recently discovered that he wasn't a citizen. William said he was in California in 1859 and 1860, and that he understood during this time that his father had become a citizen, and since William was a minor when his family immigrated, his father's grant of citizenship would also have covered him.
Except his father didn't become a citizen before dying in 1880.
When asked why he didn't register as an alien enemy during WW I, William stated that he had an invalid wife and all his time was spent at home with his wife, and that he didn't know he had to register as an alien enemy.
The investigator concluded William was an "ignorant old man" and meant no harm. Investigation closed.
William was finally granted his U.S. citizenship in 1919, 64 years after his arrival to the shore of America. I guess he was in no hurry.
Funny thing further about this, though, is that year after year after year, William Tanking's name appeared on the list of citizens, published in the Racine newspaper, who were registered to vote. Oopsy.
VOTER FRAUD!!!!! (Paging James O'Keefe!!!)
When William T. Tanking died on December 24, 1930 at the age of 90, it made the front page of the Racine newspaper. The newspaper article says he died following an illness of a few days at his daughter's home (where he was now living). However, his death certificate and the cemetery burial card show he died of asphyxia by fuel gas. The "suicide" box was not checked, so it appears to have been an accident.
I also learned from his obituary for the first time that two years after his family arrived in America, William got the gold-itch and decided to go our west with a wagon train to California to seek his fortune. He stayed there 10 years, per the article. The dates here are a little confusing, because I found William in Kenosha in 1860 and in Racine in 1870, so he had to have been gone in-between those years. I have no idea yet where in California he was, and I have no idea yet how to go about looking for him.
Which leads me to the point in my diary to expand upon the discovery of my treasure. The very first hit I got at newspaperarchive.com was an article in the society pages of the Racine Journal-News, Saturday afternoon, May 15, 1920, announcing that Mr. and Mrs. T. Tanking were observing their Golden Wedding Anniversary on May 17, 1920. The article mentions when and where they were born, when they were united in marriage, the names of their children, etc. The article also provides a little more information on William's trip to California: It took 6 months to get there, they had trouble crossing the Mississippi when their scared oxen backed off the ferry into the water, the cart was lost, but the oxen were saved, though all except one died later on the trip. But the real jewel of the article were two photographs, one of William and one of Christina, the first photo of her I've ever seen – my newfound treasure.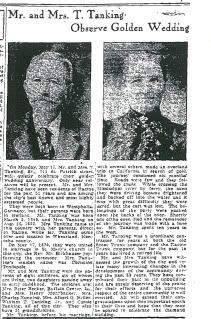 I'm fascinated with how much her daughter, Josephine, looks like her mother.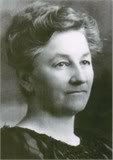 And how much Josephine's granddaughter, my mom, looks like her.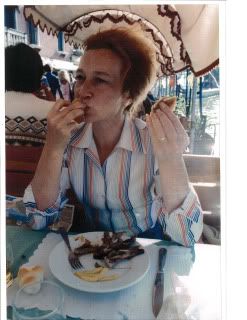 This is my mom in 1979 in Venice on a water cafe. She had just remarried and on her honeymoon. Mom had always said, when you're in a good relationship, there are two Great Pleasures in life - Eating and Sex.
There were two reasons for posting this picture. First, the angle of her head is close to the angle of Josephine's head and shows the striking resemblance between the two fairly well.
Second, it is only appropriate to post a photo of my mama indulging in one of her Great Pleasures. Thank gawd, there are no known photos of her indulging in the other.
Open Thread! Come on, dive right in, the water's fine!!