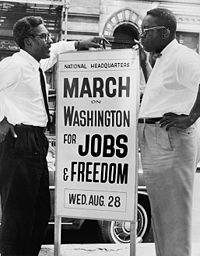 Commentary: It was a black LGBT man who organized the march on Washington
by Black Kos Managing Editor, dopper0189
It an unfortunate truism in American politics, that a plurality of African Americans don't view the struggle for equal rights for the LGBT community as a part of civil rights movements legacy. There is a lot of resistance to the idea that "any other group" can lay "claim" to the civil rights mantle. Some of this is a resistance to sharing political capital that was earned literally through blood, sweat and tears, fire hoses and police dogs. Some of it is bigotry, misunderstanding, and homophobia. Some of it is the legacy of the Affirmative action fights of the 90's. While both people of color and white woman benefited from Affirmative Action, politically a majority of white woman didn't fight to defend the program once they had gotten a critical mass into the work force. This feeling of political betrayal has resulted in a reluctance to "share" the civil rights mantle.
What doesn't get talked about enough is that the Martin Luther Kings March on Washington may not have happened without Bayard Rustin organizational skills. Bayard Rustin was an African American. Bayrad Rustin was a civil rights leader. Bayard Rustin was gay.
Gay black civil rights leader. Black gay civil right leader. Civil rights leader who was gay and black.
When ever people try to divide black and the LGBT community it's helpful to be able to reiterate that there are black people who are LGBT and LGBT people who are black.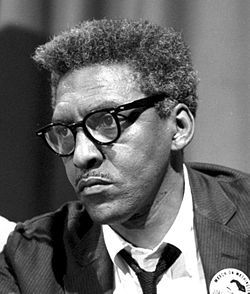 Bayard Rustin was an American leader in social movements for civil rights, socialism, pacifism and non-violence, and gay rights. He was a leading activist of the early 1947–1955 civil-rights movement, helping to initiate a 1947 Freedom Ride to challenge with civil disobedience racial segregation on interstate busing. He recognized Martin Luther King, Jr.'s leadership, and helped to organize the Southern Christian Leadership Conference to strengthen King's leadership; Rustin promoted the philosophy of nonviolence and the practices of nonviolent resistance, which he had observed while working with Gandhi's movement in India.
Rustin became a leading strategist of the civil rights movement from 1955–1968. He was the chief organizer of the 1963 March on Washington for Jobs and Freedom, which was headed by A. Philip Randolph, the leading African-American labor-union president and socialist. The March on Washington for Jobs and Freedom (or "The Great March on Washington," as styled in a sound recording released after the event) was one of the largest political rallies for human rights in United States history and called for civil and economic rights for African Americans. It took place in Washington, D.C. on Wednesday, August 28, 1963. Martin Luther King, Jr. delivered his historic "I Have a Dream" speech advocating racial harmony at the Lincoln Memorial during the march.
Rustin also influenced young activists, such as Tom Kahn and Stokely Carmichael, in organizations like the Congress on Racial Equality (CORE) and the Student Nonviolent Coordinating Committee (SNCC).
After the passage of the civil-rights legislation of 1964–1965, Rustin focused attention on the economic problems of working-class and unemployed African Americans, suggesting that the civil-rights movement had left its period of "protest" and had entered an era of "politics", in which the Black community had to ally with the labor movement. Rustin became the head of the AFL–CIO's A. Philip Randolph Institute, which promoted the integration of formerly all-white unions and promoted the unionization of African Americans.
During the 1970s and 1980s, Rustin served on many humanitarian missions, such as aiding refugees from Communist Vietnam and Cambodia. He was on a humanitarian mission in Haiti when he died in 1987.
Rustin was a gay man who had been arrested for a homosexual act in 1953. Homosexuality was criminalized in parts of the United States until 2003. Rustin's sexuality, or at least his embarrassingly public criminal charge, was criticized by some fellow pacifists and civil-rights leaders. Rustin was attacked as a "pervert" or "immoral influence" by political opponents from segregationists to Black power militants, and from the 1950s through the 1970s. In addition, his pre-1941 Communist Party affiliation was controversial. To avoid such attacks, Rustin served only rarely as a public spokesperson. He usually acted as an influential adviser to civil-rights leaders. In the 1970s, he became a public advocate on behalf of gay and lesbian causes.
Rustin was born in West Chester, Pennsylvania. He was raised by his maternal grandparents, Janifer and Julia Rustin. Julia Rustin was a Quaker, although she attended her husband's African Methodist Episcopal Church. She was also a member of the National Association for the Advancement of Colored People (NAACP). NAACP leaders such as W.E.B. Du Bois and James Weldon Johnson were frequent guests in the Rustin home. With these influences in his early life, in his youth Rustin campaigned against racially discriminatory Jim Crow laws.
In 1932, Rustin entered Wilberforce University, a historically black college (HBCU) in Ohio operated by the AME Church. As a student at Wilberforce, Rustin was active in a number of campus organizations, including the Omega Psi Phi Fraternity. He left Wilberforce in 1936 before taking his final exams, and later attended Cheyney State Teachers College (now Cheyney University of Pennsylvania).
After completing an activist training program conducted by the American Friends Service Committee (AFSC), Rustin moved to Harlem in 1937 and began studying at City College of New York. There he became involved in efforts to defend and free the Scottsboro Boys, nine young black men in Alabama who were accused of raping two white women. He joined the Young Communist League in 1936. Soon after coming to New York City, he became a member of Fifteenth Street Meeting of the Religious Society of Friends (Quakers).
Rustin was an accomplished tenor vocalist, which earned him admissions to both Wilberforce University and Cheyney State Teachers College with music scholarships. In 1939 he was in the chorus of a short-lived musical that starred Paul Robeson. Blues singer Josh White was also a cast member, and later invited Rustin to join his band, "Josh White and the Carolinians". This gave Rustin the opportunity to become a regular performer at the Café Society nightclub in Greenwich Village, which widened his social and intellectual contacts.
Rustin and helped organized the Journey of Reconciliation in 1947. This was the first of the Freedom Rides to test the ruling of the Supreme Court of the United States that banned racial discrimination in interstate travel (Irene Morgan v. Commonwealth of Virginia). Rustin and CORE executive secretary George Houser recruited a team of fourteen men, divided equally by race, to ride in pairs through Virginia, North Carolina, Tennessee, and Kentucky. The NAACP opposed CORE's Gandhian tactics as too meek. Participants in the Journey of Reconciliation were arrested several times. Arrested with Jewish activist Igal Roodenko, Rustin served twenty-two days on a chain gang in North Carolina for violating Jim Crow laws regarding segregated seating on public transportation.
In 1948, Rustin traveled to India to learn techniques of nonviolent civil resistance directly from the leaders of the Gandhian movement. The conference had been organized before Gandhi's assassination earlier that year. Between 1947 and 1952, Rustin met with leaders of Ghana's and Nigeria's independence movements. In 1951, he formed the Committee to Support South African Resistance, which later became the American Committee on Africa.
Rustin was arrested in Pasadena, California in 1953 for homosexual activity with two other men in a parked car. Originally charged with vagrancy and lewd conduct, he pleaded guilty to a single, lesser charge of "sex perversion" (as consensual sodomy was officially referred to in California then) and served 60 days in jail. This was the first time that his homosexuality had come to public attention. He had been and remained candid about his sexuality, although homosexuality was still criminalized throughout the United States. After his conviction, he was fired from FOR. He became the executive secretary of the War Resisters League.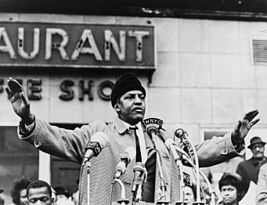 Rustin took leave from the War Resisters League in 1956 to advise Martin Luther King Jr. on Gandhian tactics. King was organizing the public transportation boycott in Montgomery, Alabama known as the Montgomery Bus Boycott. According to Rustin, "I think it's fair to say that Dr. King's view of non-violent tactics was almost non-existent when the boycott began. In other words, Dr. King was permitting himself and his children and his home to be protected by guns." Rustin convinced King to abandon the armed protection, including a personal handgun.
The following year, Rustin and King began organizing the Southern Christian Leadership Conference (SCLC). Many African-American leaders were concerned that Rustin's sexual orientation and past Communist membership would undermine support for the civil rights movement. U.S. Representative Adam Clayton Powell, Jr., who was a member of the SCLC's board, forced Rustin's resignation from the SCLC in 1960 by threatening to discuss Rustin's morals charge in Congress. Although Rustin was open about his sexual orientation and his conviction was a matter of public record, the events had not been discussed widely outside the civil rights leadership.
March on Washington
Despite shunning from some civil rights leaders,

[w]hen the moment came for an unprecedented mass gathering in Washington, Randolph pushed Rustin forward as the logical choice to organize it
.
A few weeks before the March on Washington for Jobs and Freedom in August, 1963, Senator Strom Thurmond railed against Rustin as a "Communist, draft-dodger, and homosexual," and had the entire Pasadena arrest file entered in the record. Thurmond also produced an FBI photograph of Rustin talking to King while King was bathing, to imply that there was a same-sex relationship between the two. Both men denied the allegation of an affair.
He was instrumental in organizing the march. He drilled off-duty police officers as marshals, bus captains to direct traffic, and scheduled the podium speakers. Eleanor Holmes Norton and Rachelle Horowitz were aides.
Despite King's support, NAACP chairman Roy Wilkins did not want Rustin to receive any public credit for his role in planning the march. Nevertheless, he did become well known. On September 6, 1963, Rustin and Randolph appeared on the cover of Life magazine as "the leaders" of the March.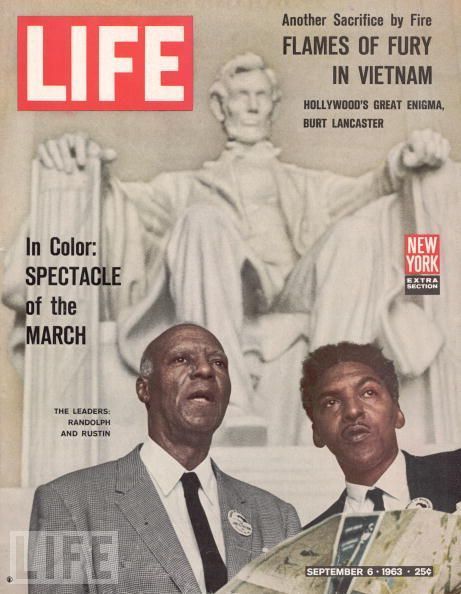 Bayard Rustin (rt) and A Philip Randolf on the cover of LIFE magazine in 1963
Human rights: Gay rights
Throughout the 1970s and 1980s, Rustin worked as a human rights and election monitor for Freedom House. He also testified on behalf of New York State's Gay Rights Bill. In 1986, he gave a speech "The New Niggers Are Gays," in which he asserted:

Today, blacks are no longer the litmus paper or the barometer of social change. Blacks are in every segment of society and there are laws that help to protect them from racial discrimination. The new "niggers" are gays. . . . It is in this sense that gay people are the new barometer for social change. . . . The question of social change should be framed with the most vulnerable group in mind: gay people.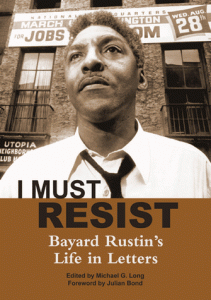 The next time when people criticize the LGBT for trying to co-op the Civil Rights movement it helps to have some history on your side. The fight for LGBT equality and the Civil Rights movement are not exactly the same thing, but they are not mutually exclusive either. Understanding the historical links will help to build bridges to the future.
In the news and politics section of this diary other important parts of this bridge to the future will be addressed. One article from Slate: Why Obama is able to endorse gay marriage in a way a white Democratic president couldn't. and the other from The New Republic: Stop Worrying: There's No Political Downside to Backing Gay Marriage.
~~~~~~~~~~~~~~~~~~~~~~~~~~~~~~~~~~~~~~~~~~~~~~~~~~~
News by dopper0189, Black Kos Managing Editor
~~~~~~~~~~~~~~~~~~~~~~~~~~~~~~~~~~~~~~~~~~~~~~~~~~~



~~~~~~~~~~~~~~~~~~~~~~~~~~~~~~~~~~~~~~~~~~~~~~~~~~~
Sometimes we went to underplay how race and gender affect what politican can and can't do. But this article in Slate is hard to dispute. Why Obama is able to endorse gay marriage in a way a white Democratic president couldn't. Slate: Gay Marriage, Black Voters.
--------------------------------------------------------------------------------
"I've just concluded that for me personally, it is important for me to go ahead and affirm that I think same-sex couples should be able to get married."
With that statement, President (and candidate) Obama advanced a cause that had been moving at geological speed until Vice President Joe Biden suddenly thrust the administration into support. Last time a presidential campaign jumped the gun on gay matters, Bill Clinton casually promised to end the exclusion of gays from the military in 1992. Although he didn't lose that election, many analysts date the weakening of his administration from his losing battle to make good on that promise, culminating in the universally despised "don't ask, don't tell" policy. Twelve years later, after the Massachusetts Supreme Court issued the first gay marriage decision, African-American boxing promoter Don King toured the black churches of Ohio to gin up the Republican vote. The difference—the black vote went from 10 percent Republican to 17 percent Republican—arguably took the state and the 2004 election from John Kerry.
Obama's committed not to make the same mistake. After Vice President Biden grew feet and walked out of the warm sea on Meet the Press, Obama couldn't duck anymore. But he's not Bill Clinton, and he's not John Kerry. Because he's not white. And so he has a unique opportunity to move the gay issue along faster than anyone else could.
Not so many people still remember, but it was an African-American, then Joint Chiefs of Staff Chairman Colin Powell, who killed Clinton's effort to repeal the exclusion of gays from the military. Before Clinton raised the issue, the exclusion was a matter of Pentagon policy, which the executive could order changed—just as Harry Truman had ordered the military to integrate blacks. Indeed, Truman was the model for Clinton's plans and the gays' hopes. They thought the nation had learned its lesson about racial exclusion and that the heroic example of Truman's early commitment to civil rights would empower Clinton to do the same thing. Those plans and hopes died when the shining star of the integrated military, Colin Powell, the first nonwhite chief of staff in history, denied that racial justice was an argument for gays.

Later in the Slate piece

In the two decades after Powell spoke (and before he changed his mind in 2009), the gay revolution, unassisted by any president until this afternoon, undertook the task of changing peoples' minds about the malignancy of their behavioral characteristic. Powell looked more and more like an ungrateful winner who wanted to pull the ladder up once he'd been admitted to the club.
Gays came out, cared for their sick, served with honor, kissed on TV, and started Glee clubs. One small state at a time, they started squirreling away places to marry, until they took New York last June. The New York-centered media covered so many gay marriages, it gave rise to a gay movement to resist the rush to the altar. The latest polling reveals that white people are finally evenly divided on the issue of gay marriage. And nonwhites are similarly split. Liberal commentators use these facts to argue that race is irrelevant. But those numbers are not what matters.
Anti-gay-marriage whites are not voting for Barack Obama. Forty-nine percent of white folks oppose gay marriage, but 74 percent of Republicans oppose gay marriage. And the Republican Party is almost entirely white. Where are the 48 percent of nonwhite voters who oppose gay marriage? Where are almost all nonwhite voters? In the Democratic Party. Even if every single black Republican is anti-gay, there simply aren't enough of them to account for all the black anti-gay voters. Therein lies the danger for a Democratic candidate supporting gay marriage: that voters otherwise disposed to him will not support him because of his stance on gay marriage.
And here is where Obama is different. If the black community doesn't flood the polls, Obama will lose in November. But he's the first black president of the United States. Black voters are sticky with Barack Obama in a way no white president could dream of. For whites, a white president is the natural order of things. For blacks, it was the miracle of Grant Park. Once the Iowa caucus happened, even Hillary Clinton, the wife of the "first black president," could not stem the tide. As black houses went into foreclosure after 2008 and the unemployment rate went through the roof, Obama's support among blacks stayed amazingly firm. As the election approaches, his support is at the same level as in 2008.
A simple thought experiment reveals the issue: Try to imagine Don King in black churches exhorting congregations to vote against Barack Obama over gay marriage. Not going to happen. In this way, the president was uniquely suited among Democratic politicians to advance the issue (just as Powell could have done in 1993). Until today, Obama's mealy-mouthed and harmful public statements on gay marriage looked suspiciously Powell-esque. But as happens now and then to Barack Obama, history gave him an opportunity no one else could seize, and he did.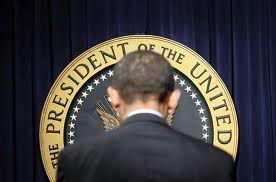 ------------------------------------------------------------------------------
Ruy Teixeira crunches some number on marriage equality. The New Republic: Stop Worrying: There's No Political Downside to Backing Gay Marriage.
-----------------------------------------------------------------------------

First, as a general proposition, it seems unlikely that there are large numbers of socially conservative voters who lean Obama today but will be transformed into opponents simply by his declared support for marriage equality. Obama's backing for equality for gays has, after all, been apparent throughout his administration, most famously in ending the Don't Ask, Don't Tell policy in the military. A voter who's stuck with Obama through all that is unlikely to be stampeded in the opposite direction by a position that follows so directly from those previous actions.
Second, the idea that this position will put him at serious risk among minority voters is vastly overblown. It is true that black voters are relatively conservative on this issue. According to the latest Pew poll, 49 percent oppose same sex marriage compared to 43 percent overall. But opposition among blacks is declining very rapidly indeed—down almost 4 points a year over the last four years. And it seems fanciful that many black opponents of gay marriage will transcend their very strong loyalty to the Democratic Party in general, and Obama, the first African-American president, in particular to vote against him solely on that basis.
Hispanics are also not a plausible candidate for significant desertions based on the issue. They are not even particularly conservative on marriage equality: In the latest NBC/Wall Street Journal poll, 55 percent supported marriage equality compared to 49 percent overall. We should not expect to see many Hispanics abandoning Obama simply on this issue and embracing his opponent, Mitt Romney, who holds hugely unpopular positions on immigration, an issue of far more importance to these voters.
Indeed, many issues are more important to minority voters than gay marriage—or other social issues for that matter. Over the years, these voters have shown great reluctance to cast their ballots on social issues and this time is unlikely to be any different.
Finally, white working class voters, who already support the President at only modest levels, are unlikely to be further swayed toward Romney based on this issue. In the Pew poll, around 42 percent of this group supported marriage equality, compared to 47 percent overall. But that 42 percent figure is actually higher than these voters' expressed support for Obama in the Presidential race—just 35 percent in the same poll. So marriage equality is actually more popular among the white working class than the President at the current time.
Another line of argument is that socially conservative Romney backers might be more likely to turn out and vote, now that Obama has endorsed marriage equality. Perhaps, though these voters have a deep reservoir of suspicion about Romney's true beliefs to overcome. But it seems equally likely, if not more so, that Obama's unambiguous backing of marriage equality will pay a dividend for him in voter enthusiasm, particularly among the Millennial generation where support for marriage equality is sky-high. These voters have been a worry for the Obama campaign due to apparent lack of engagement with this year's contest. A generation-defining issue like marriage equality, with Obama's opponent holding down the Old Guard position, may be just the thing to get these voters out there and active in the run-up to November.



~~~~~~~~~~~~~~~~~~~~~~~~~~~~~~~~~~~~~~~~~~~~~~~~~~~



~~~~~~~~~~~~~~~~~~~~~~~~~~~~~~~~~~~~~~~~~~~~~~~~~~~
The anti-Democratic forces are gathering. The Nation: Voter Suppression Groups Plot a Million-Person Army to Swarm Polls
--------------------------------------------------------------------------------

One of the first sights to greet attendees of the True the Vote national summit was the face of Martin Luther King, printed above the quote "PEACE if possible. TRUTH at all costs," on t-shirts for sale in the hotel lobby. Of course, King didn't actually say those words; the quote is from Martin Luther, the German theologian who predates King by about three centuries. But that was besides the point for True the Voters, who gathered in Houston on a late April weekend to rally against a darker "truth" only they seemed privy to: a major epidemic of voter fraud that has taken over the American electoral system.
A spin off of the King Street Patriots Texas Tea Party, a group who gained notoriety during the 2008 and 2010 elections for harassing and intimidating Houston voters, True the Vote supports the voter ID laws championed by ALEC and other right-wing groups. But their primary role in the effort to suppress the vote will manifest on Election Day. By then, True the Vote hopes to have trained a million poll watchers around the country to crackdown on cases of voter fraud—people voting on behalf of dead citizens, undocumented immigrants attempting to vote and people voting twice.
It is an article of faith among True the Voters that such cases are legion and marred recent elections in Texas, for example. But as the San Antonio Express reported, "fewer than five 'illegal voting' complaints involving voter impersonation were filed with the Texas Attorney General's Office from the 2008 and 2010 general elections in which more than 13 million voters participated." Nationwide, the prevalence of voter fraud is similarly freakonomically low; in 2007, after a five year effort to prosecute voter fraud, George W. Bush's Department of Justice reported just 120 charges and 86 convictions.
This lack of evidence, however, didn't seem to disturb True the Vote's National Elections Coordinator Bill Ouren, who one day hopes to have at least two sets of poll watchers at every polling station in America. At the summit, Ouren described how voters should feel while under the gaze of True the Vote observers: "Like driving and seeing the police following you."
In his presentation, Ouren outlined the distinction between offical election workers and poll watchers—and then gave guidance about how to blur such lines. He encouraged the activists to "build relationships with election administrators" and their political party leaders because "they control access to the vote." He then asked Harris County (Houston) poll workers and watchers in the audience to stand; almost half the room did. Ouren also singled out Harris County clerk Stan Stanart for a round of applause.



This quote is by Martin Luther not MLK!


~~~~~~~~~~~~~~~~~~~~~~~~~~~~~~~~~~~~~~~~~~~~~~~~~~~



~~~~~~~~~~~~~~~~~~~~~~~~~~~~~~~~~~~~~~~~~~~~~~~~~~~
Many thought seperation would end this conflict, it seems they were wrong. New York Times: Two Sudans Brace for a War Both Thought Was Over
--------------------------------------------------------------------------------

On a recent blistering afternoon, this village danced in an open field. Women sashayed, hoisting chairs over their heads. Barefoot children scampered. Old men, with skin as dry and cracked as the bark of a savanna tree, jabbed rifles toward the burning sky.
"We are not cowards, we do not fear!" cried out the local commissioner, Awet Kiir Awet.
"Contribute food, contribute money," he urged the crowd.
South Sudan's years of conflict were meant to be over when it won its independence from Sudan last July after generations of fighting with the people of the north. But the jubilation quickly faded, and now, not even a year later, after weeks of pointed barbs and border skirmishes, this vast and vastly underdeveloped country is once again mobilizing for war — and asking some of the poorest people on earth to pay for it, with whatever they have at hand.
The villagers stepped forward, one after another, volunteering packs of tobacco, sacks of flour, goats, peanuts and $2 in wrinkled bills — not small change here. At the same time, scores of young men from around the area enlisted to be infantrymen, eager to rush to the front.
Sudan and South Sudan have yet to resolve a number of prickly and vital issues, not least of which is how to demarcate a border of more than 1,000 miles and share billions of dollars of oil revenue. Border clashes escalated in late March, killing hundreds, and strategic oil fields have switched hands.
The United States, the African Union and the United Nations have pushed both sides to stop fighting, saying the last thing this region needs is another major conflict. Sudan and South Sudan have agreed in principle in recent days to return to the negotiating table, though officials from the South say Sudan has continued to bomb areas along the border. Most South Sudanese, including top officials, are now convinced that more fighting is not a question of if, but when.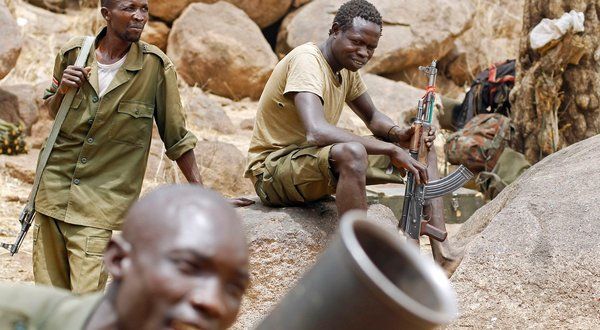 Goran Tomasevic/Reuters
Rebel fighters in the Nuba mountains of the South Kordofan area in Sudan.


------------------------------------------------------------------------------
The South African market is tough for start-ups, with support and funding scarce. But Sifiso Dlamini is determined to beat the odds with his Eish Hade sneakers. LA Times: South Africa sneaker maker laces up for a hard run at success
------------------------------------------------------------------------------

For a Soweto boy, he had a lot of sneakers.
He remembers the joy of that first pair. They had to be red. Walking out of the shop carrying a cardboard box with the sneakers, Sifiso Dlamini, at 12, took the first steps on a long journey in search of the soul of a shoe.
"Having a pair of sneakers in Soweto meant a lot. You were cool and every kid on the block wanted to have their pair of sneakers.
"I had a lot, because I was obsessed" — a dozen pairs, more than anyone he knew in the township.
His mother wanted him to finish school and be an accountant, but he dropped out. "My passion was making sneakers," he said.
In 2008, he started his own brand of handcrafted sneakers, Eish Hade (pronounced eyesh hah-day). Through social networking, his sneakers have found a niche, with orders mounting into the hundreds.
But with just one industrial sewing machine, he and his partner, Nkululeko Ndlovu, can make only about five pairs each in a week.
Small township businesses are a crucial part of South Africa's economy, a potential driver to expand the country's small but powerful middle class. But 440,000 small-business start-ups have collapsed in five years, according to employment consulting firm Adcorp. Many fail because the owners lack education and business planning skills and don't have access to bank loans or other capital, analysts say.
That's a significant problem in a country where the unemployment rate is sky-high and small businesses such as Dlamini's with fewer than five employees account for 43% of jobs.
Dlamini and his partner work out of a chilly concrete room near Alexandra township, in a space donated by South African marketing businesswoman Michelle Combrink, who took a shine to their can-do attitude. They pay themselves less than $130 a month, have one trainee and pour all their earnings back into the business.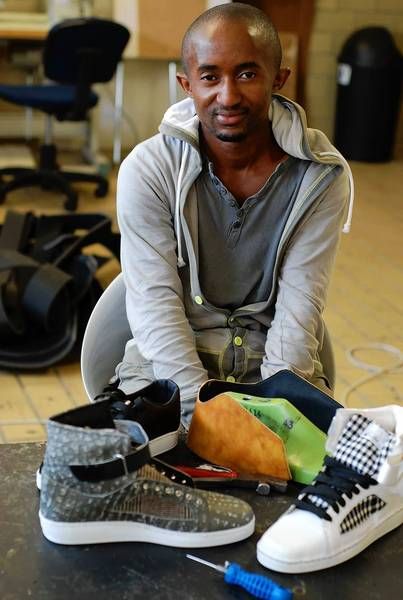 South African Sifiso Dlamini in his Soweto shoe workshop. He started his own brand of handcrafted sneakers, Eish Hade, in 2008. (Robyn Dixon, Los Angeles Times / May 10, 2012)


~~~~~~~~~~~~~~~~~~~~~~~~~~~~~~~~~~~~~~~~~~~~~~~~~~~
Welcome to the Front Porch