This was just a quick, fun little experiment to see how many NC districts I could make competitive. Obviously, VRA gets thrown out the window. And I admit that while I call some of these districts tossups/competitive (due solely on Obama/McCain numbers), there are incumbent Democrats who would be very comfortable with these districts.
Here's the map: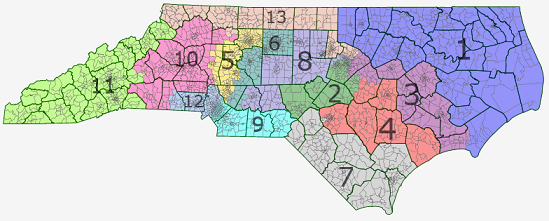 NC-01 53.5% Obama 45.8% McCain
The eastern NC district is no longer black majority. Black percentage is down to 36%. Under most circumstances, this district should go Democratic. I just don't have a good feel for how incumbent GK Butterfield or any other black Democrat would fair here.
NC-02 50.0% Obama 49.0% McCain
The portions of this district in Wake County could be problematic for Rep. Ellmers, especially as the decade wears on. She would probably be ok here in 2012, but a good candidate could knock her off.
NC-03 51.5% Obama 47.8% McCain
Walter Jones would probably do ok here, but an open seat would have a slight Dem lean.
NC-04 47.4% Obama 52.0% McCain
No incumbent lives here, although the Republican candidate in NC-07, David Rouzer, could run here. A good Dem could win here, but the district has a bit of a Republican lean.
NC-05 47.9% Obama 51.2% McCain
This is a new Winston-Salem based district. No incumbent lives here and I really have no idea who probably candidates would be. Should be a competitive seat, with a slight Republican advantage.
NC-06 50.2% Obama 48.9% McCain
Howard Coble would run in this Greensboro based district. This is an Obama district but a Republican Average district.
NC-07 50.4% Obama 48.8% McCain
I imagine this is very similar to what Mike McIntyre would draw for himself. Based on the numbers, this district is a tossup, but McIntyre would be utterly safe here.
NC-08 Obama 51.1% McCain 47.8%
Both Larry Kissell and David Price are in this district. Price represents the vast majority of this district and would beat Kissell in the primary. This is another district that Obama won, but the district Average slightly favors Republicans.
NC-09 50.5% Obama 48.7% McCain
Charlotte gets split to create competitive districts. The eastern part of this district is represented by Kissell, the western part is represented by the retiring Sue Myrick. I'd guess Pendergraph and Pittenger would vie for this seat. Kissell could choose to run here although he doesn't live here. This is a third district that Obama won but the Average says slight Republican lean.
NC-10 33.8% Obama 64.9% McCain
This is the only no-doubter, a 65% McCain district. Neither Patrick McHenry nor Virginia Foxx actually live in this district, but I suppose both would try running here.
NC-11 46.7% Obama 51.9% McCain
Heath Shuler would be very happy to run in this district, even though it has a slight McCain lean. Likely D with Shuler, Tossup without.
NC-12 57.0% Obama 42.3% McCain
This is the most Democratic district in the state and it is right on the edge of being competitive. Democrats would win here under most circumstances. It's a 30% black district, and I imagine Mel Watt would run here.
NC-13 54.9% Obama 44.1% McCain
This district is not all that different from the pre-2012 NC-13. Brad Miller would run here and probably do very well. It would be slightly competitive should Miller run for another office.
Well, that's it. If you think there should be a lot of competitive districts and less packed districts, this map is for you.