As several people - including my father and a few friends - have asked me, "Why do gays want to MARRY? Why not have civil domestic partnerships and let things go at that?"
Because a domestic partnership is not legally or socially respected as a marriage.
Domestic partnerships are recognized or withdrawn at the convenience of whomever chooses to recognize or withdraw them... a fact evidenced by North Carolina's Amendment One, which technically invalidates all domestic partnerships, regardless of the orientations of the people involved.
As I said yesterday [1] with regards to Amendment One, once again - as in California and elsewhere - one group of people decided to withdraw rights from another group of people through popular vote.
And that is an abomination to the entire ideal behind the United States.
Period.
END. OF. STORY.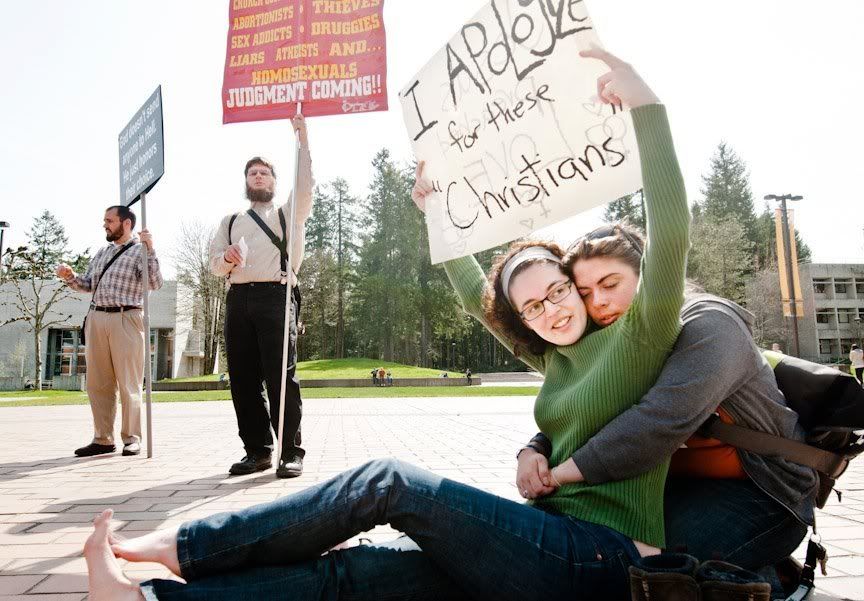 Now, I understand why some people may find the idea of gay sex challenging. I have sympathy for people who feel the world is changing in strange and sometimes unsettling ways. Those feelings make sense. Nevertheless, it is not reasonable to deny essential civil rights to your fellow human beings just because the idea might feel challenging to you. Personal disgust may once have been considered a reasonable criteria for denying rights to people or different religions, genders or skin colors, but it no longer is. Not here. Not in 21st century America. And thank everything holy for that fact.
The various generalized assumptions about "what homosexuals want" or "what gays do" make perfect illustrations for why such accusations destroy the fabric of a civil society. And if the reason why is not immediately obvious, here's a demonstration:
Suppose I argued that "all Catholics want" to molest children. I mean, there's unquestionable and overwhelming proof that Catholic priests have molested kids, and that Catholic authorities have covered it up, and so therefore the exact same argument can be made about Catholic pederasty as can be made about gay marriage.
If you're Catholic, do YOU want to molest children? Of course not (I hope...). Do all Catholics want to molest children? What an absurd, offensive idea.
And yet, THE EXACT SAME LOGIC - complete with accusations of pederasty - is being used to define "what homosexuals want"... and being used to deny rights and even humanity to a group of citizens as a result. If I were to convince a majority of my fellow citizens that all Catholics want to molest children, and we put it to a vote, and the result of that vote was to have all Catholic children taken away from their parents by force of law, would that be legally, morally or factually right? Would it be good for society as a whole?
Of course not.
Nor is it right to deny gay people similar rights because of the same kind of factually incorrect slander.
And yet, that is exactly what happens if and when someone in authority is confronted with a "domestic partnership" he or she does not agree with: Whatever rights may be involved are immediately revoked. Children are taken from their parents. Partners are refused hospital visitation. Wills are invalidated. Benefits are denied. Inheritances are confiscated. People are banned from funerals. It happens EVERY SINGLE DAY, and it is wrong. Corrosive to our society, and from the simple human perspective, unspeakably WRONG.
Ideally, laws exist because someone or something is being abused, and that abuse needs to end because such abuse harms society. When one group of citizens, taxpayers, contributors to the society - be they blacks, gays, Latinos, women, Catholics, whatever - may have their lives curtailed, their freedom revoked [2], their property seized, their humanity crushed by legal fiat for no reason other than another group's distaste for their existence, SOCIETY IS HARMED AND THE ABUSE MUST END.
And thus, laws to end such discrimination are passed.
These are not "special laws." They are not "privileges." They are necessary methods to protect a society's citizens from one another.
In a nation like ours, laws exist to protect minorities from the tyranny of the majority... and although they were rather bad at real-life applications of that principle when it pertained to blacks, women, Native Americans, and - yes - even Catholics, that ideal goes back to the Founding Fathers themselves. It has taken us over two centuries to gain the promises of the Bill of Rights and Declaration of Independence for ALL American citizens, but the promises are there. [3]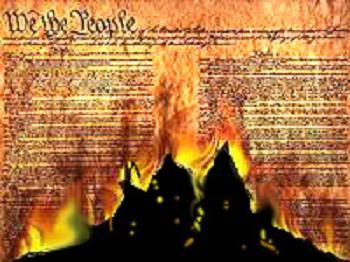 And honestly, I give not one flying fuck if one group of people's 4000-year-old law code can be interpreted as an eternal condemnation of another group of people's humanity. The faithful can believe such things if they like (picking and choosing, of course, which of those law codes to take as gospel and which to discard), but I refuse to have my nation bound by those beliefs. Period. Point-blank. No.
We are not talking about prohibitions against theft or murder within the society - prohibitions found in any society's codes of law. [4] We're talking about the laws in which a group of people is demonized simply for existing.
Meanwhile, as a society, we're clearly not passing laws that make us stone rape victims to death (Deuteronomy 22:23-24), kill children who talk back to their parents (Exodus 21:17, Mark 7:10, etc.), let us take foreign women as sex-slaves (Deuteronomy 20: 10-14), or invalidate debts every seven years (Deuteronomy 15:1). Why, then, do we have such maniacal - and yes, they are delusional, irrational and often violent... and thus by definition maniacal - obsessions about the humanity of gay people?
Saying "Well, my holy book says so" is not a valid argument in this society.
If you want to make laws that way, move to Iran.
As the song says, "This land is your land, this land is my land." Whether certain people wish to accept it or not, gay and lesbian citizens are "you" and "me" as well. It is their land, too. Gay people work for it, pay for it, fight for it and often die for it. To say that gays can't then share in it is an affront to the very meaning of a civil society.
-------------------
Beholdest Thou the Inevitable Footnotes
-------------------
1. This issue isn't about Teh Gayzz(tmOMG). It's about whether or not one group of citizens can deny or revoke the rights of others. It's about whether hate for The Other can be allowed as a tool of civil government. It's about how human beings are denied vital things - things like hospital visitation, medical coverage, child-rearing and far more - on no basis except selected verses from a Bronze Age law code. It's about whether or not Americans can and should decide, through force of law, to reduce the freedoms of their fellow citizens. And to all of those things and more, I say NO. (https://www.facebook.com/phil.brucato, 5/10/2012)
2. When you can be arrested and charged with a crime because a group of voters in your home state said that you can't have the right to request a marriage certificate, then your rights are subject to arbitrary fiat.
And let no one even start with the "She wasn't arrested for trying to get married - she was arrested for trespassing" argument. The irony of people howling about their First and Second Amendment rights before turning around and denying those same rights to their fellow citizens infuriates me to near-violence. It's a very old double-standard, and I am sick to death of it.
3. Various people argue that the historical precedent of cultural taboos against homosexuality support the invalidation of gay rights. But yet, cultural standards of history, law and so forth are changeable. Slavery, genocide, human sacrifice and other things we now consider abhorrent were (and in some places still are) considered perfectly valid by the cultural and often religious standards of their time. And yet, we as a species have changed those standards with regards to those institutions... often because science or experience had shown us that they are damaging to the human animal, society and spirit.
It's time to change this standard, too... and for exactly the same reason.
4. - Don't even get me started about how every society ignores those prohibitions when they apply to other societies; I may start quoting Samuel and Deuteronomy, and that'll get ugly...