It's hard to contrast fiction with reality, but sometimes events sort of demand I try.
Sky Atlantic is trying to help us out with a television series with a lead character who is a pre-operative transsexual. Okay, so she's a hit man as well. Aren't we all?
In the six part series Chloe Sevigny plays Mia, "a contract killer with a big secret: she's a transgender woman."
Now maybe it's just me, but I would think that the "big secret" would be that she's a contract killer.
She discovers that a brief fling in her youth resulted in her having an 11 year-old son. And that son has siblings. So she becomes a parent.
Out of this, a series grows. Created by Paul Abbot, the story is one Sevigny couldn't pass up.

I hadn't read anything like it before, especially for television.

It was so juicy, so much to explore with the character and so physical...I thought it would be a demanding in a good way.

--Chloe Sevigny
The show has a lot of nudity. Sevigny was required to wear a prosthetic penis.
It was what called for in the role. It was necessary.
But it was not without its dangers.
Sevigny says she found the experience to be quite upsetting.
I cried every day when they put it on. You know, I'm ample-chested and I have this on. I felt very exposed, and it was hard, very hard, having people so close to your personal parts anyway - who you're not sleeping with - for an hour-and-a-half each day, to put it on.

Then looking in the mirror... it was weird. I was lonely and I felt really unattractive. I was confused about my desirability - was I desirable? - in having put that on, and having men see me with that on.
Welcome to the reality of transwomen.
I think it might be one of the most extreme roles I've done, yes. I've never really worked with prosthetics. I've never done any fantasy or anything weird. Then again, if people can believe what's her-name in 'Avatar', hopefully they can believe me as a pre-op.
In the Wilkes-Barre, PA area
:
There's a video at this link which resists embedding.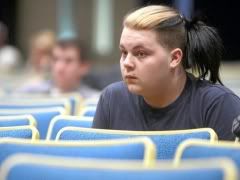 A teacher asked Jared Swank if she could film him with his transgirl date at the school prom, where they were having a really good time. The teacher said she wanted to show the video to her daughter to teach her about diversity.
Instead she showed it to students in school.

I was not happy that this was shown in class. She told me she wanted to show her daughter. Not the entire school.
Nothing in the story indicates how the transgirl felt about all this. I guess her feelings didn't matter. It's like she is just a prop.
Another part of the reality of transwomen is what happens after we die. There was a tragic incident in Bushwick, Brooklyn this past week. Let's see how the New York Times chose to cover the story:

She was 25 and curvaceous, and she often drew admiring glances in the gritty Brooklyn neighborhood where she was known to invite men for visits to her apartment, her neighbors and the authorities said.

Called Lorena, she brought two men to her apartment, at 43 Furman Avenue in Bushwick, either late Friday night or in the early hours of Saturday, the police said. About 4 a.m., a fire broke out in the apartment. A passer-by ran into the four-story building and began banging on doors, according to Meta Green, a neighbor. In the ensuing chaos, everyone seemed to emerge from the building — except Lorena.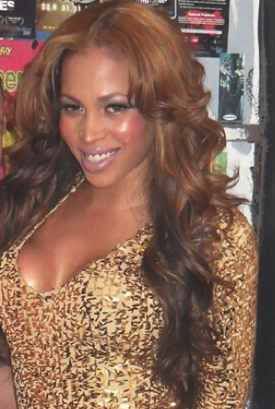 This is a woman who died in a fire (or perhaps before--it is unknown yet if she may have died before the fire and the fire set to cover up a murder). But because she is transgender we lead off with her physical characteristics and the fact that she had men visitors, establishing her sex-friendly credentials. And then we are told she was "called" Lorena.
Why was she called that? Maybe because her name was Lorena Escalera. Would a cis-woman be identified as being "called" her name?
Later in the article, we get this:

Oscar Hernandez, 30, a mechanic, said she had had some of her ribs removed in an effort to slim her waist.

"For a man, he was gorgeous," Mr. Hernandez said, noting Ms. Escalera's flowing hair and "hourglass figure."
One has to wonder how this was relevant to the story? Or how it was relevant to enumerate the remnants of the contents of her apartment:
wigs, women's shoes, coins from around the world, makeup, hair spray, handbags, a shopping bag from Spandex House, a red feather boa and a pamphlet on how to quit smoking
GLAAD has chastised the Times
.
Would the New York Times ever describe a woman who is not transgender, who had died in a fire, as "curvaceous" - in the first sentence, no less? Would it carefully note that her apartment contained makeup and "women's shoes?" Would it say that she was "called" whatever her name was - especially if police later identified her by that name?
On the other hand, other media stories decided Lorena Escalera was
not the focal point of the story
, even though the NYFD labeled the fire as "suspicious".
3:00 PM PT: As my city's and our nation's paper of record, I would expect the New York Times to treat any subject, regardless of their path in life, with dignity. Lorena Escalera was so much more than the demeaning, sexist portrait they painted of girls like us. It goes beyond a 'choice of words.' According to the Times' limiting, harmful portrait of Lorena, she was nothing more than a 'curvaceous' bombshell for men to gawk at. That is not the 'personal' story of any woman, and until we treat trans women like human beings - in life and death - with dignity, families and struggles, our society will never see us beyond pariahs in our communities.
--Janet Mock, via Facebook