Friends, you know I almost never use the word hero. But really, how else can you describe a police officer like (soon to be former) Sergeant Todd Frazier? Here's a picture of (soon to be) Officer Frazier being awarded a Meritorious Service Medal by Renton's own Commissioner Gordon, Chief Milosevich: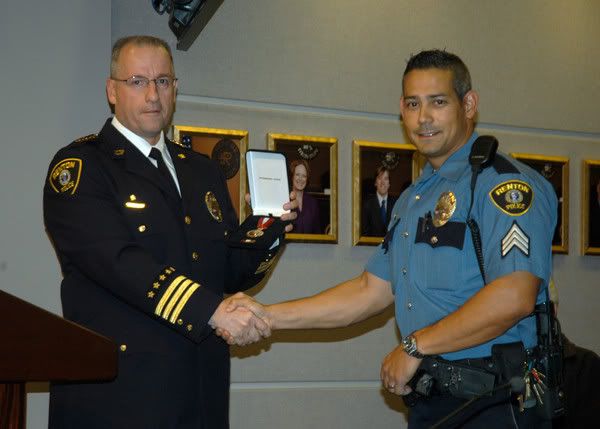 From the Renton Patch:

Milosevich presented the Meritorious Service Medal to Sgt. Todd Frazier…

Frazier grew the Special Enforcement Team "from the ground up" and created a regionally recognized model, Miloseich [sic] said, calling Frazier, "the defenition [sic] of a leader."
Renton's Special Enforcement Team knows how to get things done. When they found out about a local pawn shop being in possession of stolen property, they called them and had them put a hold on it. They then forgot about it, until the pawn shop manager got in touch with them to say, yoo hoo, we have that drum sitting on a shelf labeled "hold for police," come on over.
Sergeant Officer Frazier, however, is the definition of a leader. He's not going to take that shit lying down! Why go in there and ask the lady to hand you the thing she set aside for you, when you can bring the whole SET team in on overtime to ransack the place? Hell yeah, that's what I'm talkin' about. Leadership.
Now, you may be saying to yourself, self? Wouldn't it be good for the police to have a working relationship with pawn shop owners, especially the ones who try to keep them in the loop? The women who run that pawn shop might be a good source of information on the local scumbags, eh? Don't be a pussy. Her business may be duly licensed in the State of Washington and operated in compliance with all laws, but goddamn it, she will respeck mah athaw-tah.
Now, you may be saying, but Xave, wait. Doesn't a search warrant cover specific items only, and like, once they recover the items covered in the warrant they need to stop searching unless they have probable cause? Why did Frazier's team rock the search and destroy, lodging criminal charges against three cooperative women who voluntarily yielded the sought items?
Well, the Fourth Amendment is apparently water soluble, and they get so much rain up there that basically they throw warrants when they damned well please. Now STFU or I'll arrest you for obstruction. Replevin my ass.
Besides, Jim Gould was on that raid. According to the bogus warrant they got on Mr. Fuddlesticks, "During a search warrant, Officer James Gould 'stole some shit from the suspect'." So, you know. It was in May, and with Christmas right around the corner, maybe he had to do some early shopping.
(Gould, incidentally, is the Vice President of the Renton Police Officer's Guild, and we know what a swell bunch of guys they are! I won't have time to blog about them for a while, but search the interwebs for "Mike Weisz" and/or "Craig Sjolin" if you're interested.) Anyway here's a picture of part-time Tim McVeigh impersonator/full-time Police Officer Jim Gould, from one of the Renton "I love it when you blow sunshine up my ass" websites.
Well I could go on, but as usual, Mr. Fuddlesticks tells the story so much better than I do.
And for those of you PITA people constantly whining about "proving up serious allegations of police misconduct," and "having documentation to support your claims," well, here's the filed complaint regarding Frazier's leadership, for your reading pleasure. The Fuddlesticks mirror site has dozens of the City's funniest short stories, if you're heading to the beach.
I know, you're probably thinking, wow, you're saying all kinds of mean things here. Surely Frazier's subordinates will support him in his hour of need, won't they?

Anonymous poster: I can't blame people for not wanting to tell there boss (Frazier is a Sargent) that he is insane. Not approving of someone's behavior isn't necessarily worth your job. That doesn't make the behavior acceptable.

Anonymous poster: All of us have tried to tell Todd at one time or another, but he doesn't listen. And then, until you totally back down, he just wont shut up.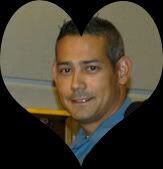 I find it hard to believe Frazier doesn't listen. I mean look at this picture, does that guy not look like one hell of a listener?
I'm not in Renton, so I have to hope the people who live there will fill me in. There's a guy on www.rentontalk.com who seems to have a lot of information, when you can get him to open up. They call him "Mr. F-Bomb," and without further ado, his take on Frazier. (Be advised, they call him that for a very good reason – if you can't take bad language, stop reading now. If you're a drunk, you might want to start the F-bomb drinking game):

Mr. F-Bomb: That is fucking funny. I have been on that fucking Frazier Avenue before and once you are fucking on it, Frazier won't let you the fuck off until you fucking agree with him. It's pure fucking craziness. Todd would make a great fucking captain of the fucking Titanic because he will go the fuck down with the fucking ship before he ever the fuck admits being the fuck wrong. Fucking selfish fucking self-centered fucking arrogant fucking egotistical fucker.

And he pressured the fuck out of a group of poor fuckers to buy a fucking assault rifle for fucking [Commander] Chad K[arlewicz] just because fucking Chad (who is another fucking ticket-forging memo-writing fucker) got them fucking overtime. Chad wasn't even fucking retiring but fucking Frazier had it in his fucking groin to jerk off a fucking AR-15 for Chad with everyone putting in their own personal fucking money so fucking Todd can suck Chad's fucking penis.

How's that for a fucking conversation with the fucking wife? Sorry, honey, I need a hundred fucking bucks from our own personal fucking checking account to fucking give to an unfucking trustworthy fucking commander because fucking Frazier is fucking demanding it. Fucker. Fucking idiot lost a lot of fucking trust and friends over fucking shit like that.

I fucking saw Todd's fucking ship heading to crash into the fucking iceberg a long fucking time ago but no one would fucking listen. Now no one fucking listens to fucking Todd. If he would just shut the fuck up already. He's falling the fuck apart already. It won't fucking surprise the fuck out of me when the fucking day comes he goes fucking postal at the station because he stressed himself the fuck out.

Toddyboy, you aint all that. You aint shit fucker.