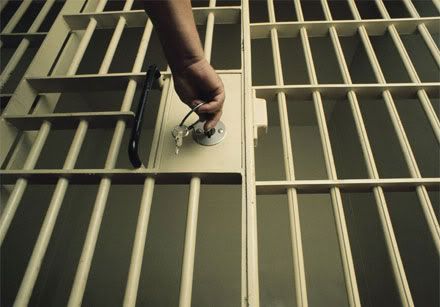 The Prison Rape Elimination Act (PREA) was passed with bipartisan support in 2003, passing both the House and Senate with unanimous consent. It was signed by W on September 4, 2003.
Of course, as was his wont, W used a signing statement to exempt the executive branch from disclosure of the proceedings of NPREC in certain circumstances.

The act aimed to curb prison rape through a "zero-tolerance" policy, as well as through research and information gathering. The act called for developing national standards to prevent incidents of sexual violence in prison. It also made policies more available and obvious. By making data on prison rape more available to the prison administrators as well as making corrections facilities more accountable for incidents pertaining to sexual violence and of prison rape it would more than likely decrease the crime(s).
The problem was that one of the main components of PREA was the establishment of a National Prison Rape Elimination Commission (NPREC), which was appointed in June, 2004…even though PREA called for the formation of the Commission within 60 days of its passage.
We should have known then there would be problems.
Here we are, 9 years later. And something may finally be coming out of PREA.

The DOJ, for its part, was tasked to "make the prevention of prison rape a top priority in each prison system," with the Bureau of Justice Statistics mandated to produce yearly reports on the DOJ's activities concerning the topic of prison rape in the US penal system. The National Institute of Corrections was ordered and provide training and technical assistance to corrections facilities. And the Attorney General was authorized to offer grants to facilitate the implementation of the act.
In 2007, the Second Chance Act extended the life of NPREC. from 3 to 5 years.
The first report of the National Institute of Justice occurred in 2006, when it was ascertained that 4.5% of American prisoners reported an incidence of sexual violence. Then in a separate study and report released by the NIJ, it was claimed that prison rape was indeed much rarer than claimed, because most reports were filed by prisoners who "are looking for money, publicity, a transfer, or lying."

the National Prison Rape Elimination Commission meets periodically to 'study the impact of prisoner rape.' While they study, rape continues."

--Mike Farrell, Chair of Death Penalty Focus
You might recall the Angola Three, Robert Hillary King, Herman Wallace, and Albert Woodfox, who were unwilling to submit to prison rape upon arriving at the Louisiana State Penitentiary at Angola, so they formed a branch of the Black Panther Party in 1971, with the goal of eliminating sexual violence in the prison and to desegregate it. The Three were tried and convicted of trumped up charges and sentenced to solitary confinement in 1972. King was exonerated in 2001. In March of 2008 Wallace and Woodfox were finally released from solitary…after 36 years. They are suing the state in a case scheduled to begin in in the coming Fall.
They have a pending civil suit 'Wilkerson, Wallace and Woodfox' vs. the State of Louisiana which the United States Supreme Court ruled has merit to proceed to trial based on the fact that their 30+ years in solitary confinement is "inhumane and unconstitutional".[citation needed] The outcome of this landmark civil case could eliminate long term solitary confinement in U.S. prisons.
All for trying to end prison rape and segregation.
So the Obama Administration released final guidelines on Thursday. However, the Administration is allowing Homeland Security to adopt separate guidelines, in consultation with the DOJ, for immigration detention facilities.
While I care about all incidences of prison rape, I hope you are not surprised that I zero in on the treatment of LGBTI inmates.
The DOJ states that all prison facilities must "incorporate unique vulnerabilities of lesbian, gay, bisexual, transgender, intersex and gender nonconforming inmates into training and screening protocols."

The standards account in various ways for the particular vulnerabilities of inmates who are LGBTI or whose appearance or manner does not conform to traditional gender expectations. The standards require training in effective and professional communication with LGBTI and gender nonconforming inmates and require the screening process to consider whether the inmate is, or is perceived to be, LGBTI or gender nonconforming. The standards also require that post-incident reviews consider whether the incident was motivated by LGBTI identification, status, or perceived status.
This is a really, really big fucking issue.

--Mara Keisling, National Center for Transgender Equality
The latest
Bureau of Justice Statistics report
indicates that almost 40% of recent gay and bi parolees reported having been a victim of sexual assault in their most recent incarceration. Since the Bureau does not collect statistics for transgender prisoners separately, we really can't say much about the rate of incidence for us transpeople. As far as lesbian and bi women, the rates are lower than for gay and bi men, but lesbian and bi women "were sexually abused by staff at twice the rate of straight women".
[T]he final standards do not allow placement of LGBTI inmates in dedicated facilities, units, or wings in adult prisons, jails, or community confinement facilities solely on the basis of such identification or status, unless such placement is in a dedicated facility, unit, or wing established in connection with a consent decree, legal settlement, or legal judgment for the purpose of protecting such inmates. As in the proposed standards, such placement is not allowed at all in juvenile facilities.
Regarding searches conducted of transgender people, the summary states, "The standards impose a complete ban on searching or physically examining a transgender or intersex inmate for the sole purpose of determining the inmate's genital status. Agencies must train security staff in conducting professional and respectful cross-gender pat-down searches and searches of transgender and intersex inmates."
Asked for further clarification of that, a senior DOJ official added:
With regards to transgender inmates, the general assumption -- and this is discussed at some point in the broader 270-page document -- is that the rules of the housing unit would apply. If the inmate is in a female housing unit, then the rules that would apply to other female inmates would apply. If the inmate were in a male housing unit, then the rules that would apply to male inmates would apply. In other circumstances, at intake, for example, staff should ask, make their own individualized assessment and take into account the preferences of the inmate to the extent possible when conducting the search.
Big F'ing deal:
In deciding whether to assign a transgender or intersex inmate to a facility for male or female inmates, and in making other housing and programming assignments, an agency may not simply assign the inmate to a facility based on genital status. Rather, the agency must consider on a case-by-case basis whether a placement would ensure the inmate's health and safety, and whether the placement would present management or security problems, giving serious consideration to the inmate's own views regarding his or her own safety. In addition, transgender and intersex inmates must be given the opportunity to shower separately from other inmates.
While, according to President Obama's memorandum, the new rules apply "to all Federal confinement facilities, including those operated by executive departments and agencies (agencies) other than the Department of Justice, whether administered by the Federal Government or by a private organization on behalf of the Federal Government", the president's memo follows by allowing each facility to determine how to implement the PREA standards.

They're trying to split the baby.

--Harper Jean Tobin, NCTE