H/T to Seneca Doane for linking to this poll.
In the beginning of April, SurveyUSA did a poll of 1,314 likely California voters that asked who they plan to vote for in this June's California Senate primary race.
This year, we have a "top-two" primary, meaning it is an open primary with all candidates presented to voters and the top two vote getters will be moving on to the November election, regardless of party.
Dianne Feinstein is running for re-election for the 978th time. Unsurprisingly, she received a solid 51 percent in the poll.
The entertaining part is what became of the remaining candidates.
After Feinstein, the next highest candidate was ...
random Republican businessman Dan Hughes with 2 percent! Dan's website tells me he wants to serve all "Californian's."
Also coming in a strong tie for second place with 2 percent was autism advocate, Republican Elizabeth Emken!
Following that were 12 candidates with 1 percent, one of whom was our favorite birther, Orly Taitz!

That's right - Orly polled at one percent. Approximately 13 Californians gave her the thumbs-up. I wonder how many of them were her dental patients, real estate purchasers, or ... other birthers.
30 percent of respondents reported that they were undecided, so she's still got plenty of room to grow. And hey, you never know! Maybe that'll happen.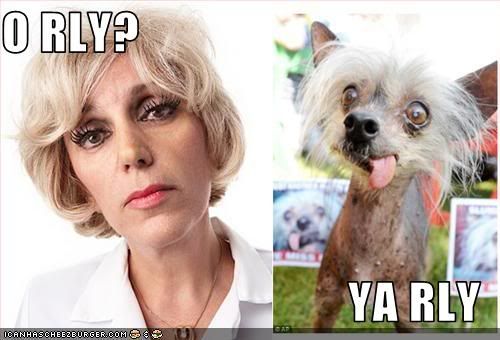 Detailed results from the poll are in the link.