Calling it a "bank run" would be considered irresponsible. Unless, of course, there is a bank run actually going on. In which case ignoring it would be suicidal.
So is there a bank run happening in Europe?
Reports began trickling in earlier this week that savers in Greece were withdrawing hundreds of millions of euros from their bank accounts -- the German news agency DPA reported that almost €900 million was withdrawn just on Monday alone.
Now, rumors are circulating that in Spain, too, people have begun to clear out their accounts at certain banks. The newspaper El Mundo reported that customers had withdrawn over €1 billion from the beleaguered major savings bank Bankia last week.
Yea, that sort of looks like a bank run to me. And that's just the start.
The cost of bailing out Spain's Bankia was $4.5 Billion three days ago, $9 Billion yesterday, and $15 Billion today. Shares of Bankia dropped 29% in just one day.
Who knows what it will be tomorrow, much less next week. Just how big is that bank run getting? And can you really blame people for withdrawing their savings?
As for Greece, people have continued to pull their cash from the banks at the same rapid pace. About a quarter of all deposits at Greek banks have been withdrawn over the last two years.
Greece's police are telling people to leave the money in banks for reasons of possible theft. LOL.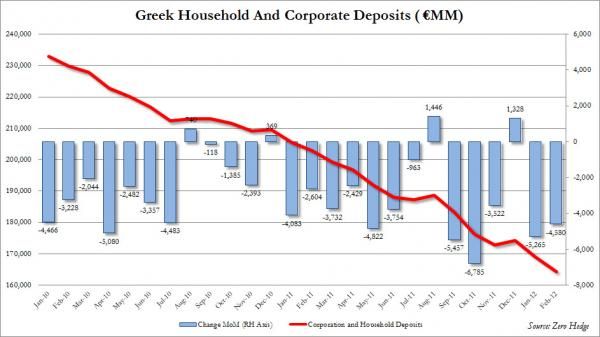 The problems at Greek banks are just starting.
On Wednesday, the ECB confirmed that a number of Greek banks have now been cut off from its refinancing operations. They apparently lack sufficient capital to use as collateral.
Greek banks have long been locked out of the private debt markets.
All that money fleeing Greece and Spain have to go somewhere, and that somewhere is Germany.
The Eurozone debt crisis has morphed into an obvious banking crisis. Greece and Spain now suffer from "chronic lack of working capital." Which means a lack of cash to keep their economies functioning.
The topic of Greece's exit from the Euro is now openly discussed. The real question is what sort of effect this exit would have? Most likely it would impact the banking sector first.
"The more policy makers continue to openly discuss an exit, the more likely that people in Spain, Ireland, and Portugal pull money out of their local banks," says Andrew Stimpson, an analyst at Keefe, Bruyette & Woods (KBW) in London. France's Société Générale estimates that a Greek exit could mean more than $1.1 trillion in loan and currency losses in the U.S. and Europe...
A Greek exit could trigger "a chain reaction of bank runs and soaring risk premiums on government bonds of weaker countries, and that ultimately breaks up the entire euro zone," UBS economists Thomas Wacker and Jürg de Spindler wrote in a note to investors.