This is a republication of a diary I did a while back. It's not about JFK's death but his life.
Born just after his passing, I have always struggled with trying to understand the man as a regular human being; his iconic status is so overwhelming that his image automatically produces emotions that come in the way of objectivity. While we have all repeatedly seen several more famous snippets of his life (particularly his inaugural address, his speech in Berlin, and the Zapruder tape), I think it is helpful to watch and listen to him in some of the less famous recordings of him, of which I present a small selection below. Hope you enjoy.
This early video from 1952 shows Congressman Kennedy being interviewed while running for senate. JFK was not a born politician; he and his father did not initially think he was well suited to politics given his shyness and disinterest in hamming it up with voters. But he realized fairly quickly that he was a very good speaker and he found the actual work interesting, so he decided to make a go of it. Even in this early video though, his charisma is obvious.
His partnership with his brother was critical to his success. As much as RFK is remembered today as a liberal icon, during JFK's career Robert was his primary political aide. Robert was tough as nails and zealously protective of Jack (whom he called Johnny). Here they are celebrating Johnny's election to the senate in 1952 (in which he beat GOP incumbent Henry Cabot Lodge).
If you haven't listened to the following audio tape, you are in for a treat. JFK and Jackie host a party in their DC apartment early in the 1960 campaign (when he was viewed as a longshot) attended by the Post's Ben Bradlee. Senator Kennedy openly discusses his thoughts about politics and the presidency, as well as discussing his biography. I find the whole thing very fascinating and ever since listening to this recently discovered tape I have felt that I understand the man better. Brian Williams gives a good intro, with Kennedy's tape beginning at about 6:15. At 10:20, he begins discussing why he wants to be president, and philosophizes on ambition. Every minute is fascinating.
This is the speech Kennedy made in Houston while running for president in which he addressed the "Catholic issue" (which famously led a modern-day GOP theocrat to throw up). Kennedy's religion was not the only personal attribute on which he had to defend himself; living Democratic legend Harry Truman famously ripped into Kennedy as being too inexperienced for the job on the eve of the Democratic Convention.
The following speech may be the most terrifying by an American president ever broadcasted on television. The Cuban Missile Crisis occurred at the peak of the Cold War, and for 2 weeks the country faced the fear that thermonuclear war could be imminent. This was JFK's finest hour, as he (with the invaluable support of his brother Bobby) faced down not only the Russians but his own security advisers and military commanders (and Vice President), who pushed for him to mount an immediate attack on Cuban bases. JFK's earlier experience in the Bay of Pigs fiasco was traumatic for him, and taught him the invaluable lesson that as president he must not be intimidated by the generals. The recent New York Times article on Barack Obama's progression from following the advise of generals early in his tenure to completely leaving them out of a major war-and-peace decision more recently seems to me to tell a very similar story on the education of a President.
Behind the scenes, the smoothest and friendliest of presidents can be as much of a bastard as anybody. I would not want to be the general on the other side of this phone call.
I think this is a great interview (1963) that shows Kennedy espousing on the issues of the day. When he is sitting down and talking in a relaxed way I find JFK the man much more accessible than when watching his more famous speeches. This interview, in which he can be seen sitting in the rocking chair that helped to relieve his back pain, was replayed over and over on television the weekend after his death.
In this short excerpt of a 1963 interview with Walter Cronkite, Kennedy shares his views on Vietnam in the early days of the war. Before his death, his plan was to reduce our "training" mission in Vietnam from 17,000 to 16,000 troops immediately, and to have all US troops out of the country by the end of 1965. When LBJ stepped into his shoes, his initial goal was to get out as soon as possible (but not too soon - he did not want to look weak on defense in an election year).
A good-looking future president with his pup. While the Kennedy family was rich and powerful, JFK's adolescence and early adulthood were marked by serious illness (possibly all related to his Addison's Disease). He suffered from ulcerative colitis and the medications he took (including steroids) may have contributed to his spinal degeneration. He was in constant pain, even with his back brace, through the end of his life. And it wasn't until 1960 that he was able to gain 20 lbs. and fill out a bit.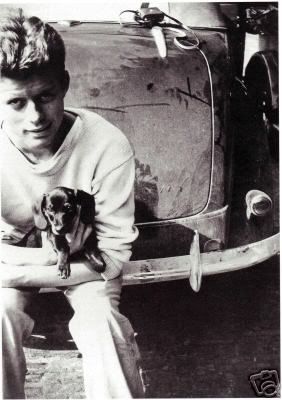 Jacqueline Kennedy was 31 years old when she became First Lady. It was in her first post-assassination interview, with Theodore White, that Jackie talked about Camelot, a musical loved by JFK and, in her view, an appropriate metaphor for his presidency.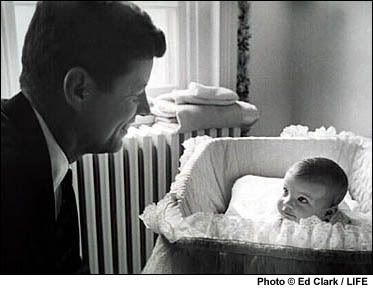 Happy Birthday to a great Democrat and a great American!