I broke off the first part of this study after a brief discussion of John Irving's new novel, In One Person. I notice it is available for Kindle. I guess I have no excuse not to read it. :-)
I never did read Garp. It was out before I was and some subjects were just a little too painful. Well, that and I was in grad school at the time. There wasn't that much time for pleasure reading.
When one is transgender, it seems that one can hardly help but notice references to the condition…however vague they may be. I remember when I was growing up, I read the first sequel to The Wizard of Oz, L. Frank Baum's The Marvelous Land of Oz, wherein the hero throughout the book, a boy named Tip, is in the end transformed back into who he really was, Princess Ozma, the rightful ruler of the Emerald City. And I must have cried that what happened to her would never happen, I thought, to me. For I lived in a world devoid of magic.

(Slightly larger version available by clicking)
One of the attractions I had as a younger person was the cartoon series
Idyl
, drawn by Jeff Jones, which appeared in
The National Lampoon
from 1972 to 1975. Indeed, I stopped reading the Lampoon when Idyl ceased running. It was not lost on me that in Jones' world of Idyl, men were represented by animals and objects. I wanted to be a woman in the land of Idyl.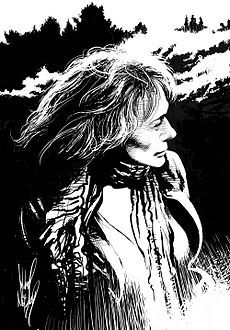 Imagine my surprise to learn later that Jeff Jones became Jeffrey Catherine Jones in 1998.

It's now known from the artist's personal writings that [s]he had felt conflicted about [her] gender since childhood, always feeling a greater affinity for the fair sex than for [her] own maleness. Having grown up as a product of the patriarchal 1950s, with a domineering war-hero father, Jones did not know how to cope with [her] yearning to be female, and felt ashamed. For years [s]he tried to drown these feelings in alcohol, but, after much soul-searching, Jones realized that although [s]he'd been born male, inside [s]he was a woman. [S]he began hormone replacement therapy in 1998, and set out upon a new phase of life as a woman, changing [her] name to Jeffrey Catherine Jones. Yet even this transition did not bring peace to this gentle, troubled artist, for in 2001, she suffered a nervous breakdown, which led to the loss of her home and studio. However, she eventually recovered, and by 2004 began painting and drawing again.
Jones died last May of emphysema.
I attended grad school in mathematics at the University of Oregon from 1976 to 1981. Imagine my astonishment when I learned years later that one of my fellow graduate students also transitioned.
It reminded me of the time in my hippie years in the Haight in the late 60s when I met a girl and developed an attraction…only to discover she was in the midst of transition. I have to admit to having a breakdown at that point.
My life has just seemed to come with those sort of unexpected flourishes. Perhaps my reason for trying to find some order to create out of this chaos is to provide some flourishes for other people.
Maybe it's time for a music break:
That's
Athens Boys Choir
, performing Fagette. Despite the name, ABC is a one person show, featuring Katz, a transman from the deep South, who does spoken word productions…and what he sometimes calls Homo-Hop.
If that music is not your cuppa, perhaps you would prefer something acoustic. Namoli Brennet might be more pleasing to you. One of my readers recently shared her with me.
If you are more into performance art,
Micha Cárdenas
might be whom you are looking for.
The video doesn't embed, but you can see it at its Kickstarter page, if you want to help out.
If you'd like more about Micha, I'll direct you to Becoming Dragon: A Transversal Technology Study

Becoming Dragon is a mixed-reality performance that questions the one-year requirement of "Real Life Experience" that transgender people must fulfill in order to receive Gender Confirmation Surgery, and asks if this could be replaced by one year of "Second Life Experience" to lead to Species Reassignment Surgery. For the performance, I lived for 365 hours immersed in the online 3D environment of Second Life with a head mounted display, only seeing the physical world through a video-feed, and used a motion-capture system to map my movements into Second Life.
That last one might seem rather esoteric…but then many people think trans lives are so strange as to be beyond esoteric.
That's probably sufficient for today. There will be more to come.