First contribution to a presidential campaign, check. Twenty five bucks to John Edwards in 2003 accompanied by a note telling him if he didn't use it wisely I would ask for the money back. In 2004, $250 believing John was what this country needed, a populist, a voice for the poor. I was sold. I must admit, having worked with surgeons all my adult life as a surgical nurse I figured I had heard and seen it all. After all, they are among the most egotistical figures among us.
Boy howdy did I get it wrong.
I'm going to take you through it, the campaign work, enthusiasm, travel, phone banking, canvassing, primary wars here (yep, those diaries are still there), and most important of all, belief. For the first time in my life I believed in a candidate. I don't believe anymore, I try to make decent decisions about who is running with full knowledge that we are electing the best candidate money can buy. And still, I can't quite get my arms around that image of President Obama. I know bucks are involved but I have a liking for him and a trust. Don't know if that makes me a dipshit or what, I guess hope springs eternal. So, hubby and I are volunteering for President Obama and have donated, but nowhere near our level of devotion to John.
I remember in 2003 seeing this Senator, a John Edwards of North Carolina, where we now live, but lived then in Oklahoma, announcing his candidacy for President. Honestly, my first reaction was "who is he?". I followed Dean, this one and that one as well as John. Finally I talked to my husband about sending $25. Go for it, he said. Hence the above mentioned donation and note. I felt so strongly he really cared about those in need. As things evolved I sent $250. I was committed and active on his blog. I decided to travel, with my husband's blessing. To try to work it, help further the cause. I believed he really gave a shit. I was on fire.
The first trip was to Hollywood, FL, to a dinner and rally for Kerry. John was out of the presidential race and a group of us were determined to help him secure the VP nod.
Some of our work there in this pic, we made the banner...

I'm the blond head on the lower right hand side with the bracelet and the wooden sign handle in my right hand.
Trips ensued to Iowa, same cause. Some great supporters and nice folks.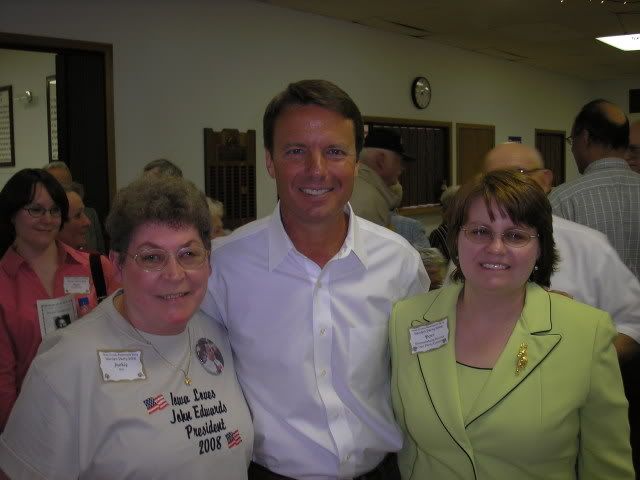 In spite of the work, he lost, and was Kerry's VP nod. We know how that ended.
In all of the time that ensued we loyal followers kept the flame burning, the hope alive. Woohoo! His blog reopened in 2006! One America Committee was formed. We the faithful were elated! The dream was alive. I cannot provide a pic of the blog, it went dark not long after he announced his withdrawal from the race in January, 2008.
However, the work was ongoing. In an aside, my husband and I relocated to North Carolina in December, 2004. So, we had no problem driving up I-40 to Chapel Hill for events, even before we had a new campaign.
And then, we had it! John was on his announcement tour!! Yesss!! You've all seen the pics from that... Miz Hunter and John, shovel in hand. I have a bit more info about that but am not at liberty to share it, honoring a promise is a serious thing.
And then, up to Chapel Hill HQ for the announcement and welcome home event! Whoopee and screams, including one of me, audio, yelling, "we love you John!!" But my husband noticed after how badly Elizabeth was "hobbling" afterward. Everything seemed different. The energy was wrong. What?? Pics from this I won't post, others are involved who I don't have permission to post their images.
So we went to work, a mere two among many talented and devoted folks. I mean talented and devoted and working it constantly. The folks we met and worked with and talked to were unbelievably talented and devoted. One woman, I still miss talking with her, was enormously talented with videos and citizen journalism, she worked like ten men, 24/7.
One of our trips was to New Hampshire for a debate at St. Anselm. This is a pic after the debate... we supporters were in a restaurant. Again, I have the blond hair, to the right of John.


We had been out in the rain all day... the tee shirt I am wearing was over my clothes which were soaked and I was cold.
Eventually, the rumors, the speculation, the cracks showed up. Although John and Elizabeth decided to go on. Below, a pic from Chapel Hill the day Elizabeth announced the terrible return of her cancer. I look at it now and remember being there. John said then, "she'll have her challenges but will be ok." I wish. She was resolute.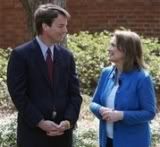 So incredibly resolute.
So, we worked, we phone banked, canvassed, traveled, did all we could do. So convinced John was really the one who cared. Cared about the poor, the needy, the least among us.
As the crash began, when the Enquirer ran their stories, with pics, we still tried to believe. I do remember talking with my husband about it. I told him... I can't believe Andrew fathered that child and yet I can't believe John would have asked him to take the fall for it. And that is exactly what happened.
I think back a few years ago when I watched him suspend his campaign with tears in my eyes. Then I remember seeing him here in Wilmington, NC at a restaurant while having lunch with friends. One of them thought I must have seen a fire break out while we were eating but no, I saw John and didn't know how to leave, walking right by him, without saying hello. Which I did. And he was just like the old John. Hail fellow, well met. Like nothing ever happened. But a lot did.
And now, here we are. With all that has transpired he has never once apologized to we who supported him, financially, with our travels, our phone work, canvassing and so forth. Andrew Young listed me as a bundler for John. Look it up on the FEC webpage. I raised a ton of money for him but was amazed to be listed as a bundler, and I might add, worried. Andrew told me he did it because I worked so hard for John that he felt I should be recognized. My hubby told me to tell them I was a bungler, not a bundler. Small joke and an attempt at humor.
Today I am glad John is free... to see to his innocent children, Jack and Emma Claire. This case should never have been brought to a jury, too complex, the FEC already chimed in. No doubt what he did was immoral and indefensible. But so much big money is running campaigns that we need to ask who our so called elected officials are indebted to when it is all over.
That's my story, and I'm sticking with it. At the end of the day, I wouldn't take a thing for the living civics lesson my husband and I were a part of. Even though it was going to end this way we learned a whole lot, met some terrific folks (hi Joe Biden!) and felt like somehow we were making a difference. At least we tried.
And now, yup, we donated to President Obama's reelection campaign. And we are going to work it locally. Taking our lessons learned with us, maybe we can do a bit of good. We need to win this one. The alternative is not possible.
Goodnight. And thanks.